Bhabyaa Bharat performed on stage for the first time when she was only two and a half years. Today, she is six years old and has more than 20 dance shows to her credit. She has also been part of couple of music albums. Orissa POST spoke to the young talent on her journey as a dancer and her future plans.
Born to Supritee and Bharat Gaurab Dash, Bhabyaa gave her first stage performance at a local event in Sambalpur. Interestingly, she hadn't even learnt to speak properly at that time but left everyone awestruck with her performance.
"My father is an actor and mother is a folk dancer. I saw them perform on stage and wanted to be like them. My parents are my biggest inspiration. Also, my grandmother motivates me a lot," says Bhabyaa.
Bhabyaa, who excels in both folk and modern dance, is an equally talented singer. She also loves modeling and has walked the ramp on several occasions.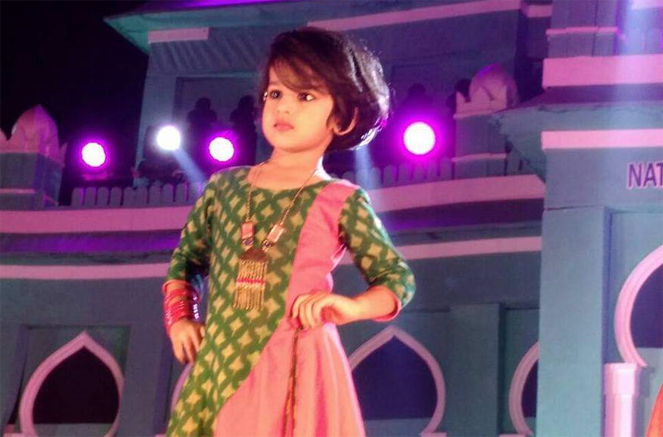 Needless to say, her talent hasn't gone unrecognised. Last year, she was felicitated for her folk dance performance and ramp walk in Sambalpuri attire in Lok Mahotsav, Sambalpur. She has also won awarded for sporting the best Sambalpuri costume for three years in a row at Sambalpuri Din Festival, organised by Paschimanchal Ekata Manch.
"We spotted her talent in dancing and thought of giving her proper training. Initially, my husband started training her in both folk dance and modern dance. My mother-in-law has also been grooming her in both dancing and singing," says Supritee.
Bhabyaa, who is also at academics and won many debate competitions. "It is always a proud moment parents to see their children being praised and rewarded. In 2017, she was delivering a short speech on motivation at a social event. Listening her speak with such maturity, the then MLA of that constituency could not stop herself from going up to the stage and praising her," says Gaurab.
Ask her about her future plans, and Bhabyaa says, "Dance is my passion but more than anything I want to be known as a good human being. My father and grandmother look after my dancing and music training and I am working hard to become a good dancer. I want to make my state proud."
Bhabyaa also has an inclination towards acting. "I love acting but and want to work in television serials and films. However, I can't neglect my studies, which is a priority. So, I have rejected a few offers for television shows. Although I have been part of a few music albums, I am focusing more on dancing and my education right now," she says.
SOYONG, OP
Suggest A Correction