New Delhi: During the World Cup, the ICC's Twitter handle was one of the most viewed pages on the social media. It was widely viewed and hence those in charge of it should have acted in a more responsible manner. But they did not do so and on many occasions, the comments made on the official Twitter account left many flustered and angry also.
The latest ICC tweet to have attracted attention has been regarding the one involving Ben Stokes and former great Sachin Tendulkar. The iconic Indian player was one of the dignitaries who had been invited to witness the World Cup final between England and New Zealand. He also presented the man of the match award to Ben Stokes. After the presentation, the ICC uploaded the picture of the presentation with the caption, "The greatest cricketer of all time – and Sachin Tendulkar. It was accompanied by a winking smiley.
Now, no doubt this antagonised the die-hard fans of Sachin Tendulkar. Many took to Twitter to display their protest. Some even went to the extent of stating that the ICC should be boycotted for belittling the Indian batting blaster.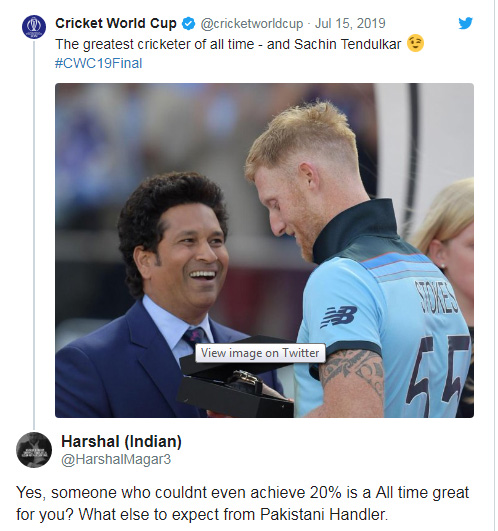 Well, no doubt, Ben Stokes played a heroic knock to help the Cup come England's way. Yes, he is the best all-rounder at the moment in modern day cricket, but to call him the 'greatest cricketer of all time' is a little to preposterous. What tags will the ICC then attribute to Sir Garfield Sobers and Sir Donald Bradman? Both these legends have achievements that probably will never be surpassed.
In such a situation, it would have been better by the ICC to remove the offensive tweet. But it continues to remain drawing the ire of the cricket fans. Probably Ben Stokes would himself be embarrassed at the way things have panned out.
A look at the 50 overs statistics of both Sachin Tendulkar and Ben Stokes
Sachin Tendulkar
M-463        R-18,426    100s-49     50s-96        SR-86.24    Wkts-154
Ben Stokes
M-95          R-2682       100s-3        50s-20        SR-93.94    Wkts-70
In this context, to call Stokes the greatest of all times is surely a huge blunder made by the ICC.
PNN & Agencies
Suggest A Correction