Hanging Temple was built into a cliff (75 meter or 246 feet above the ground) of Mt. Hengshan in Hunyuan County, Datong City, Shanxi province, China. It is also the most famous scenic spot in Mt. Hengshan area. Originally constructed in Northern Wei Dynasty (386-557) by only one man, a monk named Liao Ran, Hanging Temple has been standing right at the foot of Mt. Hengshan for over one thousand years. After many times of repairs, the Hanging Temple had a large scale, and became a rare high altitude building on cliff in China.
Leaning on the precipitous mountain face and facing a deep valley, the temple was constructed in a unique way, which is the buildings are supported by sturdy wooden pillars inserted in holes cut in the mountain body. Seeing it from the distance you could find it hanging in the mid air miraculously, hence the name "Hanging Temple".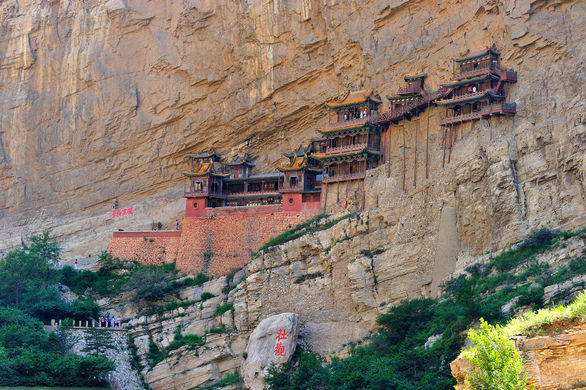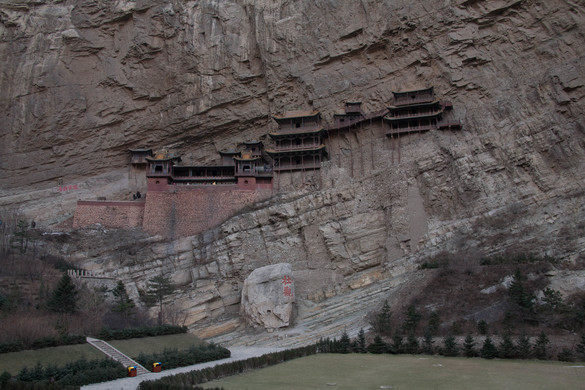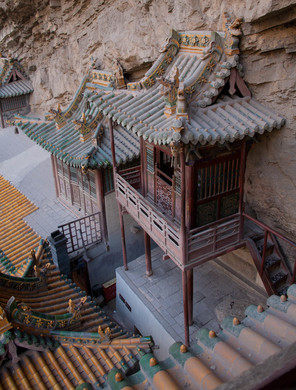 Tourists can walk upwards along the steep stone pathway to visit some 40 exquisite and unique halls in the temple. This is the special monastery in which you could find not only the elements of Buddhism but also Taoism and Confucianism.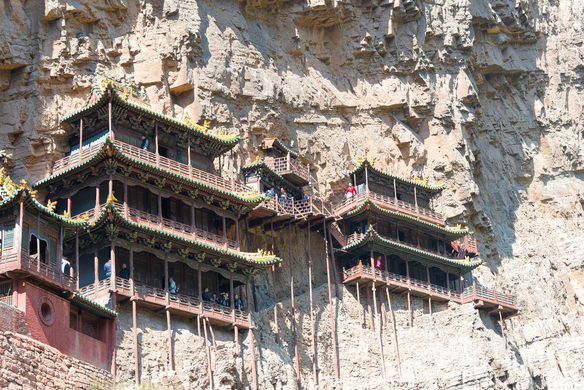 There are about 40 halls with 80 sculptures which are vividly carved from copper, iron, terracotta and stone in this temple. The caves and halls are connected by winding corridors and bridges. A visit to the Hanging Temple will be a happy adventure at the same time. This building is a perfect combination of religion and culture of Chinese feudal society.
The Hanging Temple was designed skillfully and constructed audaciously. The method is to chisel a horizontal hole in the cliff, and then put a beam through the hole out of the cliff, at last put board and pillars on the beam to build various beam frames and roofs. Balusters are set around all the buildings outside the cliff.
Looking from the top of the mountain, visitors can see some impending wooden poles under the buildings that are far from the cliff. These wooden poles are set to protect the buildings. The temple was arranged in random from north to south, with a bluff inside and devious plank roads built along the face of the cliff. Beam frames are harmonious up and down, and balusters are connected to each other, with appropriate density, like one integrated mass.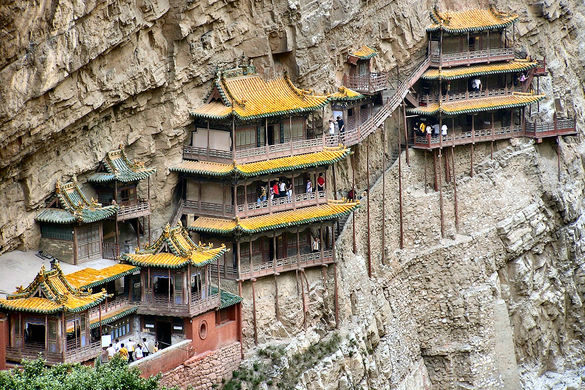 Seen from the buildings, it looks as if facing an abyss; seen from the bottom of the valley, the cliff is lofty like a rainbow; seen from the opposite side over the valley, it looks like a young flying phoenix on the cliff. It is just like what the inscription on the cliff of plank roads reads, People are more creative than nature.