Mumbai: A number of Hindi movie industry celebrities have shown support for student leader Kanhaiya Kumar and are likely to join him while he gears up to file his nomination papers for Begusarai Lok Sabha seat in Bihar today.
"We expect Shabana Azmi and Javed Akhtar to be present at the time of nomination file this April 9. Else they will be with us during the election campaign," Kanhaiya's brother Prince has been quoted as saying by a reputed English daily.
Among others actor Prakash Raj, social activist Jignesh Mawni, Patidar leader Hardik Patel and activist Shehla Rashid are also expected to join Kanhaiya's campaign trail.
Besides, the mother of Najeeb Ahmed — the JNU student who went missing under suspicious circumstances — is also expected.
It may be mentioned here that upcoming actor Swara Bhaskar is currently campaigning for Kanhaiya in Begusarai. Swara has decided to celebrate her 31st birthday there only.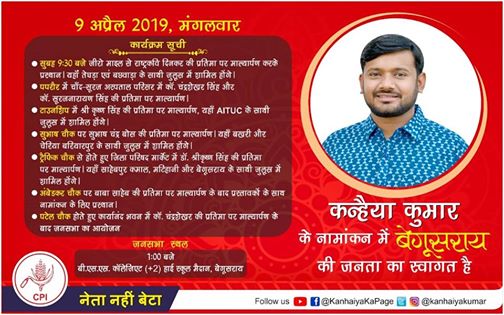 Kanhaiya, a former president of Jawaharlal Nehru University (JNU), is trying his luck in electoral politics for the first time.
Kanhaiya's main adversary, BJP leader Giriraj Singh has already filed his nomination for this seat. RJD candidate Tanveer Hassan — accompanied by his leader Tejaswi Yadav — filed his nomination Monday.
PNN/Agencies 
Suggest A Correction