Theatre actor Binodini Devi was honoured with Guru Kelucharan Mohapatra (GKCM) Award while Arushi Mudgal for Odissi dance and Ramchandra Behera for Odissi music (Mardala) were conferred with GKCM Yuva Pratibha Samman
Post news network
Bhubaneswar:  After four consecutive evenings of spectacular classical presentations, the 27th OMC Guru Kelucharan Mohapatra Award Festival culminated in the award presentation ceremony and the finale by the Srjan ensemble Thursday.
This year, Governor of Odisha Ganeshi Lal presented the Guru Kelucharan Mohapatra Award 2021 to Binodini Devi for her lifetime contributions to Odia theatre. An Odisha Sangeet Natak Akademi awardee, Binodini Devi has also acted in a few Odia films including Parajhia Ghara Bhangena, Mu Eka Tumara, Agastya and Matira Manisha. The award carries a respectable allocation of Rs. 1,00,000/- and a citation.
This was followed by the presentation of the Guru Kelucharan Mohapatra Yuva Pratibha Samman, which focuses on reviving the all-important role of the solo artiste in the classical idiom. The award carries a cash prize of Rs 25,000/- and a citation.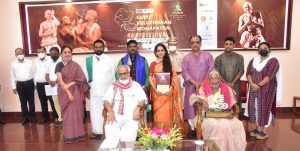 Arushi Mudgal for Odissi dance and Ramchandra Behera for Odissi music (Mardala) receive the award for their dedication and inspiring performances.
The much-awaited finale was a presentation by the Srjan ensemble, who, under the direction of Guru Ratikant Mohapatra perform extensively within India and overseas, presenting compositions with fast-paced movements within the Odissi idiom. This evening, Srjan presented a bouquet of neo-classical innovations in Odissi dance, the presentations of which were all carefully and aesthetically conceptualized, and choreographed by Mohapatra, the driving force behind Srjan's success.
Beginning with an invocation to Lord Ganesha, Vinayaka Smarane, the dancers paid their obeisance to Lord Ganesha. The dance presentation was set to the music composition of Vinod Kumar Panda.
In their second presentation, the Srjan ensemble presented a pure dance presentation, Parameshwari Pallavi, set to Raag Parameshwari and Khemta Taal.
This was followed by the dance ballet, Maati, written by renowned Odia poet, Radha Mohan Gadanayak. The dance choreography was done by Guru Mohapatra, music composition by Laxmikant Palit and the script adaptation by Jaydev Das. The finale, an experimental piece, titled Shiva Shangsanam, was an absolute visual delight. Based on the Odissi idiom, this presentation pushes the boundaries of dance innovation with its novel style of execution.
Suggest A Correction