Bhandaripokhari: A flood-like situation cropped up in several villages under Dhamnagar and Bhandaripokhari blocks in Bhadrak district with Baitarani river breaching the danger mark Sunday.
According to reports, the water level of Baitarani has crossed the danger level at Akhuapada due to torrential rain in the upper catchments. Till reports last came in, the floodwater was flowing at a height of 18.10 metres as against the danger level of 17.83 metres by 9AM on Sunday.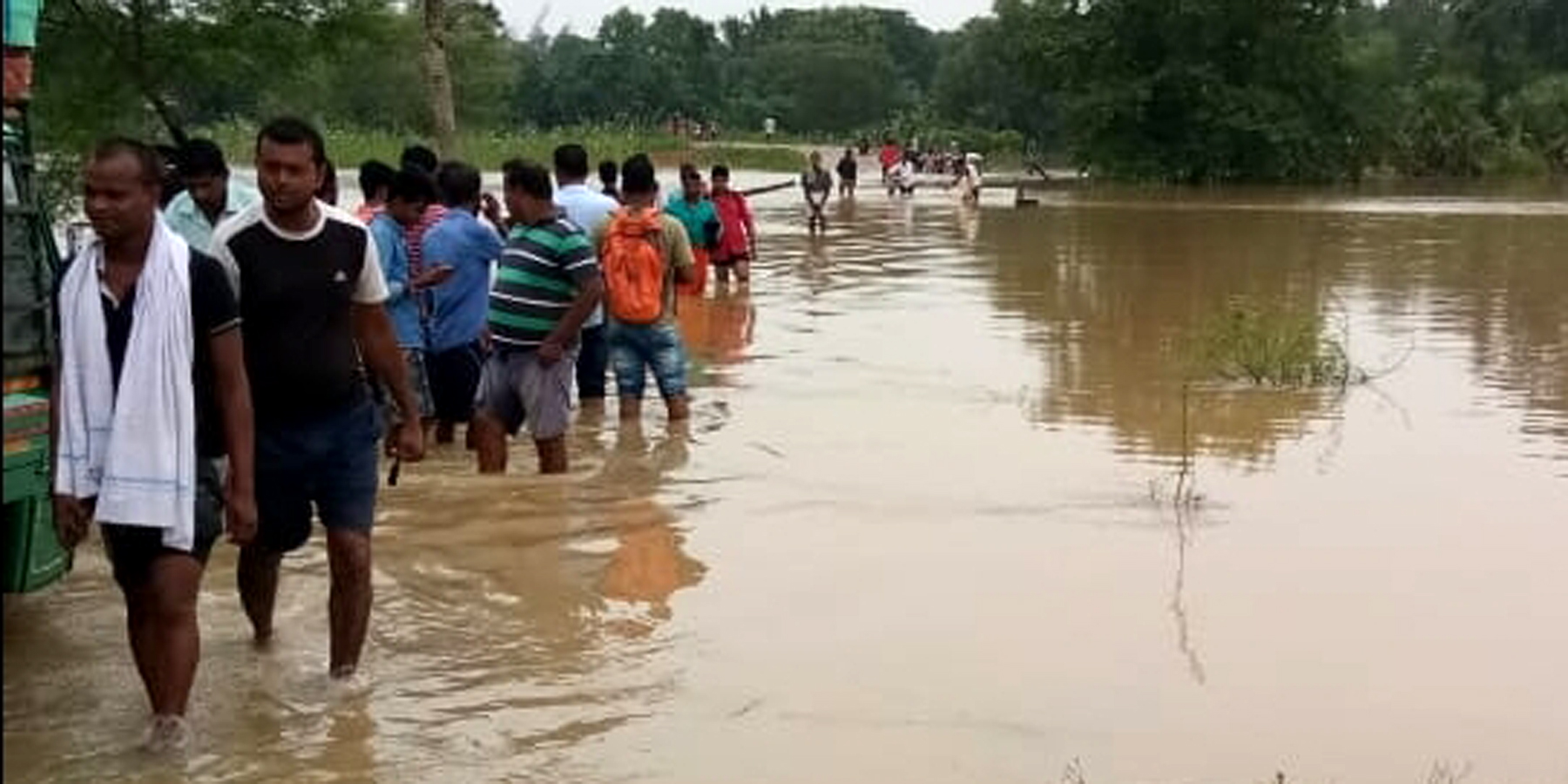 The floodwater has crossed over the Kantighai embankment and entered Maninathpur, Solampur, Biroli, Barahanuapada, Mudhapada and Rahania panchayats in Bhandaripokhari block.
Vast stretches of paddy fields and farmlands in six panchayats and four panchayats of Bhandaripokhari and Dhamnagar blocks respectively have been submerged in the floodwater.
The floodwater flowed at a height of about four feet over the Sartanala bridge between Malada and Jajpur. As a result, road communication between Bhandaripokhari and Jajpur has been disrupted.
Besides, the floodwater has also entered four panchayats of Dhamnagar block through Gourangpur Escape and Mallikapur Escape and submerged hundreds of acres of paddy fields.
People of the flood-hit panchayats of these two blocks have alleged that the district administration has not taken any relief and rescue work since last 24 hours. As crops in several acres of land have been damaged, the farmers are demanding for urgent measures on part of the administration for providing compensation.
Besides Baitarani, the water level of its tributaries Kochila, Genguti and Reba-Kapali, Kusei and Ghagara rivers were also rising alarmingly.
Apart from Bhadrak, flood situation remains grim in Anandapur in Keonjhar district. Several areas in Ghasipura and Anandapur blocks have been marooned.
It may be mentioned that due to heavy rainfall in Anandapur (171.6mm) in Keonjhar district in the last 24 hours, authorities of the Remal Dam on Kushabhadra river had opened six gates Saturday resulting in the rise in the water level of Baitarani.
Meanwhile, the Hirakud dam authorities Sunday closed five more gates of the dam due to drastic fall in the water inflow to the reservoir from the upper catchments. At present, water is released through five gates.
On the other hand, the Meteorological Centre, Bhubaneswar, in a release Sunday has sounded rain and thunderstorm alert for the five districts of Balasore, Bhadrak, Mayurbhanj, Keonjhar and Jajpur and advised people to remain indoors.