Meet Shristi De, who has carved a niche for herself in painting and drawing. Yet to step into her teens, she has bagged more than 130 awards so far. Also an accomplished singer, Shristi's X factor is the spontaneity with which she sings Sanskrit hymns and songs from classical literature.
Born to Sunita and Sidhartha De, Shristi, a class IX student, has done a wide variety of paintings ranging from portraits and landscapes to thematic paintings. She creates magic through simple strokes of water colour and acrylic. Though she works primarily with these media, she is also proficient in the use of crayons and charcoal.
Shristi De said, "My mom taught me how to draw on canvas first. Her initial guidance encouraged me to learn more about painting. Later, when my father saw my interest in painting, he arranged lessons for me. My father, who is a former IAF official and a professional photographer, is a constant source of inspiration for me."
Talking about Shristi's interest in painting, her father Sidhartha said, "When she was in UKG, I found her copying pictures on used papers. Her drawings were very neat and attractive. Although I wanted to train her in sports, I decided to allow her to explore her creativity in painting. Her first teacher and mentor Deepak Mishra influenced her basic style. Later, she received guidance from Tarakanta Parida and Satrughna Meher of Odisha Modern Art Gallery, who trained her in painting watercolours. Her strong themes and fusion paintings are mainly the contribution of Chintamani Biswal."
Nature is Shristi's favourite subject. Two of her paintings, one depicting a rainy day in a village and the other on rural rumours, received many accolades.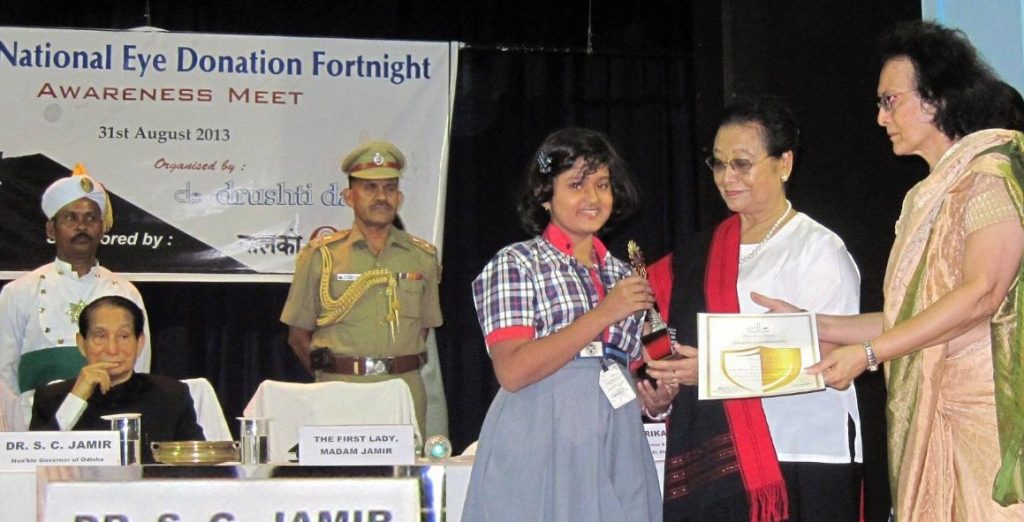 In 2012, she won the second prize in a state level painting competition held by CCWSD Odisha. In 2015, she won a series of national and state-level awards. She has also won several art competitions and was adjudged the best child artist by the Rajiv Gandhi Forum. In 2016, she won a series of prestigious awards given by the state government's Information and Public Relations Department. She also won prizes at the All India Expression Series competitions organised by the Central Board of Secondary Education (CBSE).
A student of Kendriya Vidyalaya No.1, Shristi De is a meritorious student and scores more than 90 per cent in class examinations. Besides, she is a proficient singer and perfectly renders Sanskrit hymns and shlokas.
Looking ahead, Shristi De said, "I wish my paintings are showcased in popular galleries across the country. I would like to utilise my paintings to generate social awareness."
SOYONG,OP
Suggest A Correction