Bhubaneswar: Famous Bharatanatyam dancer Anita Mallick from Kolkata and Odissi vocalist Guru Rupak Parida spellbound the virtual audience on the second evening of the 27th OMC Guru Kelucharan Mohapatra Award Festival. The event was streamed live on Srjan's Facebook page and YouTube channel at 7.30 pm, Monday.
Ranjan Kumar Das, Director-cum-Additional Secretary, Dept. of Odia Literature Language and Culture, Govt. of Odisha, was the chief guest of the evening.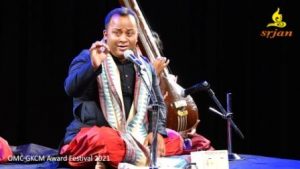 Mallick, also a choreographer and founder of Saraswat Sanskriti Kendra commenced her recital with Ambika Pallavi, from the Lalitha Sahasranamam, in praise of the omnipotent Devi Ambika. This was followed by Krishna Anubhavam, in Raga Malika, and Adi Talam, presenting a reflection of Lord Krishna's majestic and captivating nature.
In her third presentation, she performed a Keertanam in Revati Raagam and Adi Talam, in obeisance to Lord Shiva. She concluded her recital with the popular Rama Bhajan Thumaka Chalata Rama Chandra, composed by Sant Tulasidas, set to Raag Yamuna Kalyani and Adi (Tisra Nadai) Taal.
She was ably accompanied on vocals by OS Arun and Vasudha Ravi,  mridangam by MS Sukhi and NK Keshavan, flute by Navinkumar and Palghat Sairam, violin by T Sivaganesan and Srilakshmi Venkata Ramani, and nattuvangam by MS Sukhi and Sudharani Raghupati.
This was followed by an Odissi vocal recital by versatile Guru Rupak Kumar Parida. With a crisp, pleasing, mellifluous voice, and an inherent ability to quickly pick up and retain intricate passages of compositions, Parida presented a medley of beautiful renditions, beginning with a song composed by poet Gopala Krishna Pattnaik, set to Raag Kirwani and Ekatali. He then moved on to present an Ashtapadi, Virachita Chatu Vachana, from Shri Jayadeva's Geeta Govinda, set to the music composition of the legendary Pt. Raghunath Panigrahi in Raag Bihag and Ekatali, before moving on to five back-to-back renditions of traditional Odia songs and Bhajans.
The third evening features a Sattriya performance by Anwesa Mahanta, followed by a Hindustani Vocal recital by Manjusha Patil.
Suggest A Correction