Mumbai: Much before Deepika Padukone and Alia Bhatt, it was 'Tip Tip Barsha Pani' girl Raveena Tandon, who ruled the hearts of millions of people in the 90s. With some amazing performances to her credit, Raveena was one of the leading actresses.
She has delivered some memorable performances in films like Mohra, Andaz Apna Apna, and Daman. On her 45th birthday, let's know about her love affair with the action star Akshay Kumar.
According to media reports, the two first met during the making of Mohra. Cupid struck between the two and their on and off screen chemistry became the talk of the town back then. While Raveena was already an established star, Akshay was struggling after some flops.
However, Raveena loved him and the two even got engaged. They were often spotted together.  Hailing from the same Punjabi culture, everybody speculated an impending wedding.
Unfortunately, the relationship ended when Raveena came to know about his affair with her best friend Shilpa Shetty. Things took an ugly turn when Akshay cheated on her with her best-friend Shilpa Shetty. He was also alleged of getting close with veteran actress Rekha.
In one interview, Raveena opened up on her relationship with Akshay and revealed, "We started off as friends. We got to know each other only when we went together for a few shows in America and Canada. I think loyalty meant a lot to me, but I did not mean so much to him. He expected me to forgive and take him back every time. I did that for three years, until it was the last round."
According to her, since Akshay had a fear of losing his career and female-fans, he did not let their engagement news to be public at that time. She even went on to say that "Akshay proposes to every girl and the speed on which he is going, he will soon have to address the parents of three-fourth of girls in Mumbai as 'Mom and Dad' ".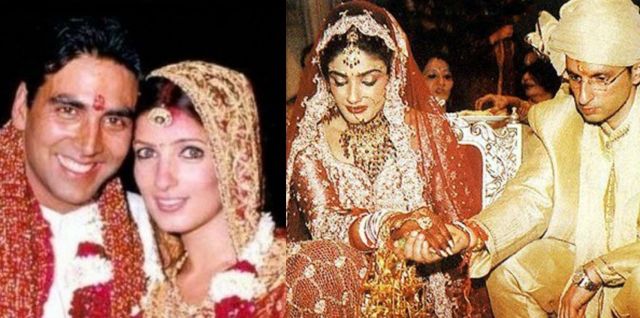 Today, both of them are happily married to their respective partners, and are proud parents of their children. But, even now they resist making public appearances or signing up a film together.
PNN