SN Misra
---
The World Inequality Report (2018) has brought out an ironical phenomenon; how the middle class is struck in the middle; missing out on its share of prosperity post economic liberalisation in India.
The share of the 40 per cent of the middle class has come down from 47 per cent of the national income in 1990 to 30 per cent now. The 50 per cent poor have now a share of 15 per cent, while the top 10 per cent has improved its share from 30 per cent to nearly 55 per cent. The Oxfam report, no wonder, shows how inequality has sharply increased in India, with India accounting for the largest number of billionaires in the world.
Piyush Goyal seems have taken a cue from the situation, and the interim budget tries to humour the middle class by bestowing a benefit of Rs 1,000 per month to around 30 million people from the segment. It has also tried to appease 120 million small and marginal farmers with a grant of Rs 500. The wheel of populism seems to have moved full circle.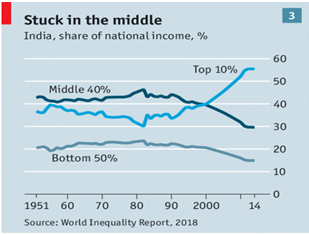 The three major problems states in India face are: rural distress, rising unemployment and dwindling private investment. The problem of farmers is a combination of low productivity, sudden fall in farm prices and small average holding. For unremunerative prices to the farmer, we must put in place a mechanism of price efficiency, which will compensate farmers when market prices fall below minimum support price. To improve productivity, efficiency of water use must be improved; which is a third that of most developed countries, close the technology gap and invest more in irrigation to tap irrigation potential to the fullest. The share of small and marginal holdings below 1.08 hectares constitutes 86 per cent of total available land. They would need consolidation of land holding to avail mechanisation.
Clearly Rythu Bandhu scheme of Telangana, where Rs10,000 is given to farmers, tenants, share croppers and landless workers is far more humane than the current budget proposal that limits payments to small or marginal farmers. This would deprive share croppers and landless workers from legitimately benefiting from the DBT scheme.
The CMIE (2019) report has brought out how 11 million persons lost jobs in the unorganised sector during 2017-18. Most were uneducated women (8.8 million), engaged as labourers, workers and small traders. There is a sharp decrease in the female workforce from 34 per cent (2009) to around 27 per cent now. The recent NSSO report (68th round) shows how the percentage of educated unemployed women has gone up to 13.6 per cent in rural areas and 27.5 per cent in urban areas.
GDP growth of a country is the function of its investment and incremental capital output ratio, ICOR (Harrod-Domar). A combination of high investment by the private sector and high labour productivity (low ICOR) contributed to India's growth after economic liberalisation in 1991.
It took a dip in 2013-14 due to a combination of factors such as infrastructure bottlenecks, high NPA and policy paralysis. While there is some improvement in policy decisions such as IBC leading to reduction in NPAs, private sector investment remains stagnant since 2013-14.
The government has to take the lead, as JM Keynes had suggested in the 1930s, to spur the 'animal spirits' of the private sector, by investing in social sector and improving infrastructure capacity in areas like irrigation.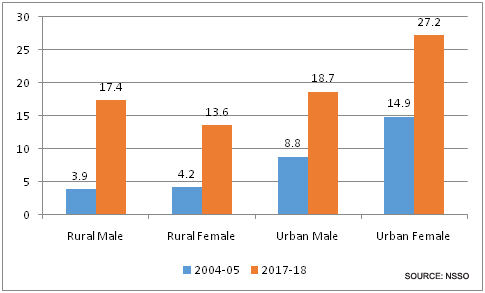 There is a legitimate perception that the Modi government is high on hype and low on performance. In case of Ujjwala scheme, evidence shows that nearly 60 per cent of beneficiaries have not gone for a refill. Close to 50 per cent of the Jan Dhan accounts are dormant. The NDA government had also promised housing for all — 2 crore urban and 4 crore rural by the end of 2020. By its own admission, it has completed only 20 per cent of its target so far.
The benefit of MSP is yet to be extended to most farmers. The Make in India initiative has seen no improvement in the Gross Value Addition percentage, which remains stagnant around 7 per cent per year. The Skill India initiative has so far trained 7 per cent of the youth. The start-up initiative is languishing because they are yet to get relief from the dreaded Angel Tax [Section 56(2)(vii)(b)], a tax which is levied on capital receipts from Indian investor, if it is above the fair market value of shares.
Since 2004, both the UPA and NDA governments have been following a path of achieving high growth with fiscal discipline. The impact of nearly three crore assesses going out of the tax net in terms of tax loss is going to be very high.
The DBT to the farmers would be of the order of Rs 75,000 crore. Accordingly the projection that the tax revenue will go up from Rs 14.84 lakh crore (2018-19) to Rs 17 lakh crore in the next financial year (14.5 per cent) is unrealistic. GST collections have been about Rs 1 lakh crore less this year. Therefore the fiscal deficit target of 3.3 per cent next year is highly unlikely. The Modi government had promised to achieve 3 per cent FD by 2018. It is likely to zoom to 3.8 per cent next Financial Year.
The other disturbing feature is that the government has been underplaying fiscal deficit. The recent CAG report shows how almost 1.3 per cent of GDP has been borrowed by the FCI from outside resources to meet its commitment.
Normally, the government in power is not expected to make big announcements in the interim budget. The three interim budgets presented by Dr Manmohan Singh, Dr Pranab Mukherjee and P Chidambaram did not have any major policy announcement but asked the people to remember 'the hand' that helped them.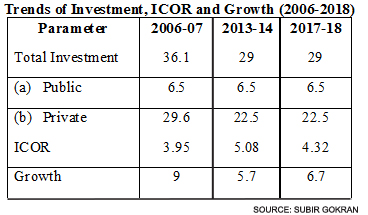 Goyal, has shown his deft hand by wooing the middle class and marginal farmers. This will come at the high price of compromising with fiscal discipline. The larger challenge of mitigating high unemployment, bolstering rural industrialisation, promoting private investment has been left unaddressed with an eye on reaping election bonanza.
In his book 'The Great Indian Middle Class' (2007) Pavan K Varma writes how the Indian middle class is guided by self interest and is completely non-cognizant of the plight of the underprivileged. He has also brought out how economic liberalisation has heightened the trend. Time will show whether the doles by Goyal before the polls would produce a difference to the political fortunes of the BJP or the 'hand' that promises to care for the poor through a minimum income scheme will resurrect its future.
The author teaches economics. e.Mail-misra.sn54@gmail.com.