BHUBANESWAR: Two scintillating plays 'Nua' and 'Dasavatara' organised by Indian Council for Cultural Relations, Odia Literature, Language and Culture department and Satabdira Kalakar enthralled theatre lovers of the city recently.
Written By Gourahari Das and directed by Subodh, 'Nua' revolves around a tribal couple who face a tragic crisis. The girl suffered from infertility due to malnutrition. They had to get rid of their traditional income source of bamboo work due to the introduction of plastic material in the market. Hence, they lose their source of income and fail to access better healthcare.
Not being able to birth a child drives the woman crazy. She starts to accept little chicks of her hen as he own children. They accepted a scheme of piggery to procure pigs. However, this doesn't materialise due to corruption in government channels. Hence, in order to find peace, the couple are in constant search for a 'new life'.
Interacting with Orissa Post, director Subodh said, "Gourahari Das, a known litterateur, has realised that the tribal community always lives for their present. Their vision is limited to their region of residence."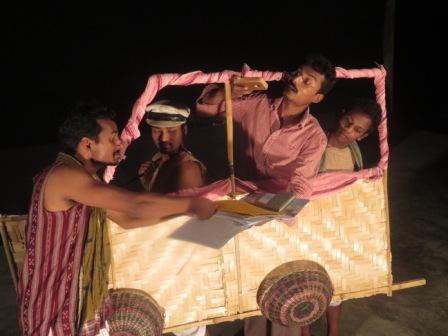 The content is based on a true case and was written by Das in his popular story titled – New Address (Nua Thikona). The idea here is to connect literature with theatre for the adaptation of valuable Odia scripts.
Swagat Rout, a play critic, said, "Nua touches the hearts of every spectator due to the enacting style of Natya Chetna. The stagecraft is mostly made of eco friendly material to enhance authenticity. The music was scored live using non-electronic gazettes. The whole process was independent of electricity. This process of enacting a drama comes uder the 'Intimate Theatre' style."
From time immemorial, evil forces have tortured noble souls. Nevertheless, God has always made it a point to help the innocent and suffering souls with diverse avataras. Based on this truth, Satabidira Kalakar, a drama troupe from the city, staged 'Dasavatar' under its monthly Natya Chakra programme at Biju Natya Kendra Nayapalli here recently.
Written by Shankar Tripathy and directed by Dhira Mallick, the play is based on Puranas and it was presented with classical and folk dance forms like Pala, Daskathia, Chhau and Kathak. Folk music rendition added authenticity to the plays and captured the imagination of theatre lovers.
The play starts with the scene where Lord Narayan takes the avatar of a fish (Mstsya) to kill Sankhasur. He then takes the avatar of a tortoise (Kaschapa) for 'Samudra Manthan'. Similarly, he took the avatar of a dwarf (bamana) to kill Lord Bali and avatar of Narsimha to kill demon Hiranyakashyap.
The drama is an effort to caution the society against 'Adharma' or evil. It witnessed many stalwarts from the field of theatre and literature who had a gala time enjoying the play. The artistes who participated in the play were Alok, Subhasis, Bidhansu, Roshan, Prakash, Arman, Ashok, Samir, Satya, Soumya, Subham, Biswajit, Manas, Deepak, Anil, Rakesh, Sneharanjan, Utpal, Kalpana, Priyanka and Manoj. The music was directed by Pratap while choreography was done by Sadasiv Pradhan.