Imphal: Polo often thought of as a game of the rich, has also been generally dominated by men. However, a quiet revolution is taking place at the very place where it all started – the northeast Indian state of Manipur, which is considered the birthplace of modern polo.
But Manipur has started finding a place in the international polo map of the world, not because of the men players, but due to the fairer sex who are taking up the game in large numbers. Manipur now has five professional women's polo teams – the women from humble backgrounds shattering stereotypes that polo is a game for men and privilege of the rich.
L Somi Roy, conservationist and partner at 'Huntre! Equine', has been one of the main crusaders for women's polo in Manipur and sees it also as a campaign to save the iconic Manipuri pony, whose numbers have been declining over the years. He stated that while Manipuri women traditionally did not play polo as it was an equestrian game coming out of a martial tradition, in the 1980s, they got inspired by their male relatives and took to the sport.
"The All Manipur Polo Association encouraged them. About 40-45 per cent of polo players in the world are women. So we are just catching up. It's pretty gender free as a sport, so it puts them on the level of men when they play together," Roy stated.
Manipur has India's longest polo season – November to March – with two international and four state events, including the Manipur Statehood Day Women's polo tournament, the only such tournament in India where teams from the US, UK, Canada, Kenya, Australia and Argentina have participated alongside Manipuri girls. All the matches are played at the Mapal Kangjeibung Stadium here, the oldest running polo ground in the world.
Thoinu Thoudum, founder of the 'Chingkhei Hunba Polo Club', pointed out that it is good to have a women's tournament as it encourages girls to start playing polo while also showing solidarity and respect for women players.
Jetholia Thongbam one of the players took to the sport in 2016 and carried on even after her sister stopped playing following her marriage. She said that Manipuri players are becoming better every year by competing against international players.
"Playing with the United States Polo Association (USPA) team was a great experience. Though their skills are very different from ours, we could learn a lot," she stated.
Meanwhile N Ibungochoubi, secretary of the Manipur Polo Society, pointed out the relationship between Manipuris and horses is special. "Horses for centuries here are owned by people, they are trained, they are used and then they are let loose to graze freely in the open wetlands of Manipur," he pointed out.
However, he lamented that due to urban development Manipuri ponies lost their home and numbers dwindled from 1,893 in 2003 to just around 500 in 2015. However, with more and more women being attracted polo, he said that the ponies have got a fresh lease of life. "We haven't done the count again for the ponies, but they have certainly grown in the last couple of years," he informed. "This is where this symbiotic relationship between humans and horses can potentially be a game-changer. The welfare of the polo community is tied closely with the animal (read horses) on which the game is played," added Ibungochoubi.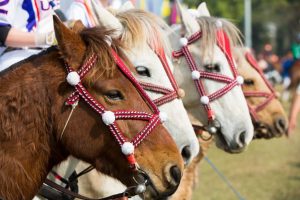 Roy on the other hand stated that the mere mention of Manipur to a polo player is bound to raise nostalgia. "For people who know the history of polo, Manipur is a special place – that's where it all came from. And then we say it's going to be played on the original Manipuri pony, and then we tell them that it is on the world's oldest living polo ground. It's a fairly irresistible invitation and foreign teams jump at it," Roy informed.
Above all many feel that polo is playing a major role in developing sisterhood in a state full of adversity and political turmoil. They say that polo is playing a major role in controlling frayed nerves and tempers that occasionally flare up in the northeastern state.
PNN & Agencies