BHUBANESWAR: That food stalls are mushrooming across the capital city is fact of the day. While most of them do have licence to run their business, monitoring their quality and hygienic conditions is hardly done. In many areas of the city we can see food trucks and food stalls at many places such as Rasulgarh, Nayapalli, Saheed Nagar, and Ram Mandir.
But during the rainy season, water logging and overflow of drains turn the surroundings of yummy street food stalls filthy. However, neither the customers nor vendors have any concern over such conditions. For that matter, even the Bhubaneswar Municipal Corporation doesn't show any concern. The people or the city wakes up only when there is some issue; otherwise, no one cares.
Piyush Ranjan Rout, an urban planner, said, "The online food delivery companies, who also carry stuff from these shops and deliver to customers don't have any quality testing. Just imagine, oil that most households use costs ₹160/1ltr whereas what is used by food vendors is just ₹62 or so. What's important is the civic body should conduct regular checks, so do online suppliers. It should be made mandatory for vendors to disclose to customers the items along with brand they use in preparing their products."
Neelima Mishra, a city-based environmentalist, said "I haven't seen any checks going on as part of food safety. But personally I am avoiding street food, as I suffered from a bout of diarrhoea post eating street food."
Asambhava Subha, a food blogger, said, "From the weird manholes to the dirty water clogging and the stinking drainage, rainy season is a curse for roadside stalls. Not only are we compromising on hygiene and quality but also risking ourselves to water-borne diseases. It is a total germ zone and unlike a closed space, like a hotel wherein you take care of the sterilization, roadside eateries are supremely unhealthy."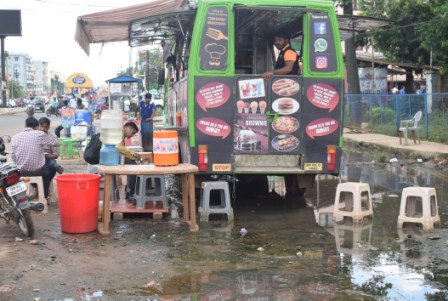 Rudra Prasanna Rath, a city resident, said, "I don't think there is any credible evidence even in many star hotels that the hygiene level is up to the mark. If they collect water from roadside points, if it is contaminated, then also it's their fault."
Dr Anil Dhayal said, "Rains bring along with them dollops of relief from the scorching heat. But, with the monsoon arrives swarms of unwanted and harmful viruses and diseases. For many of these illnesses such as typhoid and diarrhoea, filthy water and food quality are the main sources of origin. Drinking water from food outlets is also a common cause for people falling sick."
Badri Narayan Patra, owner of food stalls in Rasulgarh, said, "We try to create less garbage in the area but water-logging is rampant even after a small rain. When we had taken permission for operating a food truck in the area it was clean but water-logging and lack of drain cleaning had made the area filthy.
BMC City Health Officer BK Mishra said that regular checking of the eateries in the city and hostels is happening but there are multiple food stalls and the food inspectors are few."
Arindam Ganguly, OP
Suggest A Correction