BHUBANESWAR: Various colourful attires have emerged in the market with the peaking of summer. Among them, Ajrakh designs seem to have captured the fascination of young fashionistas of the city.
'Ajrak' is often referred to Blue colour in Arabic. It was later modified to Ajrakh. In the year 1669, these garments were displayed at Karachi, Pakistan, for the first time. Today, these uniquely printed cloths are renowned the world over as Ajrak/Ajrakh. Orissa Post interacted with designers, buyers, and boutique owners to delve deeper into the subject.
Designer Nikta Mishra said, "Ajrakh is popular among buyers because of its organic colours like natural minerals, vegetable dyes and use of herbs. Initially, this fabric was the pride of Sindh province but later it travelled to Kutch of Gujarat and Marwar of Rajasthan where people used to cross borders to get hands-on information on designs and way to prepare it."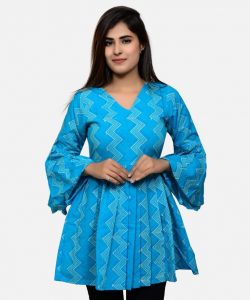 Boutique seller Prathima stressed on the need of modern fashionistas to be different which gave Ajrakh a new identity. "Today you can find a lot of such sarees at my store. They sell like hot cakes," she said.
Cloth historian Seema Chatterjee, who is on a visit to the city, said, "This design has a Sufi influence. Turbans designed with Ajrakh can be seen worn by Peshwari Muslims as well as by Hindus of Rajasthan where all it matters is style. It speaks volumes of the ancient tradition.
Sahi Imitiaz, an Ajrakh print designing artist employed by Prathima Boutique said, "These designs are the result of block printing with stamps. One can go liberal with colours as it is no more restricted to Indigo Blue. Now one may opt for Red, Yellow, Green, Fuchisa and even Black. Nowadays marriage lehengas are designed with Ajrakh prints so that it can add a touch of traditional value to the modern cuts of the lehenga."
His wife Afsana Biwi, who is making block prints for the last 23 years, said, said, "There are two kinds of designs in Ajrakh: Ekpuri and Bipuri. These are nothing but single and double side prints.
Currently, the state is lagging behind in designing such amazing prints. That's why designers are hiring artisans from Kutch and Rajasthan to fulfill orders of clients.
However, few masters do visit National Institute of Design where the technique to use colours and patterns is being taught to make aspirants master the design. Be that as it may, the city has witnessed a surge in the sale of Ajrakh designs this summer.