Bhubaneswar: The festival of Durga Puja does not reach the ultimate glory without beats of the 'dhak', the large drum that people hang around their necks and play with two thin sticks to infuse the frenzied rhythm into listeners. This enchanting beats of drums are more than enough to make your feet tap and make the environment around durga puja pandals electrifying.
Dhak beats are an integral part of Durga Puja and this year when the festivities are back with a bang after two years of Covid curbs, the dhakis (drummers) from various districts of Odisha mostly from Puri and Cuttack districts have turned up here in large numbers with the hope to earn something substantial.
Covid has hit the livelihood of dhakis hard as they had not been able to earn a single penny during the festival for the past two years. Some of them were doing some odd jobs to eke out a living while some others went for farming in their village.
Kashinath Nayak of Bilasuni, Niali in Cuttack district said that he and his family were coming to Bhubaneswar durga puja for the last 40 years but they had to suffer a lot due to Covid-19. "Since puja had stopped completely, we had to do farming to run the family. We used to earn around Rs 30,000 by beating drums at puja pandals in Capital city," he added.
All the dhakis come from far away villages of the state. They look forward to the festival which comes only once a year with huge expectations. The Durga festival provides an alternative opportunity for these dhakis, said Sachinandan Nayak of Saheed Nagar Durga Puja Committee.
Nayak said Durga Puja festival is incomplete without the dhakis. "We offer them money and take care of their lodging and boarding expenses for full five days of festival. Most of the dhakis are generally farmers or daily wage earners and by playing at the puja they are able to earn some good money," he said.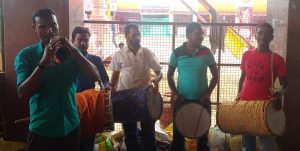 Some others also come to the city for their sheer love for the deity.
Ramakanta Nayak, another dhaki, said, "Performing for Durga Maa is a traditional occupation for us, our forefathers used to come for puja and our future generation will also come after me."
Subhash Mullick of Astaranga said, "When we beat the drums, we think we are connecting with Durga Maa and that is what makes it so pure."
Narendra Nayak of Sailo Govindpur in Cuttack district who came with five people said that he is coming to attend the puja pandals for the last 30 years. He said, "People love to see us playing and offer money which helps us. Durga Puja is an inseparable part of our lives."
Likewise, shehnai player Sanjay Nayak, a resident of Konark in Puri who had been performing at several pandals for five years, said, "We are small artistes and we depend on these festivities for earning."
Nayak said that the festival provides an alternative opportunity for the dhakis who are mostly engaged in some other form of works like farming and labour work. This is seasonal occupation for us but it helps us in a big way.
Arindam Ganguly, OP
Suggest A Correction