Bhubaneswar: Six days have passed since cyclone Fani struck Odisha destroying lakhs of trees and properties worth crores of rupees. The cyclone destroyed the city's natural beauty substantially.
The open air museum which was inaugurated by Chief Minister Naveen Patnaik during India's first International Public Art Symposium organised by the Artists Network Promoting Indian Culture (ANPIC) in association with the Bhubaneswar Development Authority (BDA) at Kalinga Nagar Sector-7 here was also damaged severely in the cyclone.
Last year, 20 artistes from 14 countries had created sculptures using e-waste and scrap like broken vehicles, gates, tyres, pipes, and rods at the open air art museum. All the art works were damaged severely in the cyclone.
Surprisingly, the museum's gate was locked and no one was present at the spot. Many trees have also fallen here.
Shashanka Mohapatra, the Managing Trustee of ANPIC, said the damage was very big and it is very sad as many people had put in a lot of hard work to create the art pieces.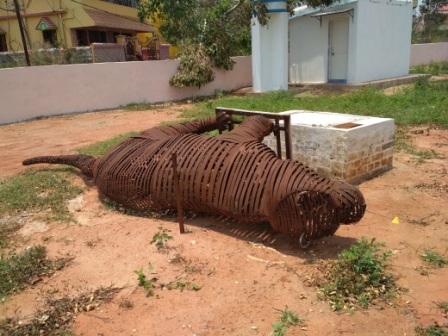 He said the room meant for security personnel was also damaged in the cyclone. Repairing of the art works will start soon, and for that talented artistes will be brought, he added.
Kshitish Das, the museum's Curator, said all art objects had been damaged badly and that work will soon start to repair them.
He said the main aim of the symposium held last year was to motivate people to think that waste material too can be used creatively.
Artistes from Australia, France, Germany, Italy, South Africa, Malaysia, Sweden, China, England, Canada, Belgium, New Zealand, Spain, Ireland and India had created art works and sculptures on issues like global warming, deforestation, floods etc.
Artistes like Perez Suarez of Spain, Paddy Bloomer of Ireland, Royden Mills of Canada, Donals Biglass of New Zealand, Ausgusto Daniel Hallo from Argentina, Matteao Baroni of Italy, Jiang Chu of China, Didier Leemans of Belgium, Heidi McGeoch of Australia, Anita Maria Wilhelmnia De Harde of The Netherlands, Rosli Zakaria of Malaysia and Sandile Radabe of South Africa had created masterpieces during the symposium held last year.
The open air museum is not the only place which was damaged in the area. The College of Engineering Technology (CET) and the BK College of Art and Craft also suffered severe damage. In BK College many sculptures were severely damaged.
Other museums of the city like the Tribal Museum and Kala Bhoomi also suffered damage in the cyclone.
PNN
Suggest A Correction