Bhadrak: You read it right. The tiny, red-coloured, apple-like fruits are being grown in Bhadrak district. The orchard has been set up on half-an- acre of land besides a canal in Tulamtula village of Aruha panchayat under Basudebpur block. More than 200 plants of Thai and Kashmiri apple ber breeds are now giving fruits. The sweet and unique tasting fruits are being sold at Rs 100 per kilogram in the market with high demands.
A highly-educated man, Upendra Biswal, 49, of Tulamtula village has scripted a success story by growing this unique variety of fruit with his grit and hard work. He got an opportunity to be a lecturer in a college after he finished his Masters in History in 1997. However, Upendra always had a strong drive to do something unique independently. So he did not take up the job and tried to be self-employed.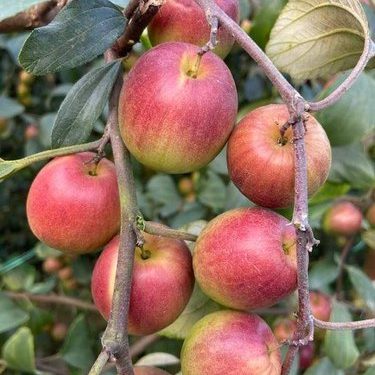 Upendra first tasted success in 2005 after he took up fishery, dairy, horticulture and poultry on five acres of land taken on lease from a trust in 2005. Subsequently, he started growing potatoes, cabbages and cauliflowers, bitter gourds, papayas, chilies, bananas and guavas through organic methods and became an example for the local populace with his success.
Looking at Upendra's interest in farming, his wife told him about growing apple ber fruits, which she had seen on Youtube videos. Subsequently, he ordered 200 saplings of the variety from West Bengal and sowed them on the half acre land. The plants have grown and have given more than a tonne of fruits worth almost Rs 1,00,000. People from various localities are arriving at his orchard to buy and see the unique fruit being grown.
The fruit trees are unique. Taken proper care, these plants give better yields with each passing year. The trees are maintained with proper cutting and pruning, with drip irrigation system and totally organic fertilisers and pesticides. After Upendra's success, the local horticulture and agriculture departments have promised to provide useful instruments and financial help to develop the fruit cultivation. Even four- five families are earning their livelihood by working on his farm.
Suggest A Correction