Bantala: In trying times like these, when people are trying to give a boost to their immunity, Ashok Das, aged 50, from Shankpur village under Bantala police limits in Angul district is sitting pretty.
Asked the secret of his healthy life, Ashok unhesitantly gives full credit to his usage of cow urine and cow dung in his daily life.
Ashok owns a cowshed where he is rearing more than 30 cows. There, he prepares various types of medicines from cow urine through distillation process. Apart from cow urine, he also prepares mosquito repellent, tooth powder, dishwashing powder among others.
"I always wanted to do something to save the environment as a child. After graduation from Narasinghpur College in 1992, I did my MA in Odia. I have also Rashtrabhasa Ratna certificate and did a course on Sanskrit Bhagabat in Brindavan. These apart, I did my diploma from Kanchipuram Panchagabya University," he informs.
"After learning it that cow can help solve many issues, I started living life accordingly. I bought an acre of land in Naranpur area, got a cowshed constructed and as of now I am rearing over 30 cows," he adds.
Ashok says he sells milk and ghee every day. And from cow urine, he prepares distilled cow urine (Gomutra Arka) through the time tested distillation process. He has received training from different institutions in Puri, Brindavan and Ayodhya for this.
Distilled cow urine sells for Rs 350 a litre, he claims.
Further, Ashok claims the use of distilled cow urine can keep one healthy as it helps increase immunity. Moreover, its inherent medicinal values can cure so many other diseases.
"I am presently preparing 16 different types of medicines from cow urine and supplying them to various organisations including Go Suraksha Samiti and local ayurvedic practitioners," Ashok explains.
"Cow dung is very useful. I am getting organic manure and cooking gas from it. Besides, I am preparing incense sticks, tooth powder and paste and dish powder from cow dung," he goes on to add.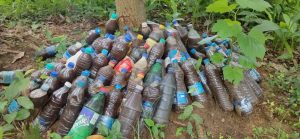 These days farmers are using chemical fertilisers and pesticides to grow their crops. These vegetables do more harms than good to us. It's high time we begin using cow dung manure and urine in growing vegetables. I have been visiting villages and interacting with farmers on how can they use cow dung and urine in their fields, he observes.
Ashok adds that farmers in Gulagadia, Tumuni, Tainsi, Talagada, Gopalpur, Gadataila, Korada and some other villages have received training from him on how they can get maximum benefits from cattle and are now reaping fruits.
Giving Ashok a pat on his back for his work, AYUSH doctor from Jagannathpur PHC under Bantala CHC Dr Bijay Kumar Pradhan said that consumption of distilled cow urine indeed has the potential to improve immunity. Besides, cow urine also goes into preparing various types ayurvedic medicines, Pradhan added.
PNN
Suggest A Correction