Bhubaneswar: Members of the 'Vande Mataram' group gathered here Friday at the Mahatma Gandhi Marg to promote flag-waving among the citizens and youngsters ahead of the Republic Day.
The event titled 'Meri Jaan Hindustan' saw the members distribute more than 500 flags. Most of them had the Tricolour draped around them as they tried to evoke a spirit of patriotism among the residents of the Capital City.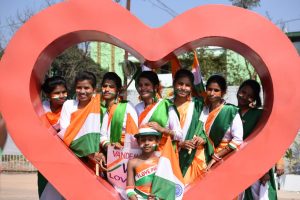 Prahallad Nayak, a member of 'Vande Mataram' said 'patriotism' must be celebrated in a grand manner like other festivals. He added that people must enjoy the spirit of patriotism every day. A play titled 'Kartavya' was also organised by the members.
The event is being organised here annually since 1999 after the Kargil war.
PNN