Mumbai: Filmmaker Vidhu Vinod Chopra said Tuesday he is against any kind of violence but is hopeful that the country will witness a 'new spring' soon.
At the trailer launch of his latest directorial, Shikara – The Untold Story of Kashmiri Pandits, which deals with the mass exodus of the community from the Valley, the filmmaker was asked about the attack on JNU students by a masked mob.
"I condemn all (kind of) violence. I am not just talking I have made a film. I condemn the violence that happened 30 years ago and the violence that is happening today I condemn that also. I am a very hopeful person, maybe because I am from Kashmir and connected to poetry. I am very hopeful that India and all of us we will have a new spring," Chopra told reporters here.
It should be stated here that Monday night, a number of of celebrities such as directors Vishal Bhardwaj, Anurag Kashyap, Zoya Akhtar and actors Taapsee Pannu and Richa Chadha turned up at Carter Road in Mumbai in solidarity with those protesting against the violence at the JNU.
Chopra however, soon started talking about his film. At the centre of Chopra's film is a young couple Shanti Dhar (Sadia) and Shiv Kumar Dhar (Aadil Khan), who are caught up in the violence of 1989-1990 and are forced to leave their home in Kashmir.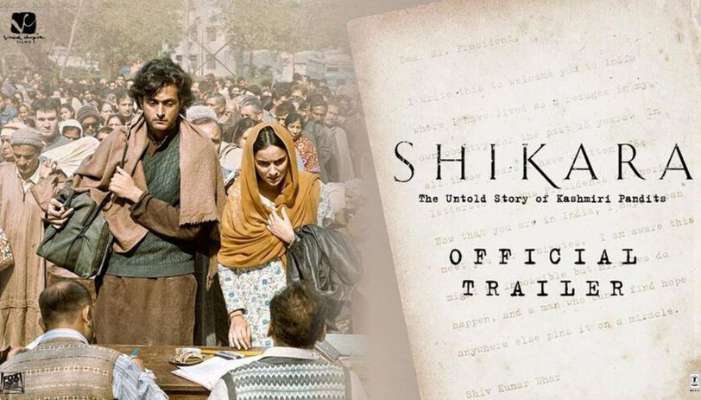 "It is a 30-year-old story of a Pandit couple, Shiv Kumar Dhar and Shanti Dhar, it started in 1987 when everything was alright. It is their story of 30-years and 30 years of India. It took a lot of time to write and make this film, which is a story of those people, who are refugees in their own country for 30 years and it is very unusual," Chopra said at the trailer launch of the movie.
"Whatever film we make we hope, like with 3 Idiots we did hope some students will do something different in their life, with Lage Raho Munnabhai we thought Mahatma Gandhi will bring peace in the country… A film can have so much influence even after 10-15 years that people remember those things. With this film, I hope the community, with whom I have had a very close relationship, there will be some changes in their lives and that their life will become better than before. So that's the intention," Chopra added.
Chopra said that in the film, he has not shown the face of the militants and has tactfully dealt with violence.
"The so-called militants do not have any faces. I wanted faceless violence. There is not a single face that you will see throwing a stone, it is all shadows. I worked very hard to convey those shadows. The idea of the film is to join, not break the lakir (line)," informed Chopra.  Shikara, he said, is a tribute to his late mother.
The film is scheduled to release February 7.
PNN & Agencies
Suggest A Correction