Pune: Head coach of the Indian cricket team Ravi Shastri has every reason to feel proud. And why shouldn't he? Since the conclusion of the IPL 2020, the Indian team have played six series spread over all formats against the two toughest sides in the world. Out of the six series played between November 2020 and March 2021, India have won five and lost one. It has prompted Ravi Shastri to hail the team's effort as a 'season of a life time'.
Immediately after the completion of the IPL, the Men in Blue travelled to Australia. They lost the ODI series 1-2, but won the T20 series 2-1 and the Test series 2-1 against all odds. In fact, India's Test series win against Australia was a remarkable achievement as they missed some of the key players like Virat Kohli (out for paternity leave), Jasprit Bumrah, Mohammed Shami, Ravindra Jadeja, Ravichandran Ashwin and Ravindra Jadeja (all due to injuries). It was with a depleted side that India won the deciding Test at Brisbane to seal the series.
When England came down, they surprised everyone by winning the first Test at Chennai. However, India won the remaining three Tests (one at Chennai and two at Ahmedabad) to seal their spot in the World Test Championships final. Then they won the T20 series 3-2 and the ODI series 2-1.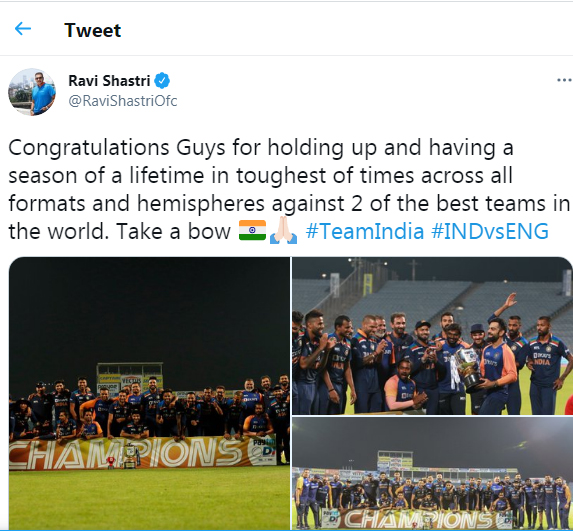 After such a dominating show, Ravi Shastri took to Twitter to laud the players of the Indian team. "Congratulations Guys for holding up and having a season of a lifetime in toughest of times across all formats and hemispheres against 2 of the best teams in the world. Take a bow. #TeamIndia #INDvsENG."
In fact, in both the series India have braved the odds to turn the tables on their respective opponents. When they got out for only 36, India's lowest score in Test cricket, not even staunchest of fans would have thought such a turnaround would have been possible. However, Shastri's boys have shown that nothing is impossible and the Indians have finished the season not only on a high, but very high indeed.
Kudos to team India for that.
Suggest A Correction