Kumar Guru Mishra's collection 'Shades', which is based on the works of Odia artisans, was the main attraction of Autumn Winter 2019
New Delhi: Odisha-based designer Kumar Guru Mishra stole the show at Autumn Winter 2019, which is a part of India Fashion Week organised at Jawaharlal Nehru Stadium by the Fashion Design Council of India (FDCI) here Friday.
Kumar Guru Mishra is currently pursuing his MD at AIIMS-Bhubaneswar and has put in a lot of hard work and effort in putting together his collection 'Shades', which he is currently showcasing at the India Fashion Week.
Being a self-taught designer, he always had an eye for detail. The clarity in Dr. Mishra's mind made him go a step further and showcase his collection at IFW by FDCI keeping in mind the tastes of people there.
He said, "The myriad designs used in Mehendi patterns by ladies since time immemorial is inspired from art in one way or other. And I being a designer have always been inspired by art. My collections have always drawn ideas from and have been a tribute to the artisans and this is no less. 'Shades' has been an attempt to bring the mehendi artistes into the fashion arena. They have always been confined to Indian weddings."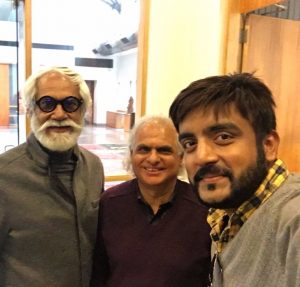 "It has been crafted in silhouettes of evening wears glorified with patterns of mehendi to blend Indian and western art-forms in the perfect manner," he added.
The whole concept of the collection – SHADES – has been brought to life by 10 artisans based in Bhubaneswar of Odisha over a period of 12 months.
Kumar is the first designer from Odisha to be showcasing his collections at the platform of FDCI. President, FDCI Sunil Sethi loved his works on the handlooms of Odisha showcased at a fashion week in London and shortlisted Kumar to showcase his collections at India Fashion Week.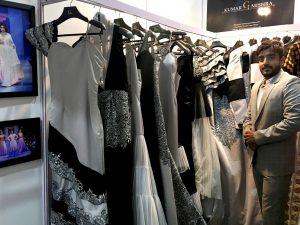 He said, "Despite being a doctor, he definitely has an eye for fashion and has beautifully worked on the weaves of Odisha. I loved the Ikat work which has been created in a contemporary manner and will love to see more of his creativity in our upcoming shows."
A visitor Namita Nayak Chopra said, "I was awestruck by his recent collections. I am speechless for the amount of effort he is putting into his collections. The collection 'Shades' is mesmerising and his attention to each and every detail is what I love about him. I feel he would soon become one of the top-notch designers of India as well as the world."
Kumar has been the first Odia designer to showcase his works in national and international platforms like Bangalore Fashion Week and IPL Fashion Show, London. Many celebrities like Vidya Balan, Eshan Shanker and Archita Sahu have donned his designs and graced the ramp for him.
With a unique sense of fashion and style, he has been trying to promote the Odisha weaves like Pattachitra and appliqué work. He aspires to take forward the heritage of Odisha and revive the art-forms to etch his motherland's name in the international arena.
Suggest A Correction