When it comes to giving a fresh look to your home, there is nothing to beat wall art. Wall art not only enhances the interior, it also jazzes up walls with colour and designs.
Are you confused about the size or type of wall décor to choose?
Sunday POST interacted with a few interior experts to understand the nitty-gritty of wall art.
The first thing one should consider while going in for wall art is choosing the right size for the room.
Anjali Jain, an artist and founder of Kala Drishti, a Delhi based NGO, said, "If you are planning to decorate your room, adding wall art to your home décor will enhance your room with colour. The task of determining the proper size and placement of new artwork can sometimes seem daunting. Therefore, some points need to be taken into consideration.
"First, calculate the length and width of available wall space. Available wall space refers to the blank area you want to fill not covered by furniture. Select your wall art according to the texture and colour of the wall so that it does not give an aloof tone to the room. Select the theme of the wall art wisely so that it reflects your personality. Always opt for happening and motivating wall art in the room to spread positivity."
Nitin Agrawal, head- architecture & design department, Gulshan Homz, talked about the psychological aspect behind wall art and how it affects our mood.
He said, "Along with the final coat of paint and furnishings, wall art also plays a prominent part in interior designing. Rather than relegating wall art to the sidelines, one must keep it on the priority list while thinking about the design. It's not only during childhood that colours fascinate us. An accurate choice of shade can influence our mood positively."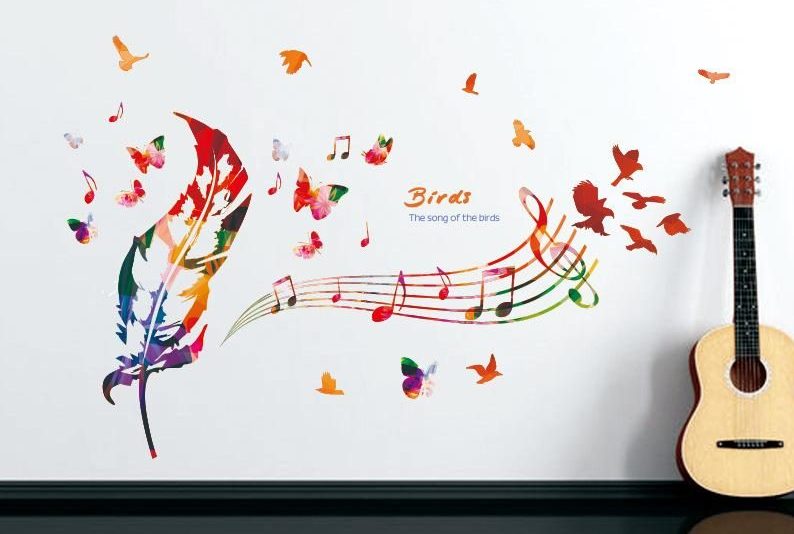 "Wall art does affect our mood vividly. When we return home after a hectic day, we crave relaxation and soothing wall art can help in that. Wall art basically brings in a sense of texture. There are many types of wall art to choose from. Depending on current trends and buyer choices, you could go in for sequences, cheques, horizontal/vertical patterns, or prints. People can choose colours and wall art to suit their personality. For instance, a book lover could go for softer shades and blocked prints with literary sort of designs. Similarly, a sports buff would love to design his/her wall to reflect a playground with brighter shades of colours," Nitin added.
It is recommended that wall art should be such that it can be changed according to the ongoing trend and need. Seasons do play a vital role in the choice of colours for the wall, said Renu Srivastava, manager – Architecture & Design Department, Ajnara India Ltd.
She added, "Bright is the word that is used during monsoon and winters. In winters, the wall ought to have paintings or stickers of red and orange shades that give a feeling of warmth. During summers, the lighter shades of blue, pink, yellow, and green may dominate one's choice as people tend to choose cool shades. We always recommend that people should have a blend of colours in wall art along with decoration in the form of stickers, wall mounts and painting. Changing weather affects the mood of the people. Also, every season has its own colour and walls of different rooms can be changed accordingly."
"Wall art can be changed in tune with the seasons if it is planned smartly. However, nowadays people often just interchange the furniture in the room depending upon the season," she said.
                                                                                                                                       Shabiha Nur Khatoon, OP
Suggest A Correction