"Love is when the other person's happiness is more important than your own"
— American author H. Jackson Brown, Jr.
With Valentine's Day approaching, Sunday POST met a few couples who are passionately devoted to each other and understand the secret of conjugal bliss. These couples believe that love is the most sublime of human feelings and should be celebrated each and every moment of life. Let's hear their stories …
"Love is blind. And when it happens, it overrides differences of caste, creed, and colour," says Arati Das, who at the age of 61 still blushes when she recounts her love story that dates to 1975.
Arati met Narayan Das who was then in the Army at a training camp in Maharashtra. They fell in love with each other at first sight. All went well till they told their parents about their relationship. Arati says, "I was a Kayastha while Narayan was from the Kshatriya community. In those days, Kshatriyas were considered inferior to Kayasthas. I met him at a programme in which he and other officials were undergoing training under my brother. We kept writing to each other till 1979 without the knowledge of my brother. In those days, letters used to be the only source of communication. He used to send me letters at my friend's address. One day, we decided to disclose our relationship to our family and get married. And it was Narayan who came to my house with a marriage proposal after convincing his family. As expected, my parents and five brothers didn't agree and the only reason for their disagreement was that Narayan was from the Kshatriya caste."
She continues: "However, my brother who had trained Narayan backed us as he knew him closely and was sure that I would be in safe hands. After they came to know about my affair with Narayan, my family locked me up in a room and did not allow anybody to visit me. Except giving me meals twice a day, everyone stopped talking to me. It felt as if I had committed a crime. Besides, my parents started searching for a groom for me. When they finalised a proposal, they shifted me to another place in Bhadrak. As I was blindfolded all the way, I had no idea where I was being taken."
Meanwhile, a worried Narayan tried every possible way to contact Arati. As it is said, distance cannot separate two people who really care for each other. Despite being separated from Arati, Narayan was hopeful of their union.  And it was Arati's brother, who was once Narayan's trainer, and her elder sister who helped Narayan and Arati.
Arati says, "My brother and sister helped me run away from the place where I was confined. Everything was kept ready by Narayan at Kusaleswar temple in Keonjhar and the marriage was solemnised in the presence of Narayan's family members. Infuriated, my family members, who were opposed to my marriage, performed my death rituals. However, eight years later, they accepted me and Narayan when my elder son turned five."
Without saying much about their love story, Narayan said, "If today we are leading a happy marital life, it's because of Arati. At a time when girls were afraid of speaking to their parents, Arati was bold enough to express her desire. When two lovers are determined to stay together, no one can separate them for too long. But one thing I must say is that there should not be any specific day to celebrate love. When we fell in love, we were ignorant of Valentine's Day."
He adds: "The truth is that life is short. We need to make each other feel valued and wanted every single day."
Regarding today's youngsters, Arati says, "I have come across many youngsters whose love lasts for just a couple of years because of lack of understanding and trust. They believe in material pleasure."
Jyotirmayee and Ananta Prasanna Behera have an interesting, if heartrending, story to narrrate.
"My mistake was I fell in love with a lower caste boy who was my brother's friend," says. "I met Ananta Prasanna Behera when I was in Class VII and he was doing his Plus II. It was not love at first sight.  As he was my brother's roommate in the college hostel, he frequented our house for studies. He won a special place in everyone's heart. When I was pursuing Plus III and he was doing MBA, that was when we fell in love with each other."
She continues: "Gradually, all my family members except my father came to know about our relationship and they were really happy for us because they knew him so closely. It was during my brother's wedding reception that my father came to know about us through my elder sister. Hailing from an orthodox family, he was totally against our marriage. I was a Brahmin while Ananta was a Kshatriya. After failing to convince me to say no to Ananta, my father abused me physically many times. When my father was all set to solemnise my marriage with another person, my younger brother took me to Ananta. I still remember the day I left my house. My mother was crying inconsolably because she was doubtful whether I could return to my house. Ananta had taken a house on rent in Keonjhar so that my father would not harm us. Though his family was against our relationship, they had to give in as Ananta was the only son of his parents. We got married 15 days after I left my house and hosted a grand party at his place."
However, this was just the start. Many problems followed. Jyotirmayee continues: "Ananta opened an eatery in his village. But he incurred losses in the business and that left us in dire straits. In the meantime, I delivered a baby boy. After the hotel's closure, Ananta did not have any source of income for two years. It was tough for me to manage the house solely with my father-in-law's pension. It was then that I decided to sell tea to supplement my family income. I managed to sell tea worth Rs 400-500 per day. This gave us some strength and we shifted to Bhubaneswar and opened a hotel at BDA with the help of Ananta's friend and started supplying meals to hostel students. We suffered a loss in business after a large number of students left for their hometown for summer vacation without clearing our dues. Later, Ananta started working in a call centre and then got a job with IL&FS Skills Development Corporation Limited. Since then, it has been smooth sailing."
"Many a time, I thought of leaving my family, but it was Jyoti who always stood by me and believed in my ability. She was there with me when I had zero income. Thanks to her patience and will power, we overcame the hurdles in life.  I am thankful to God for her being in my life. I owe my success to the unfailing support of my wife," says Ananta for whom Valentine's Day hardly carries any meaning.
On the other hand, Jyoti, who has adopted a daughter despite having a boy, says, "He may not say the three words 'I Love You' to me unlike younger couples. But his love for me is profound and eternal. When it comes to Valentine's Day celebrations, I must say that love should be felt not shown off."
Meet another couple KK Singh and Bidyarani. Singh who is currently working as the Chairman of International Youth Committee (IYC) is happy to reminisce about his days of romance.
"When I was in Class VIII, I fell in love with a girl through a missed call. It was Bidyarani's voice that made me call her repeatedly. I wanted to hear her sweet voice again and again. After two years of talking over phone, we decided to meet each other at her hometown in Assam. We met at a cafe called Tilli Makhong, where we sat next to each other and started talking. From the very moment I saw her, I liked her. And my first reaction was: 'OMG! She really looks like a Korean lady. I am lucky person to have her as my ladylove'."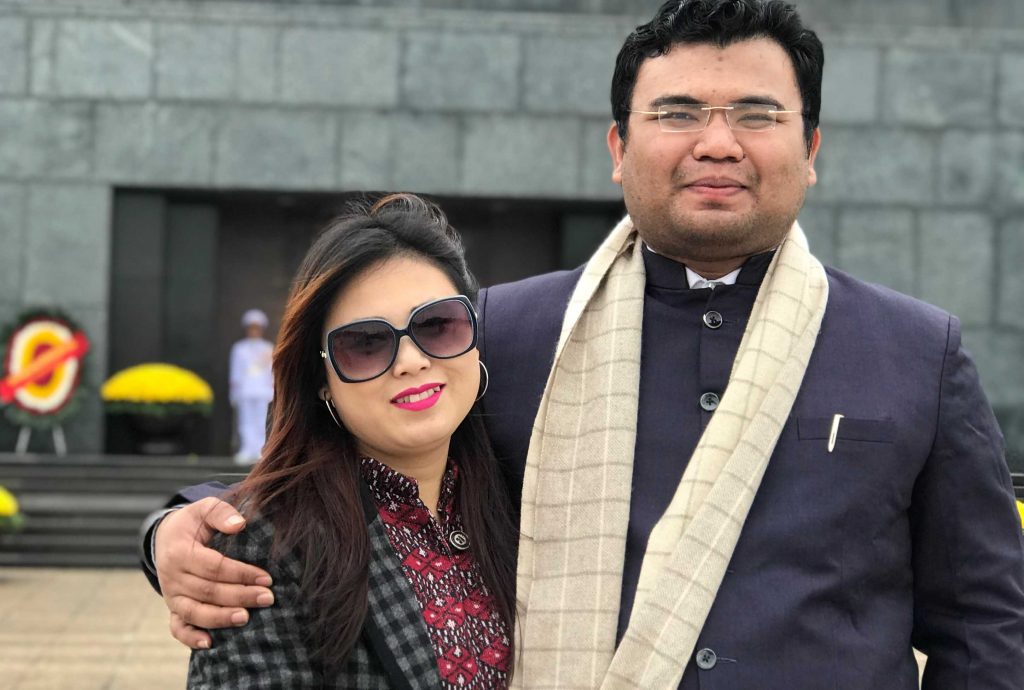 For five years, the love story of Singh and Vidyarani went smoothly. To their surprise, they discovered that they were close family relatives. When both the families tried to separate them after coming to know about their affair, they decided to go in for a court marriage. Bidyarani's family even threatened Singh's family with dire consequences. In the meantime, her family fixed her marriage to another person.
Singh says, "My family was least interested in solemnising my marriage with Bidyarani because they were very serious about my career as I was the only breadwinner at that time. When I learnt that her marriage was about to take place, I drove on my scooter to her marriage mandap. I touched the feet of her parents and other seniors and sought their blessings. With all humility and tears in my eyes, I asked her parents to allow us to live our life on our own terms. I took her straight to my house and got married the very day."
After marriage, Bidyarani helped Singh complete his university education. "Bidya started making incense sticks and I had the responsibility of selling them in the nearby market. Besides, we used to collect mushrooms from local farms and sell them in the market to supplement our earnings. After a few years, her business flourished and complete my education. That's not all. My family which was living in poverty became one of the respectable families in our locality and it happened because of her. Most importantly, Bidyarani never dissuaded me from doing social service. I had launched an organisation named "International Youth Committee" when I was 15. It worked for all-round development issues pertaining to youth. I received four Honorary Doctor of Literature (Honaris Causa) degrees from various universities in recognition of my contributions to the society to empower young people of the world. The organisation I started as a local self-enterprise now has more than one million members from over 176 countries. I am known as a social entrepreneur thanks to Bidyarani's constant support and encouragement," says Singh who was conferred with Asia's Most Influential Youth of the Year award in 2017 and was selected among the top nine Brightest Youth of the World by UNESCO MGIEP in 2017.
"All this happened because of her sincere love, respect and sacrifice. She is the moon of my life," says Singh, adding that they not only love each other but also value each other. Valentine's Day is just another day in their calendar, he says.
Jayashree Sahu and Brajabandhu Subudhi also have an interesting story to tell. They fell in love when Jayashree started doing a part time job in a private organisation where Brajabandhu was the team leader.
"As I was the youngest one in my family, my parents wanted a rich groom for me. When they came to know about our affair, they reacted fiercely against my decision. They made me feel as if I have committed a crime by choosing a boy from the Teli caste for marriage. They discontinued my studies and brought me back home so that I would stop talking to him. As I was determined to marry him, I preferred to elope with him."
"My parents, who once rejected Brajabandhu for his meagre income, are proud of him now as he is a most successful businessman," says Jayashree.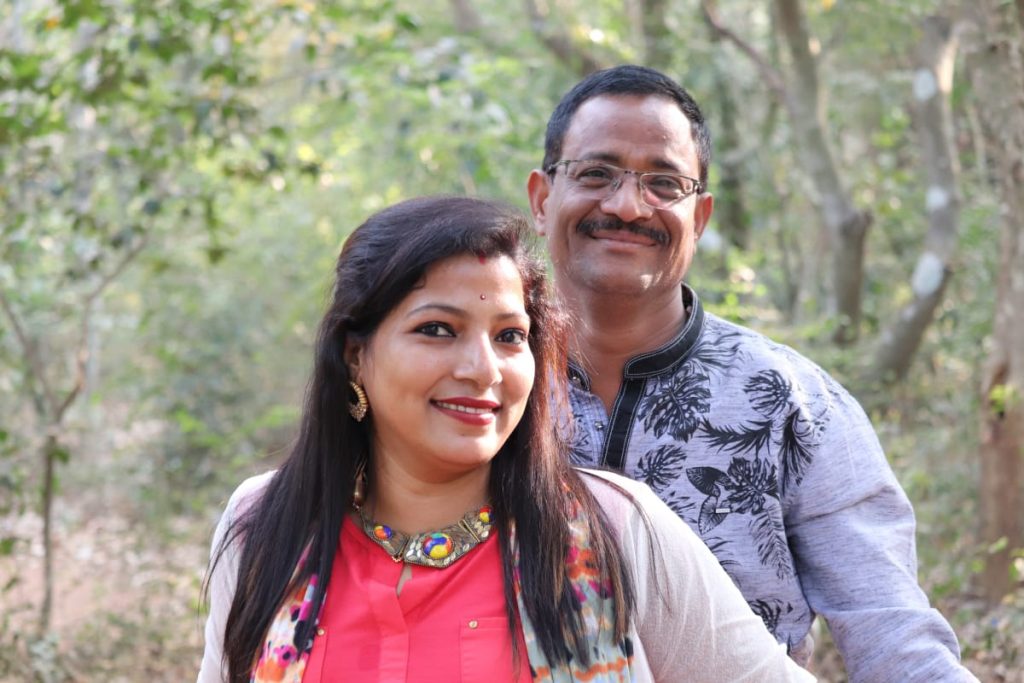 Brajabandhu, who runs a security agency in Bhubaneswar, says, "She accepted me the way I was and still loves me like before. She takes care of even my smallest need. You would be surprised to know that we have never fought since we have been together. I respect her individuality and pine for her company even after so many years of living together."
When asked about V-Day celebrations, he says, "We love each other deeply and value each other. That is love. We don't need to celebrate any day to prove our love for each other."
RASHMI REKHA DAS, OP