Bengaluru: Not many would dare do what 39-year-old D Krishna Kumar did for his 70-year-old mother. He took off on his 20-year-old Bajaj Chetak scooter with his mother, Choodarathna, sitting pillion on a pilgrimage covering almost 25,000km over seven months and seven days.
And here is the shocker: "We never stayed in any hotels or lodges, instead sought out mutts to rest our aching bodies,'' said Kumar. During the unique trip, not once did his scooter break down.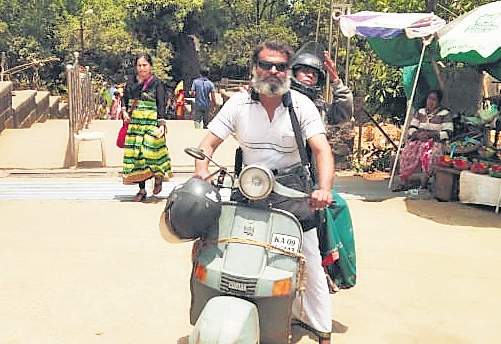 A year ago, in April, both son and mother made a road trip in a car from Bengaluru to Kashmir. "During our three-day stay in Kashmir, we visited Kashmiripura Nivasa temple and other holy places,'' Kumar said. This year, having decided that he had made enough money to lead a modest life, he quit his job to launch the second leg of the yatra. For this yatra, he first customised his 2000 model scooter and made his elderly mother sit pillion in a manner to immunise her from travel fatigue.
What made Krishna Kumar do all this?  His mother was leading a lonely life in Mysuru after the death of his father Dakshinamurthy four years ago. Until then Krishna Kumar, working as a corporate team leader in a city-based private company. It was during one of his visits to see his mother in Mysuru, where she happened to confide in him her desire to see Hampi and Halebeedu.
So, he stressed and decided to take her not only to Belur, but to many other holy places across India.
Suggest A Correction