SOYONG, OP
Chewing Paan or stuffed betel cones is associated with India's age-old customs. Paan is chewed for its stimulant and psychoactive ingredients. According to Ayurveda, betel leaf also called paan is useful in the treatment of ailments like cold, coughs and headaches. Eating paan is said to freshen your breath and boost virility. Paan stuffed with sweet and hot condiments can be bought from street corner kiosks in many parts of the country.
Eating paan has become a ritual for youngsters during the three-day Raja festival (swing festival) in Odisha. People like to savour a variety of paans during the celebration. Women of all ages too can be found chewing betels at shops, malls and restaurants during the festival. Different kinds of paans in various flavours are available. Recent innovations include fire paan, crushed ice paan and Ayurvedic paan. As a result of fierce competition in the market, betel vendors are constantly working on new varieties, the most impressive being the fire paan, a flaming hot item that is literally set on fire, and a paan-shake drink which can make one feel relaxed after a heavy meal. Sunday POST interacts with a few paan vendors in Bhubaneswar as well as people who await the swing festival to savour the latest flavours of paan.
Abhinash Swain of Baripada, who owns Papu Bhai Mitha Paan Shop, said, "The Raja festival cannot be celebrated without eating specially-made paans. I sell fire paan which has become a quick hit with youngsters from nearby villages. This Raja, I will sell fire paan to my customers. Initially customers were hesitant to try it, but now it has become the USP of my shop. I am preparing a wide range of flavours in fire paan for Raja this time."
Asked about the method of preparing fire paan, he said, "Fire paan is a regular paan that has to be lighted first before it is consumed. Fire paan is good for health. We use herbal ingredients such as cloves, cinnamon flowers, lime and nutmeg in addition to camphor and a few other items. It is made at home. Fire paan was popular in metropolitan cities like Delhi and Mumbai and now it has come to Odisha. The paan does not harm the consumers as the fire gets extinguished the moment it is put into the mouth. We have not received any complaints so far."
Amrit, an IT professional from Cuttack, said: "I always eat paan during the Raja festival. When I heard about fire paan, I decided to taste it. The first time I tasted it at Baijamunda in Sambalpur. I was worried about the flames, but the fire paan left a cool sensation in my mouth. It was a unique not-to-be-missed experience. It is the clove that burns in fire paan. But you must be careful while eating it. Don't move back when the paan vendor pushes the paan into your mouth."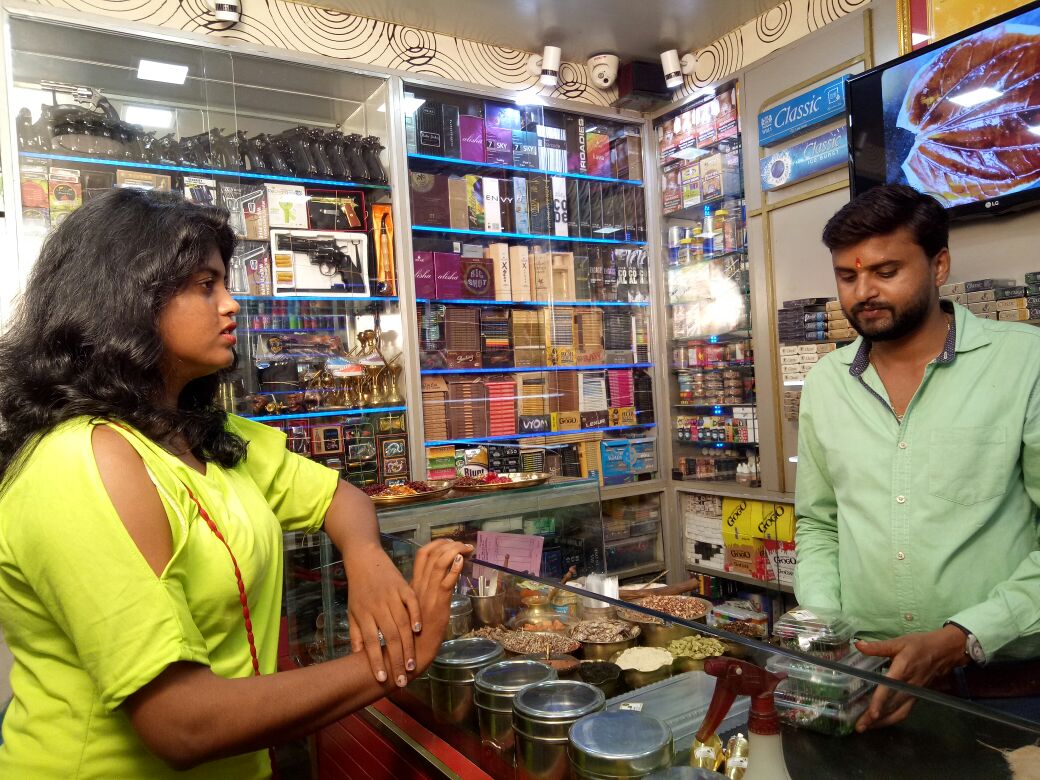 Ramakanta Senapati, owner of Banarasi Paan Bhandar in Sahid Nagar, probably has the widest range of flavours of paan this Raja festival. He said, "Raja is a time when people order paan in large quantities to gift their friends and relatives. As I always offer something new to customers, I learnt the process of making fire paan from a person who has a betel shop in Karol Bagh, New Delhi. This time, we have introduced online paan business in Odisha. We take orders online for paans in the twin cities of Cuttack and Bhubaneswar. We can deliver the required paans in a good package within four hours of order. However, fire paan and crushed ice paan or chuski paan, which is my special for Raja, cannot be sold online as these have to be served directly to the customers at the shop."
Sumit Shukla, owner of Banarasi Paan shop in the City Center mall in Sambalpur, will offer several flavours in paan during this Raja including chocolate, strawberry, butterscotch and many more. Apart from these flavors, his shop is also popular for fire paan and paan shake.
Sumit said, "This time we are going to introduce paan shake which is a kind of drink with the taste of paan. It's for those who are don't like to chew paan but want to taste its flavor and enjoy the benefits of the paan leaf."
"Used in religious ceremonies, betel leaves are eaten post-lunch for their medicinal value. The paan leaves have curative properties and health benefits. Nowadays people have abandoned the paan-eating habit as it reddens their lips and requires people to spit repeatedly. So our paan shake is for those who want to get the benefit of consuming betel leaves without their teeth turning red," he added.
In the twin cities, a variety of paan flavours are available, including fruity flavours like strawberry, pineapple and mango. Some shops sell "royal" paans like Shahi paan, which costs more than Rs 50 and is wrapped in a golden foil, for the Raja festival. So, perhaps you would like to treat yourself to a new paan flavour and enjoy a paan-tastic Raja this time.