A multifaceted museum created by Gopal Krishna Das HoD, Odia Department, PN Autonomous College, Khurda, houses weaponry which were used in Paika Rebellion of 1817
Chaitali Shome, OP
Khurda: Passion makes one different from rest. Meet Gopal Krishna Das, HoD, Odia Department, PN Autonomous College Khorda.  The most interesting facet of Das's life is his Multi Museum where he has turned out to be a keeper of history through his collection of Paika weaponry.
Interacting with Orissa Post, he said, "Khorda is the pride of the state. In this regard, Raysaheb Padma Charan Patnaik had said, 'Ki Ki kali Kede Aparadh, Ki Bhumire Aaji deli mo ra Pada, Jahin Teki dele teka khande ethi mili jiba bira Rakta meda Granthi' from in his poetry piece 'Khordha Pratham Darshane'." The poet focuses on the fact that Khurda is home to countless brave hearts that have defended the land from foreign invaders.
Ever since his childhood, Das was interested in learning about the Paikas. From dramas to folklore, performing arts on 'Paika Rebellion' inspired him to do something for preserving their rich history. He decided to start a museum on 'Paika Rebellion' August 15, 1985. The museum was named after his father Radhagobinda Das and mother Shephalibala Das.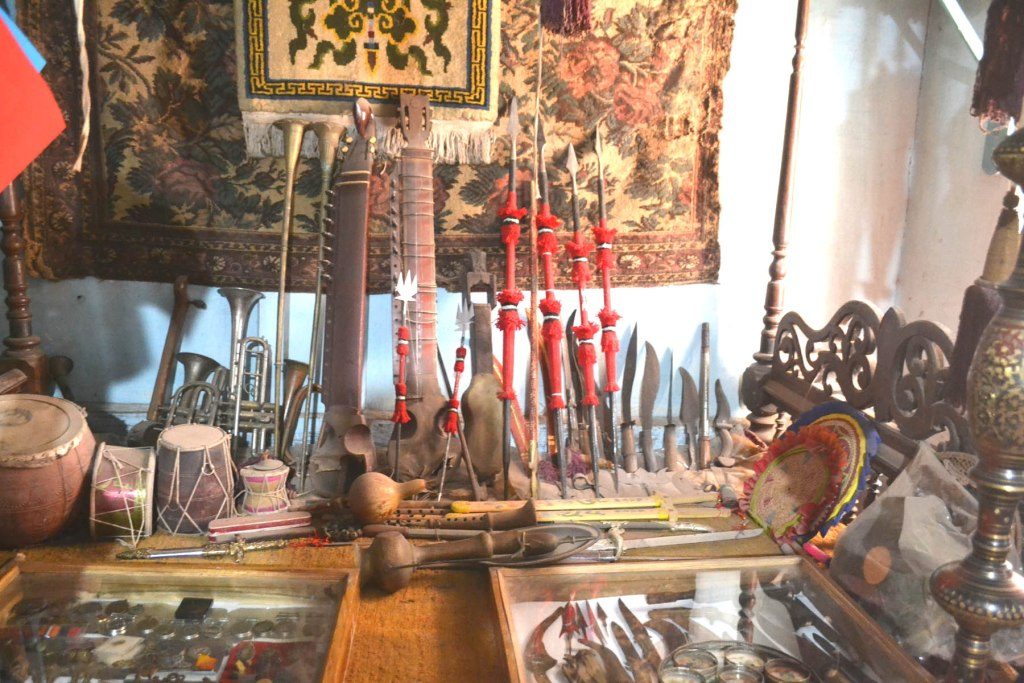 Before the museum came into existence, his father collected a lot of weapons from Chhanagiri village. Quite a few 'Golas', a traditional weapon, were collected from Tapangs War with British in 1827. The museum has Nayagarh King's vest armour, spheres from Nepal, Tibet, Manipur, swords from Amritsar, Bhutan's Thimpu, Manipur and Rampuri knives from UP.
The museum has a 5000-year-old back arrow head made up of stone, axe, Ankush used by 'Mahut' of elephants, Nepali knives, guns and tribal bows and arrows among others. Throwing light on the collection, Das said, "In early times, a Paika used to carry 16 types of weapons while going to a war."
There are Paika Akhadas at various places of Khorda. Here a Paika learns how to use a sword in 16 techniques and how to use a 'Lathi' in 6 ways. Overall, Paika warfare follows the same philosophy as Guerrilla warfare. For 234 years from 1556-1804, Khurda was the capital of the state. Four wars have taken place in four phases. Moghuls and Afghans used to attack Khurda because of its Kingdom. Khurda has four forts: Sisupalgarh (Bhubaneswar), Bankadgarh (Banpur), Buali (inside Chandaka Jungle) and Khorda Fort (which was built in 1568 by Gajapati Ramchandra Deb).
The museum witnesses huge crowd of students from many schools and colleges. Das is reluctant to handover all these weaponries to the Government as it might end up in dust. Das has also written a book 'Highlights of Khorda' which was unveiled by the then CM J B Patnaik. To his credit, he has authored another seven books based on literature, poem, essay and history. He teaches Paika warfare to students of his college. They perform on these teachings at national and international camps of Rovers and Rangers higher section of scout and guide.
His museum also houses antique and luxurious items from 30 countries. Das said, "We have a huge library at my village. It has over 5000 books, Bengali magazines, manuscripts and paper cuttings stored in files. One of the manuscripts has Ivory coverings which make it one-of-a-kind in the state."
Suggest A Correction