Bhubaneswar: While yojanas a day are the rule of the state government, the sources of funding these 'pet' projects have come under scrutiny. Keeping the 2019 election in sight, the state government has been continuously promising goodies without concern for repayment or future development.
It is necessary to mention that new innovative ideas have been encouraged to increase revenue through different means.
The debt burden on the state has increased by over 62 per cent during the regimes' past period spanning from 2000-2001 to 2018-19. The burden has precisely increased by Rs 55,426.53 crore from financial year 2000-01 till July end this financial year.
According to official sources, the total loan burden on the state at the end of 2000-01 was Rs 21,001.88 crore which increased to Rs 76,428.41 crore till July end of this fiscal year.
By the end of last financial year, the debt burden was Rs 73,864.66 crore. In 2017-18 alone, the state had borrowed Rs 14,419.41 crore including Rs 8,000 crore from open market, which is 18.39 per cent of the GSDP. The per capita loan burden by the end of 2017-18 was Rs 16,451. In this year, the state is able to collect revenue of a meagre Rs 36,312 crore from its own resources.
Going by government data, it shows that the state has borrowed Rs 99,031.30 crore between 2000-01 and July-end of 2018-19 while only Rs 37,703.64 crore was repaid during the same period. It means the loan burden increased by nearly 62 per cent in comparison to the repayment of the existing loan.
The state government's debt burden is estimated at Rs 91,943 crore by end of the 2018-19 fiscal year which is 20.73 per cent of the gross state domestic product (GSDP). This is when translated into per capita debt burden, stands at nearly Rs 20,000.
According to projections of the finance department, there will be a fiscal deficit of 3.4 per cent of the GSDP in 2018-19. According to the Fiscal Responsibility and Budget Management (FRBM) Act, the state can borrow up to 3.5 per cent of the GSDP.
Though such a huge amount of loan burden is there already on its head, the state government has never demonstrated its reluctance to announce schemes to provide direct financial benefit in the hands of a section of the people.
In recent past, as election is nearing, the government has come up with a basket of schemes- KALIA, Ama Gaon Ama Bikash (AGAB), Biju Yuva Vahini (BYV), Biju Swasthya Kalyan Yojana (BSKY), free mobile for women SHGs & farmers, financial aid to SHGs, various benefits to construction workers and Ama Ghare LED light, setting up of Special Development Council and such like projects.
In the estimations made by the government, the state is going to spend about Rs 10,180 crore under KALIA scheme, Rs 1200 crore for BSKY, Rs 220 crore for food security scheme, Rs 450 crore for Biju Yuva Vahini, Rs 5 crore for distribution of mobiles to farmers and SHGs.
The government has already sanctioned `1474 crore under AGAB scheme.
If the fund could have been utilised for creating critical infrastructure like construction of roads, drinking water and irrigation projects, many more people could have benefitted from such developments for life. Those would have been sustainable schemes. Apart from new projects, care could have been taken to revamp and modernize electricity transmission systems in which the state's performance is lowest in the country when the transmission losses are taken into account. High transmission losses result in higher electricity charges for the rural poor and the farmers. Similarly, thousands of defunct lift irrigation points are also lying neglected for decades. Those could have been revamped for immediate benefit to the farmers.
As an example of poor administration, the government has created development councils in all tribal-dominated districts. But, it was seen as a move to placate certain bureaucrats rather than accelerate the development process of the backward areas. Besides, as the state has not made proper planning and sufficient budgetary provisions for many of these schemes, it has to depend on borrowing or some other source like diversion of contingency fund, constituted to meet expenditure during emergencies such as drought, cyclone, floods or other natural disasters.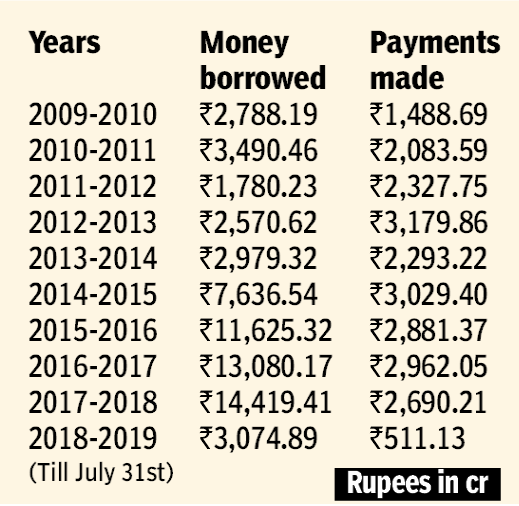 The government has diverted the fund stored on contingency fund to meet its expenditure to implement the KALIA scheme, which was launched recently to distribute financial assistance to farmers. No doubt farmers in Odisha are under dire stress for the utter neglect bestowed on them in the past but this scheme may prove to be full of loopholes that will eventually end up in big sums being misutilised.
The state government is not in a mood to execute central schemes like Ayushman Bharat Scheme (health insurance scheme). This might be due to political reasons. But as a result, the state has to bear a huge financial burden by espousing the Biju Swasthya Kalyan Yojana.. If the state could have executed the health scheme alone by merging or in addition to Central scheme, Odisha may save benefitted by nearly `500 crore, sources said.