Digapahandi: With elections inching closer all parties have been adopting new strategies to win. The Congress move to change its candidate in Digapahandi Assembly constituency has significantly changed political equations in Ganjam district.
The Congress, which had earlier finalised Bismay Mahapatra as its candidate, has now fielded Prafulla Panda.
The decision was made while releasing the second list of candidates for two Lok Sabha and 24 Assembly constituencies Friday night.
While the reason for replacing Bismay is not known, sources said the change was made to give a tough fight to Pinky Pradhan, who has been fielded by the BJP in Digapahandi.
Although the sudden change has come as a rude shock for Bismay's supporters, Prafulla is happy as the party has finally recognised his importance.
After working as block Congress committee president and the president of the student and youth wings, Prafulla became an NAC councillor in the year 2000. Since then, he has been the councillor of Digapahandi ward-8.
Bismay has not responded even after the party removed his name from the list of candidates.
Meanwhile, the BJP released a fresh list of candidates Friday for five Parliamentary seats and 22 Assembly constituencies. The new BJP list includes actress Pinky Pradhan. She will be contesting from Digapahandi Assembly seat.
Pinky is the only woman in the BJP's second list of candidates. The actor-turned-politician will contest against senior BJD leader Surya Narayan Patro and Prafulla Panda of the Congress.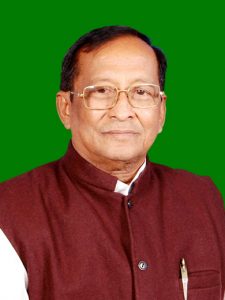 "The ticket is not for me. I will be representing Prime Minister Narendra Modi in Digapahandi. I will contest the polls as the constituency's daughter-in-law," said Pinky.
"Pinky is married to a person of Narendrapur village in this block. So she has a better chance of winning as she is our daughter-in-law," her supporters said.
Meanwhile, the BJD has fielded senior leader Surya Narayan Patro from the seat. He won in both 2009 and 2014. This makes it tough for anyone to guess who would win the elections.
2014 Assembly election results
Party               Candidate                       Votes
BJD               Surya Narayan Patro        78,949
Cong              Saka Sujit Kumar            33,052
BJP                Bijay Kumar Swain            7,771
PNN
Suggest A Correction