The camera is an amazing invention that transforms the way you see things with its power to replicate reality. Photos taken by a camera enable us to store and share memories. Whether you are an amateur or professional, all we need to create is some sense of life in the picture that we take.
Photography is much more than focusing and pressing the button. It's like music. There is no language or cultural barrier to understanding the meaning in a photograph. You can communicate with people around the world with just one click.
A few years back, people trained in photography and made a career as lensmen. But times have changed. Now photography is a passion that many can follow without a problem.
In view of World Photography Day on August 19, Sunday POST interacted with a few amateur shutter bugs who have a passionate interest in photography.
Sujit Mahapatra, vice-president of Credit Suisse, USA, who is from Cuttack started his career as a developer in the IT sector. He is passionate about photography. "To begin with, photography was a hobby like other activities. I bought my own DSLR and started capturing moments to cherish such as the birthdays of my son, get-togethers with friends, and places I visit. I started my account on 'Flickr' and got comments on my photos which helped me to improve. During the initial days, some of my friends laughed at my photography but later they praised my work. I learned to stay focused while taking photos. During weekends, I take hundreds of photos and upload them on social media sites."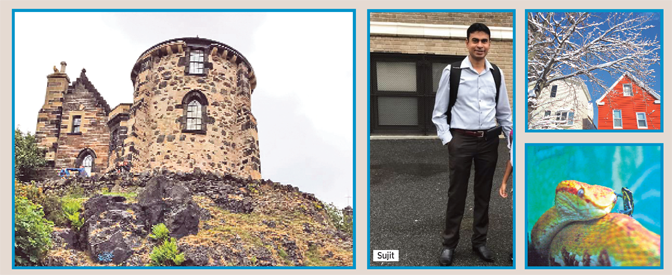 "Every week I try to do better so that I get the best comments on my photos. Every day, I try to learn more about photography. For me, it comes easy. It is more of an excitement and an adventure," Sujit said.
"The availability of digital cameras, mobile phones, growth of social media sites and, more importantly, the ability to store images without printing, have brought a revolution in photography," he added.
Akhil Ranjan, a software developer at Infosys, Bhubaneswar, had a passion for photography from his childhood. He is popular among fashion designers and models in city. Hailing from Jamshedpur, Akhil is keen on photography more than anything else in his life. He said, "Through my photos, I want to capture the best aspects of my subject and tell their story. I want people to feel what the subject is feeling. Every time I pick up a camera, I love photography more and more.''
Asked how much he enjoys taking photos, Akhil said, "You always learn something and have new directions to explore and new challenges to face which I love. This is a pursuit that no one will ever be bored with. Everyone sees things differently. Put ten photographers in a room and you'll get 10 different pictures. The way you see the world is exceptional, and photography lets you share that perception with others. When I put my photographs on social media sites like Facebook and Instagram, I get likes, comments and requests to make portfolios for others. I think people like my exceptional photo angles."
"I love street and wildlife photography. But I am fond of taking pictures of children. Whether they are your own, a friend's, or a client's, kids are always an amazing subject for photography. They see the world differently, and often express their emotions better than adults. Being able to capture them realistically is both an incredible photographic challenge and an intense learning experience," he added.
Soumya Ranjan Mohanty, a software developer with TCS, Bangalore, often shares his nature photos on social media.
"Photographs always tells a story. A story published in a magazine or newspaper is incomplete without a photo. Now, people capture photos on their smart phones, so everyone becomes capable of telling their personal stories through photos. Social media sites help you in sharing your story. It is amazing that we are able to do all this on a smart phone. I enjoy taking photos on outings with friends and I share those photos on social media and wait for comments," he smiles.

"Through a photograph, I sometimes vent my feelings. I keep myself busy with my DSLR as photography has now become a way of expressing myself. When one of my photos became viral on social media, it was an unforgettable experience. In all things plain and ordinary, I suddenly discovered a whole new world with my DSLR. For instance, hands are not of much value for a person who has no creative perception, but a photographer may view hands as aging, a sign requiring care or help. Everything around me looks different when I see the world as a lensman. Now, I take as many photos as I can and post them on social media. But nowadays I focus more on my photography than people's comments because photography has changed the way I see things," Soumya said.
Love for animals sometimes encourages people to become wildlife photographers. Such is the case with Pradeep Kumar Sutar of Bhubaneswar. The businessman used to regularly watch a drongo bird sitting on a plumeria tree near his house. Once he clicked its picture. That picture made him realise how beautiful birds are. He went on clicking photos of birds and then animals and gradually developed a love for wildlife photography.

Asked about the skills needed to be a good photographer, Pradeep said, "Artistic and creative approach and technical knowledge. If you have an artistic view, you can see a live scene or object from a different photographic angle. Utilising your creativity you can visualise the photo before clicking. Then, it is time to set the measurements to get the result as per your visualisation."
Pradeep has travelled in Rajasthan, Himachal Pradesh and Karnataka for photography. He excels in portrait and nature photography, besides wildlife photography.
"At times, we see things, but we don't really capture what is beyond our vision. In some cases, people are inventive and imaginative. You may see something in one way, another person can see it in an entirely different way. In the eyes of an artist, some things can get a whole new definition and dimension."
Going into some technical details regarding wildlife photography, Pradeep explained, "There are four modes in professional cameras like 'shorter priority', 'program mode' and 'aperture priority.' The fourth mode is manual where you can set the aperture, shutter speed and ISO as per your choice. The talent lies in setting these measurements accurately. I worked for six months in the jungle to get that accuracy."
  SOYONG,OP
Suggest A Correction