Back in 1975, thousands watching the Republic Day Parade in Delhi were taken by surprise when a young lady police officer, in her mid-20s, led the all-male contingent of the Delhi Police in the marchpast. That was Kiran Bedi, the first Indian woman IPS officer and now Lieutenant Governor of Puducherry.
Cut to 1984. A 30-year-old Bachendri Pal from a small village in Uttarakhand became the first Indian woman to scale Mount Everest. In Odisha, a few years ago, 25-year-old Munni Tigga, who had battled several odds to finance her education, went on to take the job of a loco pilot, becoming the first woman from Odisha to do so. Kiran Bedi, Bachendri Pal and Munni Tigga showed that women can break gender stereotypes and venture into professions long dominated by men.
Gone are the days when women couldn't hold a job outside the home, let alone run a business. Today, women are making their presence felt in every realm of life. They are joining the armed forces and police, thereby disproving the long-held views that only men could enter these professions. Until a few years ago, idol making was primarily a male-dominated profession. However, now women from the families of idol makers are joining their male family members in sculpting idols. Given that the festive season is about to begin, with Ganesh Chaturthi approaching to be followed by Vishwakarma Puja, Durga Puja, Lakshmi Puja and Kali Puja, there will be a surge in the sale of idols — big and small, traditional and contemporary. Sunday POST visited Silpi Kumbharasahi in Cuttack to understand why an increasing number of women are taking up idol making as a profession.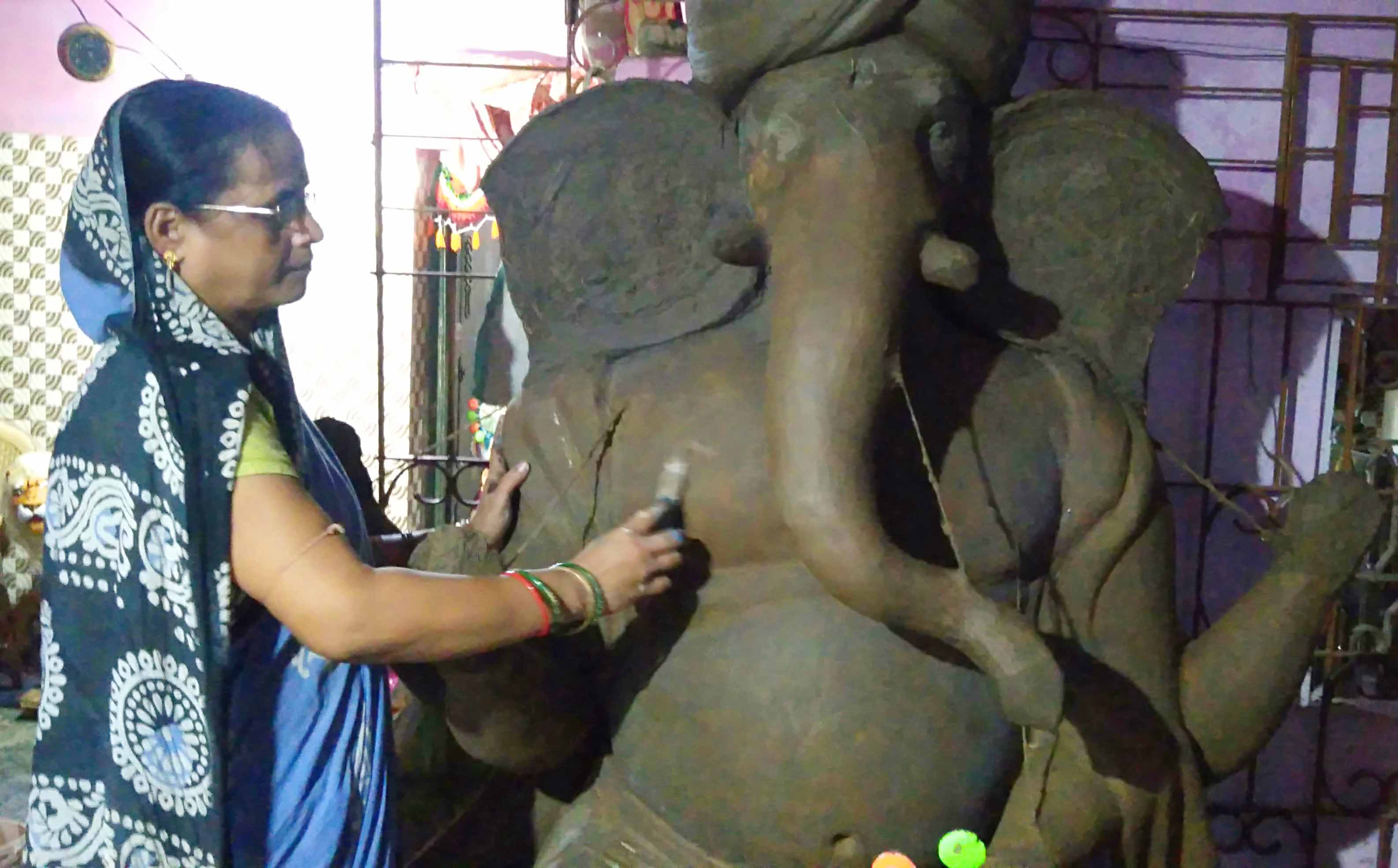 In the narrow alley of Silpi Kumbharasahi, the sculpting hub and home to several potters, one can easily spot women idol makers giving final touches to idols of Lord Ganesha and Khudurukuni. They are not trained sculptors. Till some time ago, these women spent most of their time managing the kitchen. However, many among them are now taking to idol making in their free time, while some devote their entire time ahead of the festive season.
As we walk past the houses, we see mounds of clay, bamboo of different sizes, straws, and cans of paint stacked in the respective compounds. Idol making is on in full swing ahead of the deadline. We spotted a lady engaged in carving the face of a medium-sized idol of Khudurukuni, which will be worshipped every Sunday throughout the month of Bhadraba in Odisha. The lady, Manorama Mishra, was being assisted by her daughter Sonali.
Though pressed for time as deadlines for delivery of idols are nearing, they agreed to a brief chat. "Idol making is not just our profession. We love doing this. We have grown up watching the male members of our family doing this for years. So, why can't we? At least it's better to do something than sitting idle in our spare time," says Manorama.
Idol making is an intricate affair and goes through several stages. "It's also a time-consuming affair and the preparation starts right after the festival of Holi. We devote our entire time to making idols over these four months so that orders don't get delayed. It's the peak season for us," she adds.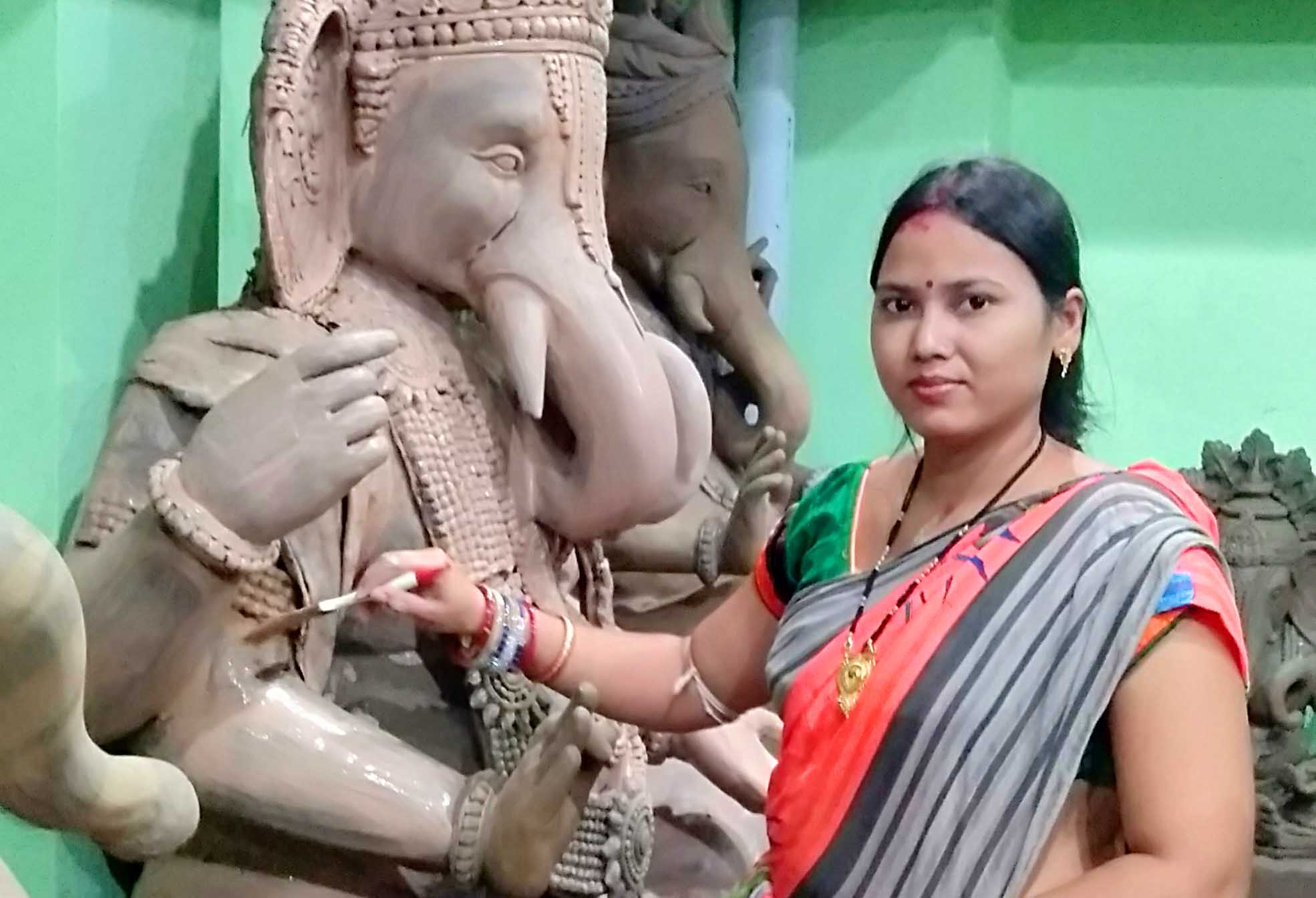 Understandably, the more the orders, the bigger the income. Many women who started idol making as a hobby have now taken it up as a full-time profession. Today, they are contributing to the household income and some are even the principal bread earners in the family. "I learnt the art from my mother-in-law. I ventured into the profession after her death and have been making idols for the last six years. Idol making needs perseverance and patience. I used to see her sit for hours to give an idol the perfect look. Now my daughter too has joined me in this occupation," Manorama says.
Together, Manorama and Sonali make around 3,000 idols of Khudurukuni, Ganesha and Vishwakarma over a period of four months. It costs about Rs 200 to make an idol, and each idol is sold for Rs 300.
It's not all about quantity but also quality. The better the idol maker, the higher is the demand and price for their idols. Sonali, who is a tailor by profession, took to idol making to earn a few extra bucks to support her family. "My mother makes the idols and I help her, while my father and brother look after the business. We have regular clients who place orders, and, on completion, the product is delivered from our home. The remaining idols are taken by my brother and father for sale in the local market," says Sonali.
As we walk past a few more houses, we spot an elderly lady scrutinising a recently finished idol. Chhabirani Behera is one of the oldest idol makers and has been in the trade for three decades now. She has been carrying forward the legacy of her father. "I learnt idol making from my father. I love idol making so much that I quit my studies midway and started helping him. Since I was passionate about idol making, I was quick to learn the tricks of the trade. I wanted to make it my business and always wanted to get married to an idol maker. Luckily, I married one," she says.
Today, the couple makes idols together. While her husband makes the clay structure, Chhabirani paints all the idols and designs the ornaments. She also makes idols but those are mostly small and medium-sized ones. "It is a bit difficult making a big idol singlehandedly for a woman, but I assist my husband in making large idols of Goddess Durga, Kali, Lord Kartik and Ganesha," she adds.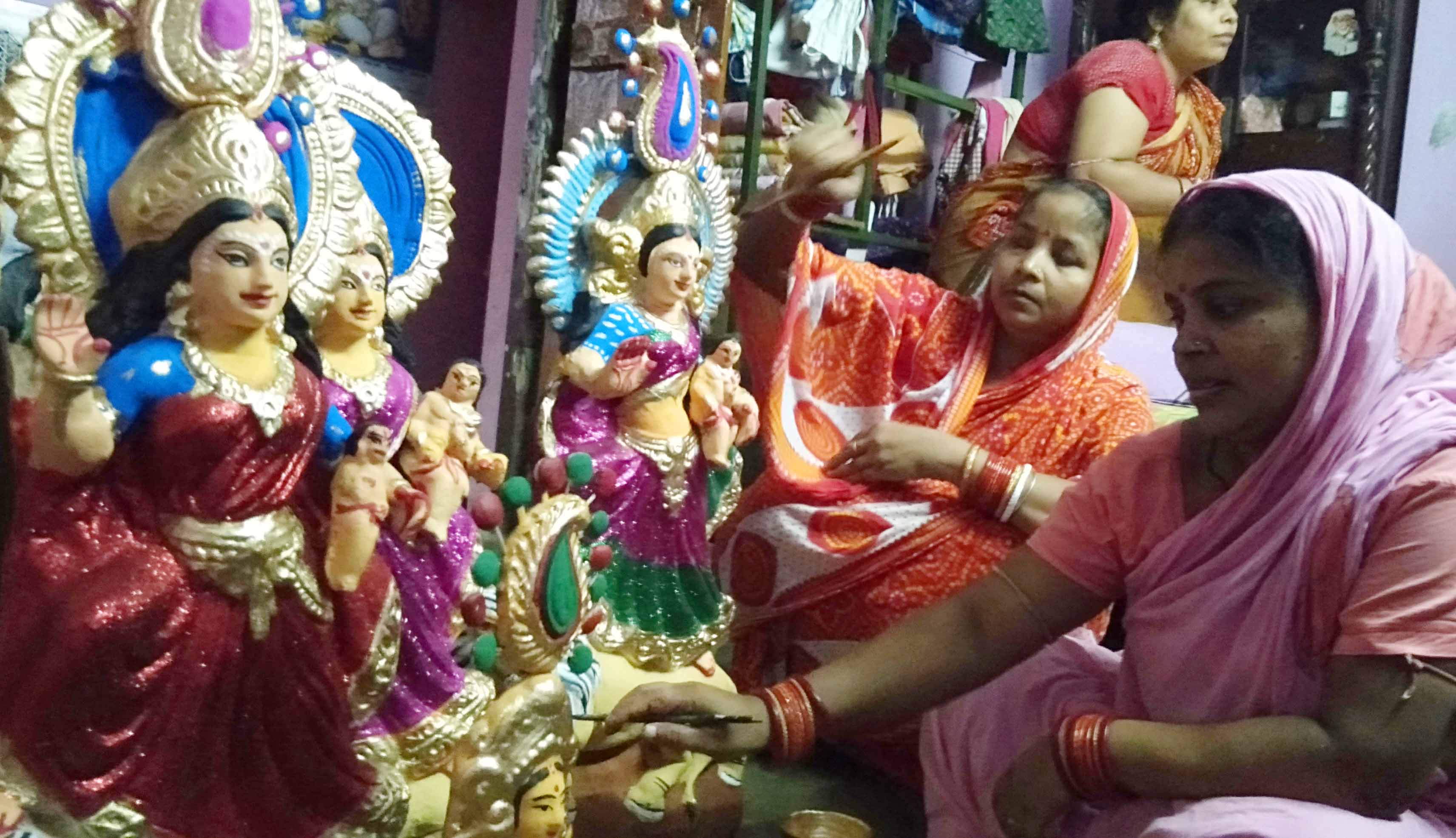 Much like Manorama, Chhabirani too has regular clients and their orders are pre-assigned. Delivering idols to these clients on time is priority. "Good craftsmanship is of no value unless you can meet deadlines. We spend sleepless nights as the deadline nears," she says. The price of an idol depends on the craftsman's expertise and one can at times make more than 100 per cent profit from one idol.
As we bid adieu to Chhabirani, we spot a few women bargaining with another women idol maker. Gitanjali, one of the emerging stars in the business of idol making, has been giving her male counterparts stiff competition over the last few years.
Gitanjali says that she learnt the craft from her mother-in-law and has been running the business for the last seven years on her own. She looks after everything from crafting the idols, painting them, supervising the craftsmen, and managing the finances.
"It was considered a profession for men but there are so many women who have emerged as prominent names in this business today. It's a time-consuming affair and there is business for only four months. We go all out to make the best idols so that they fetch us high prices, and our household expenses for the rest of the year are taken care of," she says.
A few steps away from Gitanjali, we come across Susmita Muduli, who is busy painting idols of Lord Ganesha. She prefers working at home, while her husband goes to pandals to make idols. "I learnt the craft from my husband. I still remember the first time I gave shape to an idol. It was such a satisfying feeling," says Susmita, who started by making small idols and slowly mastered the art of making big idols.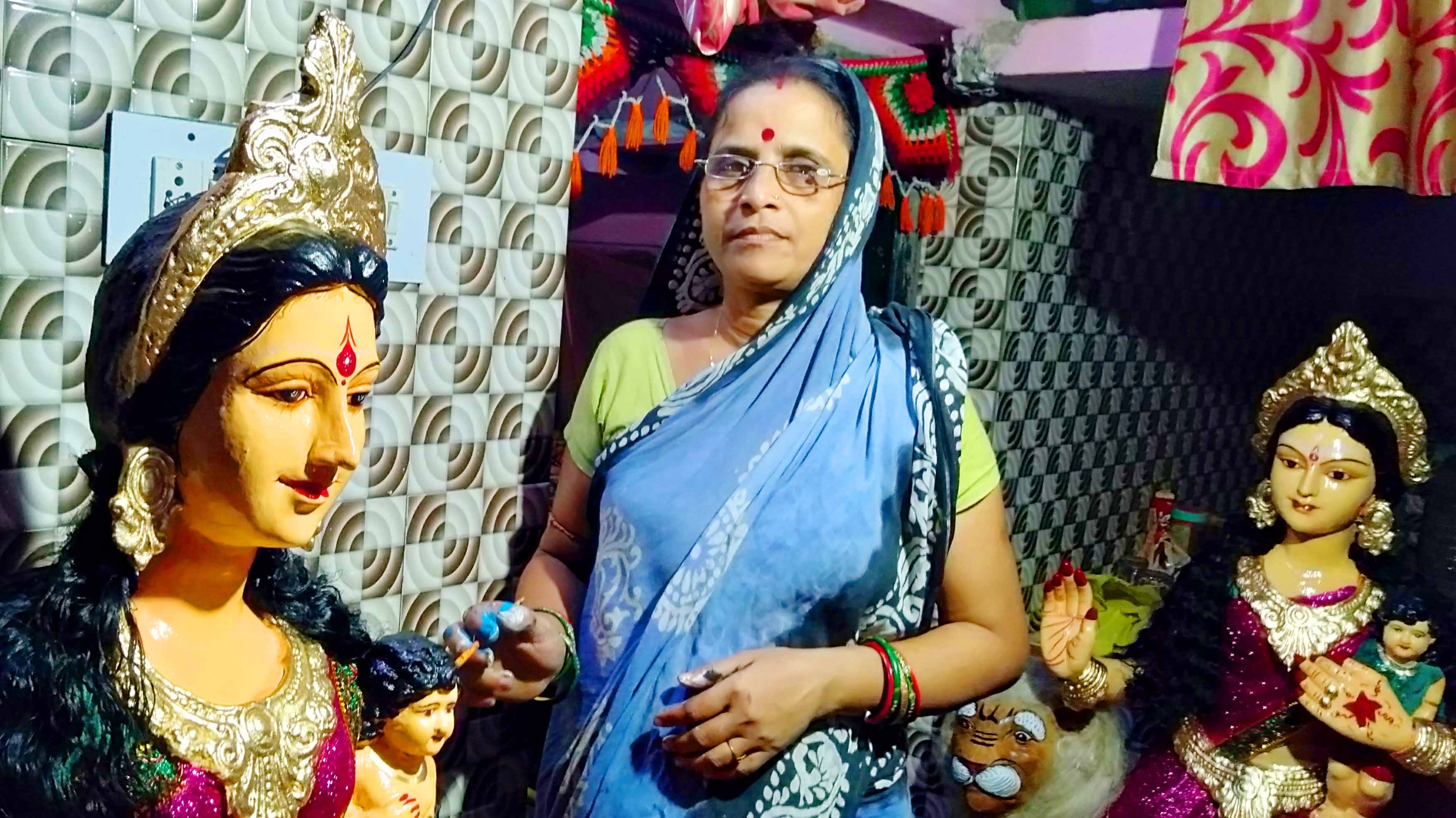 "My husband used to make the bigger idols but then I thought I too should give it a try. Making big idols is a difficult task. We make idols to earn a living. A lot goes into carving an attractive idol. Those idols are handsomely priced but at times I also feel bad when I see my creations disappearing without a trace during immersion," she says.
Idol making is usually a family business, and many women who started as amateurs have graduated into professionals. Minu and Manorama are sisters-in-law and have gained popularity as a team in the last few years. Their fine grasp over the medium has made them celebrity idol makers. Today, they own a workshop and supervise an army of junior craftsmen and labourers. "We learnt the art after our marriage and slowly improved. With time, we started improvising. You have to continuously experiment to come up with something new, so that people start valuing your creations. We have been doing this for 25 years now," says Minu.
For Ritanjali Muduli, idol making is not only a means of livelihood but also a spiritual affair. "It is a divine feeling once you complete an idol. It's your creation and you feel proud but, at the same time, you also feel spiritually rich having given shape to the God or Goddess that millions worship," she says.
However, Ritanjali says that fame doesn't always translate into money. As a result, many potters and craftsman have switched to other professions to make a living. "There is work but not enough money. Moreover, it's a seasonal business. I don't want my children to venture into this profession," she adds.
RASHMI REKHA DAS, OP
Suggest A Correction