BANAPUR: The majestic Dakshya Prajapati temple situated at the notified area council of Banapur in Khordha district is thronged by devotees from all over the state despite being neglected in the developmental aspect by authorities.
Orissa Post interacted with Taranisen Pattnaik who has done in-depth-research on temples of the state, to delve deeper into the subject. According to Patnaik, this place used to be the capital for the rulers of Sailodbhava dynasty who were also the builders of early group of temples at Bhubaneswar.
This temple has successfully preserved the wonders of her magical land secretly from outside's influence. Dakhya Prajapati Temple is on the right side of Balugaon-Bhagabati Temple Road in Banapur town and is about 5 kms west of Balugaon on NH16. It is one of the best preserved heritage temple in Odisha and a fine specimen of extraordinary artistic excellence of Kalingan art.
This temple attracts tourists due to its beautiful and well-maintained design and sculptures like Gaja-Vidalas, Alasha Kanyas (decorative nayika figures) and other minor images. The scroll work locally called dali/lata in Odia, is extremely beautiful and varied in design. The Parswadebatas in the niches are Ganesha, Kartikeya and Parbati. Outside the door, Gaja-Laxmi in Padmasana appears in the centre of the upper casing.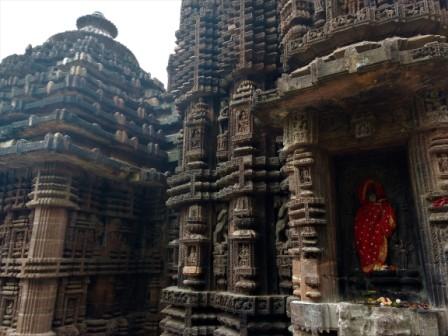 Dakhya Prajapati Temple is a primarily a Shiva temple. However, traces of Buddhism and Jainism can be noticed from the wall images and broken statues lying in the premises. The Vimana and Jagamohana are the originally ones build in 13th century. However, rest of the structure was added by Harichandan kings in 17th century. A mandap was added later on during the British period.
Suggest A Correction