Bhubaneswar : As the first phase of elections ended, the candidates of different constituencies are leaving no stone unturned to attract voters. Apart from campaigning along with their supporters and their respective party leaders, the candidates are even using 'star power'. In a bid to woo voters, the BJD candidates of Bargarh and Jharsuguda brought stars like Suniel Shetty and Mahima Chaudhury of the Hindi film industry, to campaign for BJD candidates in Jharsuguda and Bargarh, Friday.
The stars are in the state to campaign for the BJD candidates Nabakishore Das and Prasanna Acharya contesting from Jharsuguda and Bargarh respectively.  Many Odia actors of the industry are also campaigning for different candidates.
Odia actor Babushan Mohanty, whose mother Aparajita Mohanty is contesting from Bhubaneswar (North) as MLA candidate from BJP, is also campaigning in many districts.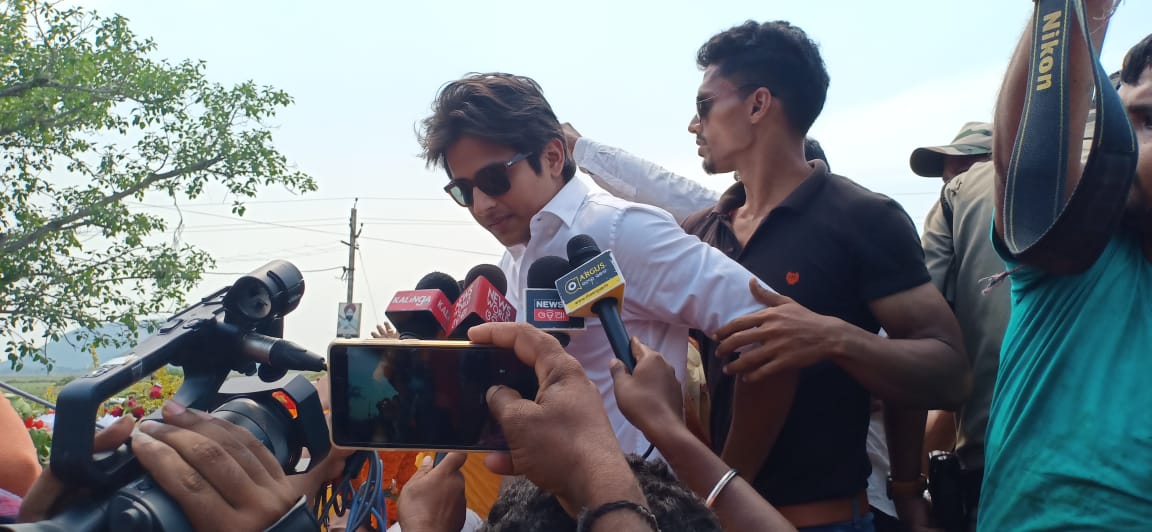 The BJP, earlier, had released its list of 40 'star campaigners' for Odisha which is scheduled to go to the polls in four phases on April 11, 18, 23 and 29. The list included stars such as Hema Malini, Smriti Irani, Mihir Das, Sritam Das, Maheswata Ray, Aparajita Mohanty, Anu Choudhury, Pinki Pradhan, Ashrumochan Mohanty and Harihar Mohapatra.
They will campaign for the saffron party candidates for the  Lok Sabha and  Assembly elections in Odisha.
The BJD party also boasts of big names such as Anubhav Mohanty, Akash Das Nayak, Arindam Roy, Kuna Tripathy, Uttam Mohanty, Prashanta Nanda, Munna Khan, Asit Pati, Elina Das, Trupti Dash, Sidhanta Mahapatra.
Anubhav Mohanty, the star of the Odia film industry who had recently starred in the film 'Biju Babu', is fighting elections from Kendrapada LS seat against Baijyanta Panda.
In the election campaign these stars are big crowd-pullers and can be seen in different districts with the party leaders.
Some of the personalities had even changed the party in recent times. One such name is Mihir Das who had joined BJD in 2014 but has now joined the BJP party. Aparajita Mohanty who had joined the Congress during 2014 general election, quit the party February 13, 2018 and joined BJP.
But the question remains, how effective are film actors in gaining votes for a political party? Do they just add glamour to an election campaign?
Political expert Rudra Prasanna Rath said, "I do not think they can convert the crowd into votes because people are matured enough to understand that stars cannot solve their problems.  A party must rethink about fielding a film star as a candidate. People should be concerned about a candidate's social contributions and not just the glam-factor".
Social Activist Adarsh Kumar said, "I think that people should vote in terms of performance by the candidates and the party. Stars cannot ensure votes as they are far removed from ground realities. They can be great crowd-pullers.
Sidharth Mohanty said that having celebrities from the film industry certainly helps the various parties in attracting crowds and gain attention and thereby helps them share their agendas. But I don't think people vote for the stars.
Amartya Bhaatacharya feels there is nothing wrong in this. "Many say that film stars don't understand politics, by which they mean they aren't as manipulative as seasoned politicians. I don't disagree with this, but a democracy means people's representation. Film stars do have public support. Otherwise they wouldn't have been stars. So there's nothing wrong in involving them in elections. Frankly speaking, India doesn't need politicians or film stars. What it needs are sensible minds," Amartya said
Arindam Ganguly, OP
Suggest A Correction