New Delhi: It was a memorable Independence Day for the Indian cycling team of Esow Alben, Ronaldo Singh, James Singh and Rojit Singh, as they clinched a historic team sprint gold medal at the World Junior Track Cycling Championships at Frankfurt, Germany.
India didn't have a good start as they were trailing after the first lap by 0.244 second. However, things changed from the second round onwards. In round 2, the Indian team reduced the time gap against Australia to 0.030 second and then produced a spectacular effort in the third round to write a page of their own in the annals of Indian cycling history.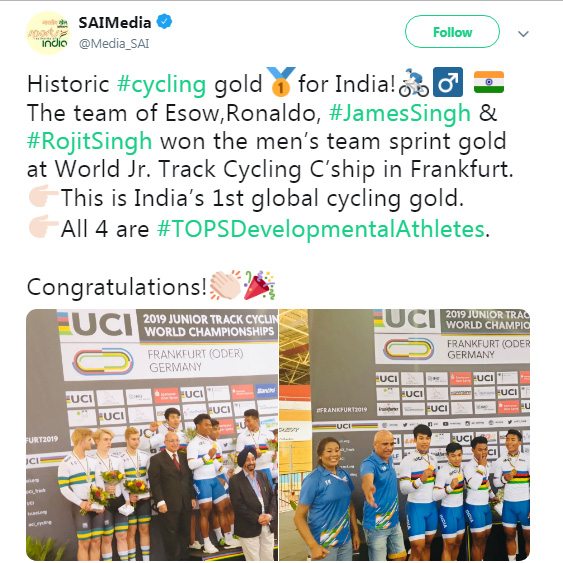 Esow Alben, who is currently the top-ranked junior cyclist in the world in the sprint and keirin events, had created history in 2018 when he won a silver medal in the men's keirin event at the Junior Track Cycling World Championships in Aigle, Switzerland.
The Indian junior team are currently ranked number two in the world. They finished with a total time of 44.625 seconds. The Australian team, who were leading in the first two laps, were left stunned as India finished the last lap in just 12.915 seconds to win gold.
Earlier in the day, the Indian team had finished first in the team sprint qualifiers, clocking 45.094 seconds to finish ahead of Australia (45.162s) and eventual bronze medallists Great Britain (45.355s). In the quarterfinals India (44.764s) defeated China (46.248s).
Agencies
Suggest A Correction