Top Odia cine actors Sabyasachi Mishra and Archita Sahoo tied the knot last week at a spectacular destination in Jodhpur. Expectedly, the news was all over the place as the two being one of the most popular screen couples of Odia film industry.
However, one more wedding that was solemnised the same day but at a remote village of coastal Jagatsinghpur district of Odisha, too hugged the limelight. In fact, several national Hindi and English newspapers splashed the story. Reason: The marriage involved Pramodini Roul, an acid attack survivor who took the sacred vows with her fiancé Saroj Sahu.
This was significant because at a time when not too many people go beyond physical features, Saroj fell for Pramodini's inner beauty. But more than that, she instantly became an inspirational figure for many acid attack victims in the country.
Whenever a woman decides to raise her voice against any sort of injustice in the patriarchal society, she is meted out torture by different means either by hurling acid or by other forms of abuse. However, acid attacks are surely the most horrendous and gruesome crimes .It rarely kills a victim but it certainly causes severe physical, psychological and social scarring. It becomes difficult for acid attack survivors to accept that their lives will never be the same again. In many cases, the victims prefer to end their lives rather than being ostracized by the society.
But there are only a select few like Rani who lead life on their terms withstanding such attacks. Ahead of International Women's Day, Sunday POST brings heart-rending tales of some acid attack survivors who haven't let the tinted social gaze bother them.
Pramodini Roul who loved to be addressed as Rani needs no introduction. From being a bedridden girl for five years to a woman who chased the culprit and put him behind the bars, her jest for life and battle for justice has almost become part of folklore.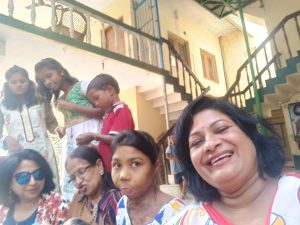 Rani, then 16, was attacked by a paramilitary force jawan Santosh Kumar Bedanta with acid April 18, 2009 at Jagatsinghpur, Odisha, her native place, after she rejected his marriage proposal. She suffered 80 per cent burns and complete vision loss in the attack. She got 20 per cent vision back (left eye) after operation. Rani spent seven months at a hospital in Cuttack and then was bedridden for five years at home.  Saroj met her in 2014 in a hospital where she was admitted for advanced treatment. Since then Saroj has been a regular companion. It was Saroj who, overlooking Rani's physical scars, fell in love with her internal beauty. Even as Saroj proposed to her many years back, he patiently waited and respected Rani's decision to settle down not before bringing the culprit to book. She also wanted to stand on her own feet before settling down with him. So much so, that Saroj left his job as medical representative and joined her cause — helping acid attack survivors.  Their love bloomed during the painful phase Rani was going through.
With Saroj standing like a rock behind her, Rani managed to reopen her case and identified the culprit in second at a test identification parade by the police. Though the final verdict in the case is yet to be delivered, her fight for justice has certainly sent a message to the acid attack victims.
"I would like to give a message to every acid attack survivor that they should not feel hopeless, rather rise up and dream big because you are no less," said Rani while speaking about the miraculous turn of events in her life.
Rani knows she will never get her shining hair and flawless skin back but she has realised her worth now. She is trying to make the lives of other acid attack survivors better.
Like Rani, Damayanti Bihari of Dangariguda village in Kalahandi district had no inkling that something so awful would happen to her. She was on her way to attend a computer class January 18, 2018 after crossing Hati River, when a jilted lover hurled acid on her.  That was the worst day of her life, says the only child of a daily labourer Jukta Bihar.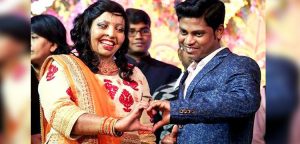 "When I looked into the mirror after regaining sense, I screamed out of fear. I couldn't recognise me. It all happened because I spurned the advances of a man", adds Damayanti with tears rolling down her cheeks.
The horrible moment is still fresh in her mind. Soon after the incident, she rushed to the Hati River and took a dip. Her immediate action saved her life but couldn't prevent severe burn injuries on her face and hand.
After undergoing several rounds of treatment and plastic surgery at various hospitals for about six months, Damayanti started the life afresh. Presently, she is learning stenography in Bhubaneswar to get a job and support her poor parents. Most importantly, she hasn't contemplated suicide like many other victims and ensured punishment for the culprit.
"With time I have recovered from my physical injuries but it was hard to deal with the mental trauma. Though three years have elapsed to the incident, my friends hate me and maintain a distance from me. However, I am happy that the culprit has been punished after committing the crime.  All I want now is a job to look after my elderly parents and opportunities to work for the society," says Damayanti.  It is not the end of the world after such mishaps as every sunrise brings in a new dawn," she signs off.
Minati Pradhan of Kabisurya Nagar is another victim of acid attack. Since Minati's marriage with Niranjan Pradhan of Polasara in 2017, she had been subjected to physical and mental torture for more dowries even as his demands were met at the time of marriage. Ultimately, she had to leave her in-law's house and live with her parents. Minati's family had lodged a complaint against Niranjan too. But he was not a man to remain silent.
Recalling the barbaric incident, she says, "After leaving my in-law's house, I pursued a diploma course in Medical Laboratory Technology (DMLT). I was staying in a college hostel. On November 16, 2017, I was on my way to attend class when my husband threw acid on me on the college campus and fled. As I screamed in pain, onlookers rushed me to the emergency ward of MKCG. I had received severe burns on her face, chest and left eye. Later I was shifted to SCB Medical College and Hospital after my condition deteriorated."
Despite constant threat to her life, Damayanti decided to fight the wrong. Based on her complaint, police arrested Niranjan from Mumbai. "Though he was arrested in 2018, he was granted bail in 2019 and he is leading a happy life now. All I want to see him behind the bars again and my fight is still on," she says.
Sangeeta  Pradhan  of Phulbani was only eight years old when she became a victim of acid attack.
"I was a toddler when my mother had eloped with another person leaving me, my father and other siblings high and dry. My father brought me to Bhubaneswar to work as a domestic help. I worked at the house of a shopkeeper named Kalia. My father promised me to take me back but he never kept his words. In the meantime, Kalia used to make me do all the household chores and beat me black and blue if I fail to work properly. On one such day, I went out to play forgetting about work. This enraged my 'master' and he threw acid on me. He told the media that I suffered burn injuries after falling in a pot  of hot rice gruel. I was taken to Capital Hospital and my brother was called to take my care. But he didn't stay with me for long.   Kalia also misappropriated the government assistance sanctioned for my treatment. After coming to know about me from a newspaper, Jyoti Sir, a good soul, took me to SCB where I underwent treatment for a few months."
Thanks to Jyoti Sir, Sangeeta got an opportunity to stay in Subhadra Mohatab Seva Sadan hostel and cleared her Class X board examinations from Jagamara High School. In the meantime, she underwent two major surgeries at a local private hospital. Later TN Panda, former resident representative of Acid Survivors and Women Welfare Foundation, Odisha Chapter enrolled her in an ITI course in Bhubaneswar. He also helped her receive a compensation of Rs 8 lakh in 2020.
Sangeeta is now trying to forget the nightmare and open a boutique. "I want to overcome my scary past and create my own identity as a fashion designer," says Sangeeta.
Rashmi Rekha Das, OP 
Suggest A Correction