AIADMK alleges poll code violation by Dayanidhi Maran
Tamil Nadu: The ruling AIADMK in Tamil Nadu Thursday alleged violation of the Model Code of Conduct by DMK leader Dayanidhi Maran, the candidate from Central Chennai Lok Sabha constituency, saying he sought votes on polling day.
Party spokesperson and advocate RM Babu Murgavel lodged a complaint with the Election Commission, marking a copy to state Chief Electoral Officer (CEO) Satyabrata Sahoo in this connection. Murugavel alleged that Maran addressed the press after casting his vote and said "he voted for change of government" and he "request" the people also to do so.
Karna voter comes to polling booth in an ambulance
He is Jayasheela Poojaari Ulthuru of Kundapura …. Had met with an accident 20 days ago …. Confined to bed for next 3 months …. He came in an Ambulance , got onto stretcher & voted … @BJP4Karnataka @BJP4India @narendramodi pic.twitter.com/3w3wkFRq3p

— B L Santhosh (@blsanthosh) April 18, 2019
Karnataka: Jayasheela Poojaari Ulthuru, a resident of Kundapura here, came to the polling booth in an ambulance to cast his vote. He had met with an accident 20 days ago and was confined to bed for next 3 months. He came in an ambulance, got on to the stretcher and voted, tweeted National Joint General Secretary (Org), BJP, B L Santhosh.
Manipur CM jumps queues to vote, people not amused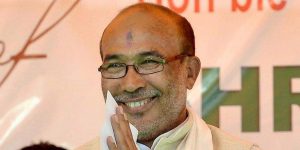 Imphal: Manipur Chief Minister N Biren Singh jumped queues to vote in the election in the state's Inner Manipur Lok Sabha seat, Thursday. Voters, some of whom had lined up even before the polling stations opened at 7.00 am, however, were not amused. The Chief Minister and his wife voted in a polling booth under the Heingang Assembly constituency, officials said. Some pointed out that many other politicians had stood patiently in queues along with the general people so why should the CM get preferential treatment. Governor Najma Heptullah also voted in the Sagolband Assembly constituency.
Congress advertisement 'Chowkidar Chor Hai' banned in MP
Bhopal: The Election Commission (EC) in Madhya Pradesh has banned the 'Chowkidar Chor Hai' advertisement of the Congress party and ordered an end to its broadcast. The joint Chief Election Officer issued Wednesday a notice to all the state district officers stating that the media certification and inspection committee has cancelled the ad certification and it should be discontinued.
Assam registers healthy voter turnout
Guwahati: An estimated 46.42 per cent of over 69 lakh electorate exercised their franchise till 1.00pm Thursday in the five Parliamentary constituencies of Assam, an election official said here.
The voting process for the second phase began at 7.00am in 8,992 polling booths of Karimganj (SC), Silchar, Autonomous Districts (ST), Nowgong and Mangaldoi Lok Sabha seats. EVM glitches were reported from a number of booths, but officials said they had been addressed quickly.
Cong questions suspension of EC official for checking Modi's chopper during Odisha visit
An official was suspended by ECI for doing his job of inspecting vehicles.
The rule cited governs the use of official vehicles for campaigning. It ???? ??? exempt PM's vehicle from being searched.

What is Modi carrying in the helicopter that he doesn't want India to see? pic.twitter.com/apDdhgSMJB

— Congress (@INCIndia) April 18, 2019
New Delhi: The Congress questioned Thursday the Election Commission (EC) order suspending a high-ranking poll official deputed to Odisha for allegedly checking the Prime Minister's chopper and said EC rules 'do not exempt' PM's vehicle from being checked. The opposition party accused the EC of 'bias' after it suspended Karnataka cadre IAS officer Mohammed Mohsin for what the poll panel said was '"dereliction of duty' with regard to 'SPG protectees'. The Congress also wondered what Modi was carrying in his helicopter that he did not want India to see.
Actor Prakash Raj votes in classroom he sat in 41 years back
I got to VOTE in my school and in the very class room I sat 41 years ago ..NOSTALGIC.. a NEW JOURNEY.. a NEW HORIZON.. feeling blessed by LIFE. pic.twitter.com/CVWlZ7XOJv

— Prakash Raj (@prakashraaj) April 18, 2019
"I got to VOTE in my school and in the very class room I sat 41 years ago ..NOSTALGIC.. a NEW JOURNEY.. a NEW HORIZON.. feeling blessed by LIFE," tweeted Prakash Raj .
Naxals trigger IED blast in Chhattisgarh's Rajnandgaon district
Rajnandgaon: Naxals triggered an IED blast Thursday in this district of Chhattisgarh where polling for Lok Sabha elections is underway, a senior police official said. No casualty was reported in the incident, he said. "The Red Rebels detonated the Improvised Explosive Device (IED) around 10.30am between Medha and Dabba villages, falling under Manpur-Mohla Assembly segment, when a team of the Indo-Tibetan Border Police team was out on area domination operation in view of polling in the area," the police official informed.
Terrorism contained to 'two-and-a-half districts': Modi
Thank you for the affection Amreli! Here is my speech at the rally. https://t.co/c65jg4q5Qt

— Chowkidar Narendra Modi (@narendramodi) April 18, 2019
Amreli: Prime Minister Narendra Modi said Thursday that his government managed to contain terrorism to only 'two-and-a-half' districts in Jammu and Kashmir and that no bomb blast had taken place elsewhere in the country in last five years.
Addressing a poll rally here in Gujarat, the Prime Minister also said that what he learnt in Gujarat helped him during the long Doklam standoff with China in 2017.
Top Karnataka political leaders, celebrities vote early
Bangalore: VIPs, including political leaders, celebrities and candidates were among the early voters who exercised their franchise in 14 Lok Sabha seats across central and southern Karnataka Thursday.
"Among the early voters were 86-year-old Janata Dal-Secular (JD-S) supremo HD Deve Gowda, his wife Chennamma, his two sons – Chief Minister HD Kumaraswamy and PWD Minister HD Revanna, their wives Anitha and Bhavani, and his grandsons Prajwal and Nikhil," a poll official told IANS.
Voting is brisk in Udhampur, muted in Srinagar
People voted in large numbers Thursday in Jammu and Kashmir's Udhampur Lok Sabha seat but polling was muted in the Srinagar Lok Sabha constituency. A healthy voter turnout was reported in Kathua, Reasi, Udhampur, Ramban, Doda and Kishtwar districts of Udhampur where over 12 per cent voters exercised their franchise until 10am. The main contest in Udhampur is between Jitendra Singh of the Bharatiya Janata Party (BJP) and Vikramaditya Singh of the Congress. Eight other candidates are also in the fray.
In Srinagar, only 0.9 per cent voter turnout was recorded in the first three hours. Most polling stations in the eight voting segments of Srinagar city wore a deserted look although at some places voters came out in ones and twos to exercise their democratic right.
EC flying squad recovers cash worth over Rs 11 lakh in Mumbai
Mumbai: The Election Commission of India's flying squad seized cash worth Rs 11.85 lakh from Sion area of Mumbai Thursday. The seizure comes as voting for 10 Lok Sabha seats which fall under Maharashtra's Vidarbha and Marathwada regions is underway in the second phase of election.
Polling peaceful in TN, top leaders vote
Chennai: Tamil Nadu recorded 13.48 per cent voting till 9 am Thursday in 38 Lok Sabha constituencies of the state, with Chief Minister K Palaniswami and DMK chief MK Stalin among early voters. Dayanidhi Maran also voted here along with his family members. Besides 38 of the 39 Lok Sabha seats, bypolls to 18 Assembly segments are also underway.
Nearly 33.4% polling recorded in West Bengal so far
West Bengal: Nearly 33.4 per cent of the electorate have cast their votes amid stray incidents of violence in the three north West Bengal constituencies in the second phase of Lok Sabha elections. In the first two hours till 11.00am, the overall polling percentage was 16.78, with Raiganj recording 17.45, Jalpaiguri 16.84 and Darjeeling 16.14 per cent turnout, an Election Commission (EC) official said in Kolkata. Voting across 5,390 polling stations began at 7.00am and will end at 6.00pm.
Amit Shah's appeal to young voters
New India of ours is setting higher benchmarks in every field, whether it be on earth, water, sky or even space.

I appeal to all the voters in phase two, especially the young, that you must vote to keep this momentum going. In your one vote lies country's pride and progress.

— Chowkidar Amit Shah (@AmitShah) April 18, 2019
CPI(M) candidate's vehicle attacked in WB
West Bengal: Unidentified miscreants attacked Thursday the vehicle of Mohammed Salim, a Communist Party of India (Marxist) candidate in Raiganj, in Islampur of North Dinajpur district. The sitting MP suffered minor injuries before taking shelter in a polling booth. His driver fled with the car.
TMC workers trying to capture booth at Raiganj Coronation High School: BJP General Secy Debasree Chaudhuri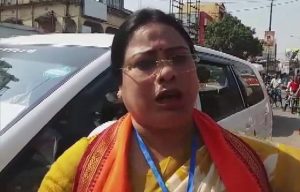 West Bengal: The General Secretary of the BJP's West Bengal unit and candidate from Raiganj constituency, Debasree Chaudhuri, alleged Thursday that Trinamool Congress (TMC) workers were trying to capture a booth at Raiganj Coronation High School in the constituency. "TMC workers were trying to capture booth. They were campaigning among Muslims there. This isn't election campaign," Chaudhuri said.
Development in Mathura is all due to my efforts: Hema Malini
Uttar Pradesh: "Development in Mathura is all due to my efforts. SP-BSP are only engaged in fighting with each other. There is a huge Modi wave here," according to BJP MP candidate from Mathura, Hema Malini.
Sushmita Dev, along with her mother and sister, casts her vote
Assam: Sitting MP from Silchar and Congress candidate from the parliamentary constituency, Sushmita Dev, along with her mother and sister, casts her vote at a polling booth in Silchar.
Quick voting recorded in Manipur
Manipur: Brisk voting was recorded in the Inner Manipur Lok Sabha seat in Manipur , PTI reported quoting a poll official. In the first two hours till 9 am, 14.99 per cent of the electorate had voted, Chief Election Officer (CEO) PK Singh said. Queues of voters formed outside many of the 1,300 polling booths even before they opened at 7 am.
Kamal Haasan, Rajinikanth cast their votes early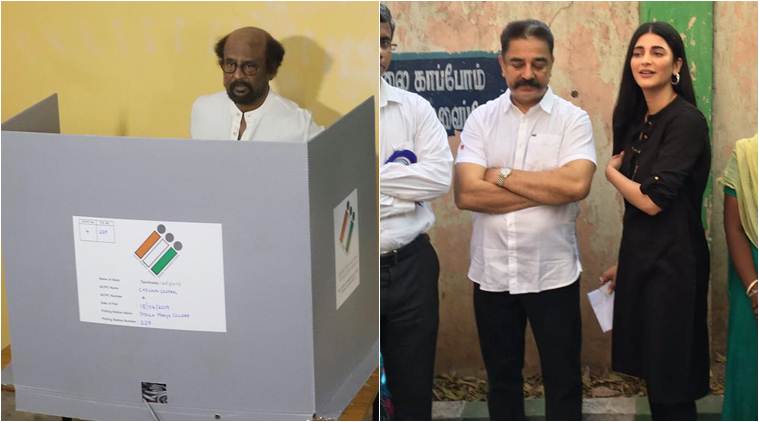 Chennai: Actor-turned-politician Kamal Haasan and his daughter Shruti were the first to queue up early Thursday morning to cast their votes in at a polling booth in Chennai. Shruti later tweeted a picture of the two with the quote, "Today is the day!! Vote because it matters. In photos of the polling booth which has gone viral, Kamal Hasan is seen wearing a white shirt and standing behind his daughter. It should be stated here that both father and daughter interacted with the other voters who greeted them warmly. Another Tamil Nadu superstar Rajinikanth also was one of the first to cast his vote.
Akhilesh urges people to vote for democracy
Lucknow: Samajwadi Party (SP) chief and former Uttar Pradesh Chief Minister Akhilesh Yadav urged voters to exercise their right to strengthen democracy. "Use your franchise in the second phase of voting. In democracy, voting not only determines the direction for next five years but for decades. For a strong democracy one must vote," Akhilesh tweeted Thursday in Hindi. Voting in eight Lok Sabha seats – Bulandshahr, Aligarh, Hathras, Fatehpur Sikri, Nagina, Amroha, Mathura, Agra—are underway in Uttar Pradesh.
105-year-old exercises her franchise in Maharashtra  
Maharashtra: 105-year-old Kavaibai Kamble along with her family cast her vote at a polling station in Harangul Budruk in Latur constituency. 8.6 percent voter turnout in Maharashtra in 2 hours
Polling officer dies after suffering heart attack
Kanker: A teacher, who was on election duty at a polling booth in Chhattisgarh's Kanker district breathed his last Thursday after suffering a heart attack, an official said.
Rahul urges people to vote for 'Nyay'
When you vote today, remember that you vote for Nyay.

Nyay for our unemployed youth; for our struggling farmers; for the small traders whose businesses were destroyed by Demonetisation; for those who were persecuted because of their caste or religion. #VoteNyayVoteCongress pic.twitter.com/VvEZPPX5b8

— Rahul Gandhi (@RahulGandhi) April 18, 2019
New Delhi: As voting for the second phase of polling started Thursday morning, Congress president Rahul Gandhi urged voters to 'vote for Nyay' (justice). Rahul also appealed to voters to vote for justice to the unemployed youth, struggling farmers, small businessmen and those who were persecuted due to their religion or caste. He used the hashtag 'VoteNyayVoteCongress' with his appeal.
Brisk polling in eight UP Lok Sabha constituencies
Lucknow: Brisk voting was on in eight of the 80 Lok Sabha constituencies in Uttar Pradesh, Thursday in the second phase of the staggered Lok Sabha elections. Both the Bharatiya Janata Party (BJP) and the SP-BSP-RLD alliance are contesting all the eight seats — Bulandshahr, Aligarh, Hathras, Fatehpur Sikri, Nagina, Amroha, Mathura and Agra. Among the contenders whose fates are to be decided are Hema Malini (BJP) and UP Congress chief Raj Babbar.
Low turnout so far in Jammu parliamentary seat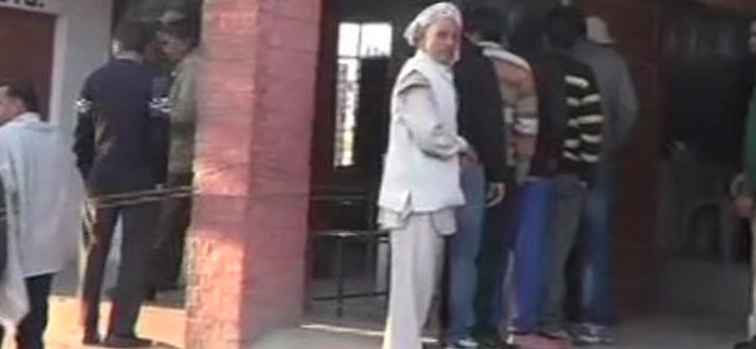 Srinagar: Amidst tight security, polling was underway Thursday in Srinagar parliamentary constituency of Jammu and Kashmir to decide the fate of 10 candidates, including National Conference (NC) president Farooq Abdullah who is seeking a re-election from here. Polling began at 7.00am in the constituency, officials said.