National award-winning filmmaker Gautam Ghose was recently in Bhubaneswar for a film screening. Sharing his views on Odia cinema, the ace director said that filmmakers in the state should explore Odia literature and adapt them on screen instead of blatantly copying other regional films. Ghose's observation was only the reflection of the mood of millions of viewers, as it has been 18 years since a film has been adapted from an Odia novel. Gare Sindura Dhare Luha, based on Bibhuti Patnaik's novel of the same name, was the last to have released in 2001.
Filmmakers across the country have time and again gone back and taken help of the rich Indian literature to tell engaging stories on screen. The scene, however, is quite different in the state. Directors continue to shy away from making films based on Odia literary works, with few takers for such films. Sunday POST takes a look at a few acclaimed films that were based on popular Odia novels and speaks to a few experts on the reluctance of filmmakers in adapting Odia literature on celluloid.
Entertainment in Odisha was primarily restricted to religious gatherings like Rasalila, Jhulan Yatra, Dola and Janmastami before the release of the first Odia cinema Sita Bibaha in 1936. Much like the Hindi and other regional film industries, Odisha's cinema journey too started with directors churning out mythological films.  So, Mohan Sunder Dev Goswami, the producer-director of Sita Bibaha, too played it safe and presented the audience an episode from Ramayana.
The genre was soon accepted and became a safe bet for filmmakers and producers, who continued to make such films over the next few years. Viewers had to wait for almost two decades to watch the first film based on an Odia literary work. The film was Maa, an adaptation of Gyanendra Verma's Odia novel of the same name, which released in 1958. The Nitai Palit-directorial set the tone for the movies to be made in coming days. The storyline and the visuals of Maa left the viewers spellbound.
The audience was yet to overcome the hangover of Maa, when director Amar Ganguli came up with Amada Bata, a Chhayabani Productions classic produced by Babulal Doshi in 1964. The film, adapted from Basanta Kumari Patnaik's novel of the same name, revolved around the life of a carefree girl who goes on to become a duty-bound woman in an Odia household. The film became a blockbuster with stellar performances from the lead pairs, Sarat Pujari and Jharana Das.
A year later, the same production house came up with Abhinetri, based on prominent author Kanhucharan Mohanty's novel. The film revolved around the relationship between two identical twin sisters and went on to become a superhit.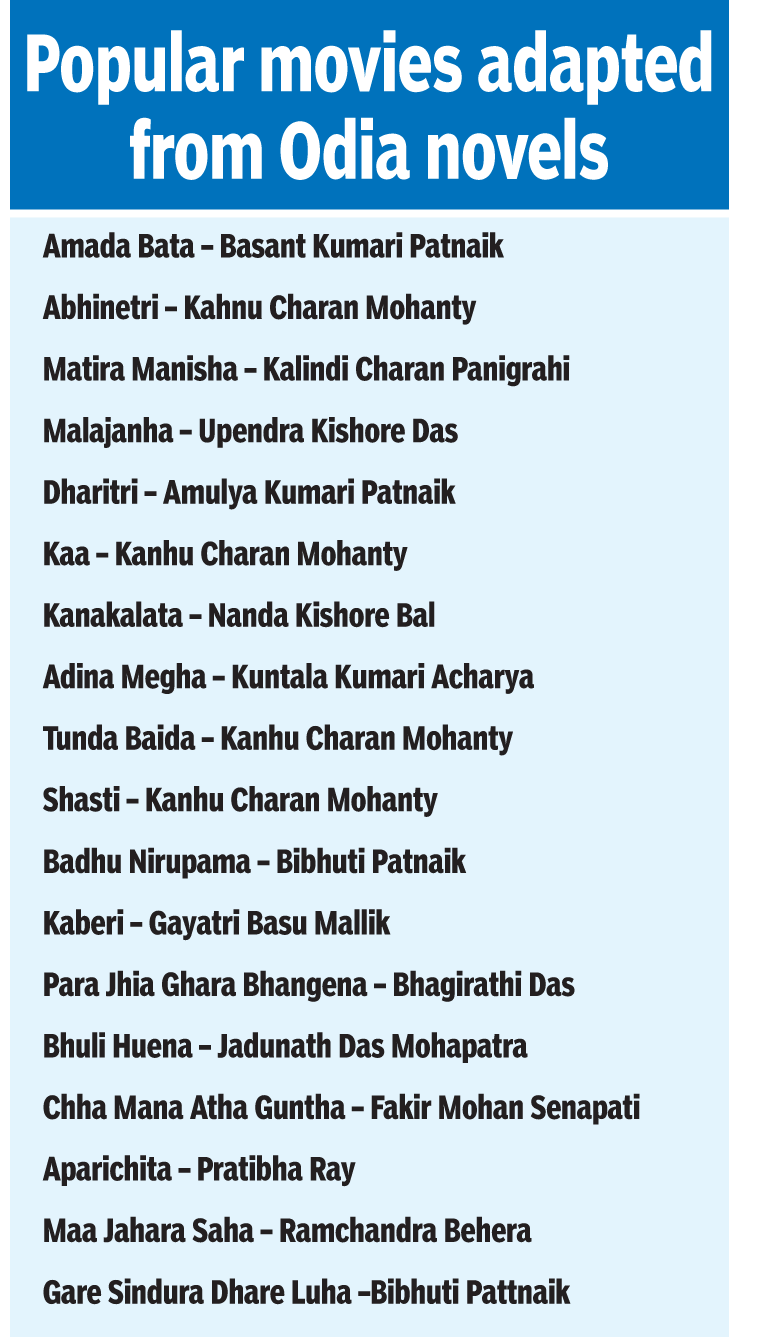 Most of the successful films adapted from novels during that era were produced by Babulal Doshi under the banner of Chhayabani Productions. Besides Amada Bata and Abhinetri, Doshi also produced Matira Manisa (1967) based on Padma Bhusan Kalindi Charan Panigrahi's novel of the same name, followed by Adina Megha (1970), a celluloid version of Kuntala Kumar Acharya's novel. Matira Manisha was directed by Mrinal Sen, while Adina Megha (another Jharana Das starrer opposite a very young Prashanta Nanda) was helmed by Amit Maitra. Interestingly, the stories of all the four films centered on women.
The trend of making women-centric films continued, with Nitai Palit adapting Upendra Kishore Das's Malajanha (The Dead Moon) in 1965. Although the film didn't taste commercial success at that time, it attained cult status and is considered a timeless classic. This poignant love story is set against the backdrop of life in rural Odisha infested by superstitions, caste system and acute poverty. The film had an enviable cast comprising Jharana Das and Akhay Mohanty (Kashyap). The hit song Rakata Tala Mala from the film, played a pivotal role in shaping the career of Akhay Mohanty as a singer and music composer. The film also won the National Award for Best Odia Film.
Kaa, an award-winning literary masterpiece by Kanhucharan Mohanty was the next novel that was adapted on screen in 1965. The film is remembered for its bold concept and Parbati Ghosh's power-packed performance. The film tells the story of a childless woman, who compels her husband to marry another woman so that he gets a child from her. It went on to win the President's silver medal for Best Odia Film in 1966.
These few landmark films went on to give the Odia film industry a new identity for next couple of decades.
A few other novels that prompted filmmakers to adapt them on celluloid are Pallikabi Nanda Kishore Bal's Kanakalata (1974), Pratibha Ray's Aparichita (1980), Bina Mahapatra's Subarna Sita (1983), Sukamini Nanda's Jhiati Sita Pari (1983), Gayatri Basu Mallik's Kaberi (1984), Bhagirathi Das's Para Jhia Ghara Bhangena (1985), Bibhuti Pattnaik's Badhu Nirupama (1987), Jadunath Das Mohapatra's Bhuli Huena, Kanhucharan Mohanty's Tunda Baida (1987) and Bibhuti Patnaik's Gare Sindura Dhare Luha (2002).
Interestingly, most of these films had women as the protagonists and focused on Odia culture, lifestyle and tradition. Although, not all films went on to become box-office success stories, they captured a prominent place in the history of Odia cinema.
However, the scene gradually changed, with filmmakers slowly shying away from trying out Odia literature in films. Many blame it on the audience, citing reasons that they are not too keen on watching such films. Well known Odia film archivist Surya Deo says that no one can guarantee the success of a film. Be it the adaptation of a literary work or an original script, a film's success can't be foretold.
That said, the success rate of celluloid adaptation of literary works is a shade low in the Odia film industry. "A reader visualises each and every sequence of a novel when he flips through the pages. If the visualisation of majority of the readers incidentally matches the vision of the film's director, the film works or else it fails to woo the audience. The celluloid adaptation of a novel is always considered a brave attempt," says Surya.
"Given that adapting novels on screen demands courage, the success or failure of such films didn't matter to directors like Sisir Mishra (Surbarna Sita), Bidhubhusan Nanda (Jhiati Sita Pari), Ramesh Mohanty (Para Jhia Ghara Bhangena) or Jugala Devata (Badhu Nirupama). For them, screen adaptation of literary works was more a creative satisfaction," he adds.
Author Sukamini Nanda, who has more than 30 novels to her credit, saw her first novel Jhiati Sita Pari being made into a film in the 1980s. Sukamani is upset with the current trend of 'copy-paste' followed Odia cinema.
"There was a time when we used to wait for the release of a film as we knew that an original script would reflect the Odia culture and tradition. Those movies would run for months in theatres. Those were the golden days. Today, it is difficult to relate to the song and dance sequences that are shown in Odia films. The scenario is extremely grim," says the novelist.
Sukamani, however, feels that the 'copy-paste' trend will soon end. "We need to wait patiently till this dies a slow death and literary works once again find their way back to the silver screen. The state government should also back filmmakers who want to adapt Odia literature into films," she adds.
Based on Bibhuti Patnaik's novel, Hakim Babu, was made in 1985. The landmark film explores the subject of land acquisition of poor and depicts the dismal picture of displacement owing to industrialisation. The film tasted both commercial success and also won a National Award.
Pranab Das, state award-winning filmmaker and director of Hakim Babu, says, "Directors these days don't search for good stories, a reason we rarely get to watch good films. Most of the films based on literary masterpieces are timeless."
"Be it Amada Bata, Kaa, Abhinetri, Adina Megha, Kaberi or Tunda Baida, all ran for more than 100 days in the theatres. Most of the films were women-centric and were a hit with the women audience. Credit goes to the women of those times who were avid readers. Reading was a favourite passing time among women in the 1960s and 1970s. This used to attract women to the theatres every time a literary masterpiece was adapted on screen," says Pranab.
That said, the onus is on the filmmakers to change the taste of filmgoers who are being served with poor copies of other regional films. And adapting literary works of popular authors seem to be a good option. Pranab says that good products have always been in demand and the filmmakers need to identify them.
"Instead of churning out remakes, filmmakers and storywriters should get into the habit of reading literary classics as well as the works of contemporary authors. Odia literature can turn out to be treasure trove of good stories for today's filmmakers. However, it's also important to understand the taste of today's audience and choose the right story," he says.
Sushant Mani is one of the few contemporary directors who has been making an effort to offer something new to the audience with original content too laments on the sorry state of films in the state. The Chocolate director says that the industry needs good filmmakers who love Odia culture and tradition and have a penchant for literature.
"Today, we don't have producers like Babulal Doshi, Gour Ghosh, Nitai Palit and Dhira Biswal who used to make films with a lot of passion. Filmgoers could easily relate to the films that were literary adaptations. The scenes would make them feel as if they were watching the visuals of what they had read in the book. The filmmakers used to stay true to the original text and recreate it on celluloid.
This is because they understood the Odia culture and the sentiments of the audience. But today the directors, including me, are detached from our culture. We live in a mixed cultural ambience where adapting a literary classic has become challenging for us. Moreover, filmmaking today is like preparing fast food. Directors are asked to wrap up a film in two months and are given a release date. So, it is almost impossible to make a film based on a novel, as they demand more time," said Mani.
However, despite all odds, Sushant is not among the ones who easily resign to the circumstances. The filmmaker is already working on a film that is an adaptation of a popular Odia novel.
Faded dreams
The works of stalwarts like Fakir Mohan Senapati, Kalindi Charan Panigrahi, Surendra Mohanty and Debraj Lenka have time and again appealed to filmmakers. Many have even attempted films on their works. Unfortunately, most of the time, the projects got shelved for various reasons.
Kalindi Charan Panigrahi's Mansara Bilapa was one of the most-anticipated films. Producer-director Niranjan Pattnaik attempted a cinematic adaptation of the classic. The project took off with celebrated theatre actors like Byomokesh Tripathy, Netrananda headlining the film. Other actors like Pramod Ranjan, Sasmita, Manjula, Elina along with a few trained dogs, elephant and deer too were part of the cast. Bhikari Bala, Geeta Patnaik, Nirmala Mishra and Sipra Bose recorded the songs under the music direction of Balakrushna Dash. However, the movie never saw the light of the day.
Similarly, prominent filmmaker Gopal Ghosh attempted Debraj Lenka's famous novel Andha Muhani on screen. The film didn't materialise as the author didn't allow the director the creative liberty required to adapting it on screen. Actress Banaja Mohanty was also interested in making a film on the novel but that too didn't happen. The third and last attempt was made by producer Chadramadhab Mishra. Bijay Singh was finalised as the director and the dialogues and screenplay too were ready. Akhay Mohanty was supposed to compose the music, and a few songs by Akhay, Bibu, Geeta Das and Anindita too were recorded. However, the project didn't take off for reasons unknown.
Patent Medicine is a popular short story by Byasakabi Fakir Mohan Senapati. Publisher Mahendra Mishra and popular actor Hemanta Das both tried to adapt it on screen. But the project got entangled in controversy from the beginning over its title registration. Finally, both settled for two different titles – Babu Chandramani and Sulochana – the two main characters of the story. Babu Chandramani couldn't go beyond a couple of music sittings with Akhay Mohanty. However, Hemanta Das' version went into production. Hemanta recorded a few songs with Prafulla Kar, Bhubaneswar Mishra and Shantanu Mohapatra. Prashanta Nanda and Mahasweta were roped in to play the lead roles. Later, Prashanta was replaced by the then heartthrob Uttam Mohanty. Although 90 per cent of the project was shot, post production work couldn't start and the project got stuck. The fate of the movie was sealed with the death of Hemanta Das.
Surendra Mohanty's Neelashaila is considered a cult classic in Odia literature. A film on the novel was planned by producer Lingaraj Mohanty and award-winning actor Sadhu Meher was finalised as the director. The music was composed by Prafulla Kar and songs were also recorded. Also, some portions of the film were canned but the producer lost interest midway owing to frequent disturbances during a schedule at Puri.
BIJAY MANDAL, OP
Suggest A Correction