BHUBANESWAR: A social media campaign titled 'Me Too', which was started by American actress Alyssa Milanos last year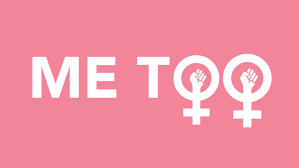 who posted about sexual harassment on a social media platform is gaining ground in India too.
The tweet came after allegations surfaced against Harvey Weinstein from some women of harassment and rape.
The campaign was trending all over the world and now even the Indian movie world and other industries are raising their voice regarding sexual harassment.
Recent incidents like Tanushree Dutta's allegation against Nana Patekar had started the long list of allegations against top people in the industry. After the Tanushree case, an allegation came against Vikas Bahl, Director of Queen and upcoming Super 30. Another allegation came against AIB comedian Gursimran Khamba and TCV serial's actor Alok Nath.
This long list of allegations shows that people are resisting sexual harassment openly now. Orissa POST talked to the city people including actors, comedians and commoners regarding the movement.
Actress Aiswarya Behera said, "In day-to-day life women face situations like receiving suggestive messages from senior colleagues, unwelcome gropes, brushes and kisses and deceptive practices of eve-teasing among others. Voices against these incidents are rising under the banner of #MeToo, exposing the scale of sexual assault in the world today.
She said Sexual Harrasment is just not in the entertainment industry it's everywhere , it's in families ,its in workplaces it's everywhere . In India usually women are not much heard and no strict actions are taken and the women is blamed due to the patriarchal mindset of majority Indian population. Women when they open their voice usually in entertainment industry their traumatic experience is labelled as publicity stunt and such things should be avoided…I think so a deep inquiry to the case is needed and the guilty should be punished. if a woman raises her voice she must be heard and the law and order should do a proper enquiry and guilty should be punished and boycotted from the industry.
Roshan Bisoi, a comedian said, "These are serious allegations. It just goes out to show how unsafe our women are in workplaces. No matter how good a man is in his profession, he can be a creep. There has to be strong response and this is just the beginning. One can just imagine the courage required for calling such powerful men out. The allegations against Aloknath, Khamba, Tanmay Bhat, Utsab Chakraborty, Chetan Bhagat are rightly making the news."
Sabyasachi Mishra said, "Both Dutta and Patekar are highly skilled in their profession. However, she should not have waited for 10 years. She should have raised her voice at that time. Women should be professional. No director or producer should incur losses because of them."
Actress Prakruti Mishra said, "I am pleased for the fact that women are speaking up. We should respect this and let them express. The law will take its own course."
The protection of women is a must in the film industry, said Jhilik Bhattacharjee. "The movie industry won't move forward if women don't feel safe. Nana Patekar is a good person. However, if something like this happened then she should get justice. One should never compromise."
INPUT: ARINDAM GANGULY AND NIDHI SINHA
Suggest A Correction