Nearly a decade after the release of the Rs 10 coin, the government recently announced a new coin of Rs 20 denomination in a 12-edged polygon (dodecagon) shape. The Finance Ministry, through a notification, said that the new Rs 20 coin will be made in copper, zinc and nickel. Some years ago, this news would have been of great interest to the large number of avid coin collectors. However, in recent years, the number of coin collectors has been steadily shrinking and numismatics is a dying hobby. Sunday POST talked to a few numismatists to find out the reason for the falling popularity of coin collection as a hobby.
At a time when youth of his age are busy updating their status and posting photos on social media sites, Abhijit Upadhaya, a doctor, enthusiastically pursues his passion for collecting coins.
Abhijit started collecting coins and stamps when he was in Class VI at the Secondary Board High School in Cuttack. Recalling his school days, he says, "Since the office of the Board of Secondary Education was in front of our school, everyday thousands of envelopes would be thrown near our school campus. So, after school hours, I used to collect stamps from these envelopes. Being an avid follower of history who loves to read about ancient civilisations, their lifestyles and trading culture, my interest in collecting ancient coins grew spontaneously. I did research to know more about their currencies. Then I started exchanging stamps with students who collect coins."
He continues: "After reading about the Harappa and Mohenjo-Daro civilisations, my desire to collect coins grew. Inspired by me, some of my friends also started collecting coins. The competition level was so high between us that I had to steal money from home to pursue this hobby. I came in contact with various philatelists and numismatists and realised that collecting stamps and coins are great hobbies. Till then, it was just a matter of fun for me and my friends."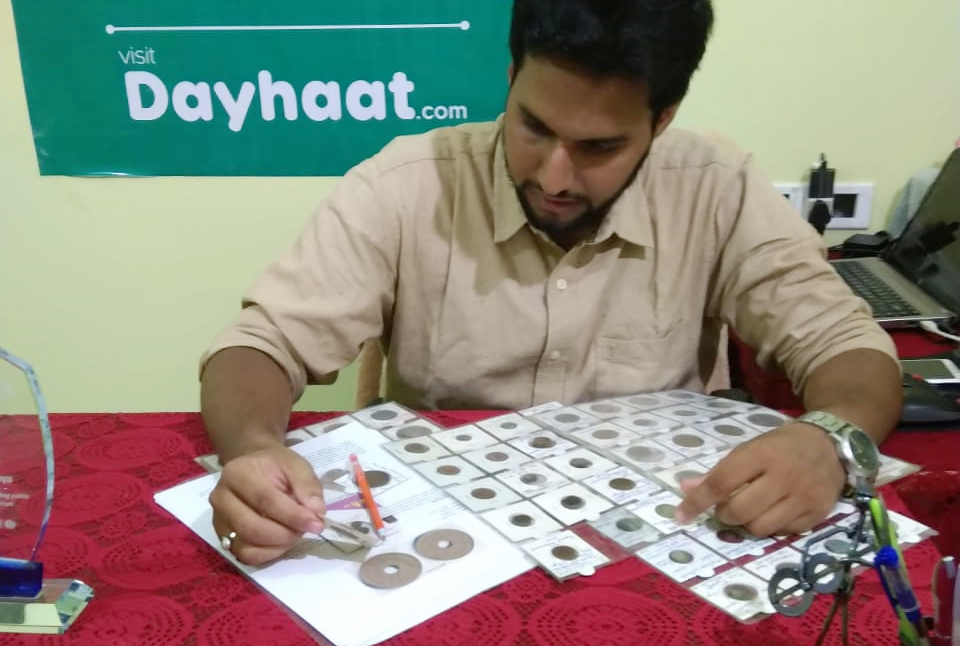 Abhijit owns coins that were issued during the rule of George V, George VI, George VII, Edward VII and Queen Victoria and temple tokens dated 1616 and 1818. Besides, he has coins from the Maurya, Gupta, Mughal, Chola, Chera, Pandya, and Gupta eras as well as those issued by the Turkey Sultan, Delhi Sultan and Bidar Sultan. That's not all. He has coins of 14 princely states including Kangra, Junagarh, Jammu and Kashmir, Jaipur, Hyderabad, Gwalior, Nawanagar, Bikaner, Bundi, Baroda, Mysore and Udaipur.
Apart from old Indian coins like ana and paisa, he has coins from foreign countries like Nepal, Bhutan, Sri Lanka, Japan, Singapore, Malaysia, Thailand, Hong Kong, USA, Kenya and Australia.
"I began collecting foreign currencies after my uncle from Singapore gave me a 10 cent coin from there. I was surprised to note that foreign currencies are less in weight as compared to Indian coins. I started exchanging my extra coins for foreign currencies," says Abhijit.
About the lack of enthusiasm among youth in coin collection as a hobby, he says, "This may be because young people these days are not interested in learning about ancient civilisations through coins. After I joined a medical institute, I decided to popularise my hobby among students in different schools, which actually parents should do.  Nowadays, parents encourage kids to gain knowledge on science and technology. It is just one kid among one lakh children who has the hobby of collecting coins. Seeing this, I started a project 'Grandpa's attic' as part of which I travel to different schools in my leisure time to exhibit all my coins and stamps in the schools to generate interest in these hobbies. The curriculum now places more emphasis on science and technology as compared to ancient history and culture, and the parents are also guiding their children to move in that direction."
Coins don't have to be old to be prized. Collectors will pay through the nose for coins that are rare, says Basanta Beura who along with his wife Gopa Mohanty are on a mission to collect rare coins. The couple has so far collected about 4,000 coins, including rare Indian Republic and commemorative coins. "When the number of countries was 241, we had coins of 240 countries," says Gopa.
Shedding light on the history of coins, Basant, who owns an IT firm, says, "After India got freedom in 1947, there was a need to introduce new coinage for a new nation. New coins were issued in 1950 with new designs. No coins were stuck in the years 1948 and 1949. However, in 1949, engraver and artist Patrick Brindley designed eight coins ranging from 2 annas to 1 rupee. Following the death of India's first Prime Minister Jawaharlal Nehru in 1964, the Bombay mint issued the first ever commemorative coin in his honour. Commemorative coins had never been minted before and it set a new precedent. The Jawaharlal Nehru commemorative coins were of the value of 1 Rupee and 50 paisa. They were issued November 14, 1964."
"I have a 50 paisa coin first issued in 1959, 2 ana issued in 1955 and Rs 1 issued in 1970. I started collecting coins from my school days. I still remember the pocket money given to me in coins, I never spent them. When my parents came to know about my secret hobby, they also helped me in my endeavour," added Basant.
"Youth at present are more into social media and hardly take interest in such hobbies. I blame parents who do not inculcate the hobby of coin collection in kids. Parents encourage their kids to join dance or music classes so that they can participate in reality shows and get publicity. But learning history through coins is so important to grow as an individual. The need of the hour is to hold coin exhibitions to create awareness. There are many youths who have collected coins but do not know how to preserve them with care. When they get rare or ancient coins, they wash it with chemicals. This reduces the value of coins."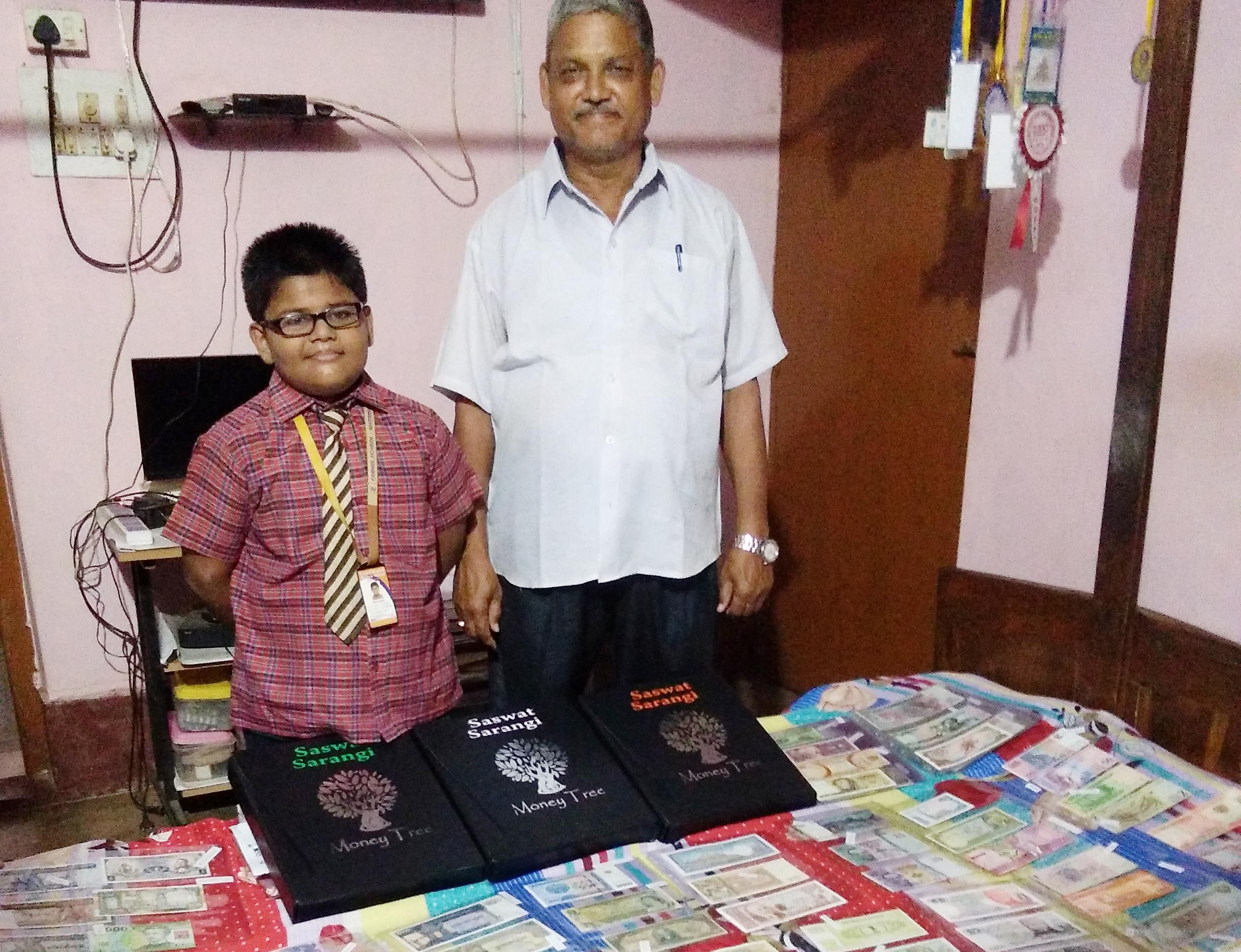 One of the youngest numismatists Swasat Sarangi, a Class III student of Carmel English Medium School, has a collection of ancient as well as foreign coins. His grandfather Bimal Chandra Sarangi, who set up the Karunamayee Memorial Newspaper Museum at Khurda and has a collection of 2,816 newspapers and periodicals from across the globe, says, "I went to attend a school's annual function as guest in 2017 and Swasat was with me. He came across a Class VI student who had showcased his collection of rare coins. It fascinated Swasat and he decided to start collecting coins too. As he is a little boy, I help him in collecting coins." So far, Swasat has collected 800 currencies and 1,100 coins of 153 countries with the help of his grandfather.
About the declining interest in numismatics, Bimal says, "Now parents prefer to enrol their kids in English medium schools which put more emphasis on academics rather than extracurricular activities. Earlier, government schools used to organise coin and stamp collection exhibitions. However, students at private schools do not get opportunities to get involved in such activities. Moreover, they are burdened with so much homework that they do not get time to do other things. In this competitive world, students want to score more than 90 per cent so that they get appreciated by parents and teachers. It's the duty of teachers and parents to revive interest in coin collection as a hobby.
"There are various ways to start collecting coins. Firstly, you can start with the help of relatives. Our relatives, after hearing about Swasat's hobby, bring coins for him. His uncle recently gave him currencies from Saudi Arabia while his aunt who resides in Oman gave him Omani rials. Besides, I regularly take my grandson to coin fests held in cities like Bombay, Delhi, Bangalore and Coimbatore to collect coins. I have also collected coins for him from auctions."
Ramakant Behera, a teacher by profession, says, "I had been collecting coins for the last 25 years. Recently, I stopped as coins need proper care and maintenance. Now I have started collecting paper currencies. I have a collection of commemorative coins, modern coins and Indian Republic coins. Smartphones have spoiled today's generation. They cannot spend a single day without their phone. Though smartphones help us in many ways, youngsters get addicted and now they cannot think of doing anything innovative."
Bharati Pal, Curator, Epigraphy and Numismatics of Odisha State Museum, has a different view. She does not feel that coin collection as a hobby is dying out among the youth. If this was the case, the numismatics section of the state museum would not have got the visitors it does every day. Giving details about the collection of coins at the museum, she says, "The Odisha State Museum since its inception has been a treasure house of numismatic findings, some representing the all Indian coin types whereas others highlight local ruling dynasties. In addition, a new variety of punch-marked coins of pre-Maurya and Mauryan age, Kushana and  Puri Kushana coins, Gupta gold coins, coins of Sri Nanda Kalachuri and Yadava gold coins, Ganga gold fanams and silver coins of some Mughal emperors have been discovered and preserved at the museum."
RASHMI REKHA DAS, OP