Bhubaneswar: Amidst tight security, five Lok Sabha and 35 Assembly constituencies of Odisha went to the polls Thursday in the second phase of general elections Thursday.
A total of 76.93 lakh voters would exercise their franchise during the course of the day for Bargarh, Sundargarh, Bolangir, Kandhamal and Aska Lok Sabha seats and 35 Assembly constituencies spread across western and southern Odisha.
Of the total voters, 39.45 lakh males, 37.47 lakh females and 605 in the other category can cast their votes at 9,117 booths. Thirty five candidates are in the fray for the five Lok Sabha seats including 30 males and five females. Similarly, 244 candidates are contesting for the 35 Assembly seats, of which 219 are males and 25 females.
Cash seized from BJP candidate's car
Dhenkanal: A static surveillance squad Thursday seized Rs 4,00,000 lakh in cash from the vehicle of BJP candidate Ashok Nayak in Dhenkanal district, police said. The money was confiscated after Nayak, who is contesting from Hindol Assembly seat in this district, could not provide satisfactory answers about the source of the money, Dhenkanal SP Anupama James said.
Bhubaneswar: 33% voter turnout recorded till 1 PM states Chief Electoral Officer of Odisha, Surendra Kumar
Bhanjanagar: Polling began in Bhanjanagar Assembly constituency at 7.00am amidst reports of EVM glitches at several places. Minister Bikram Keshari Arukha was one of the first to cast his votes at his native place Agajhola.
Hinjili: Voting has been put on hold at Kanteikoli village primary school booth under Hinjilicut block in Hinjili Assembly constituency because of EVM glitches. Even though the machines were fixed quickly, voters expressed their displeasure for the delay. BJD supremo and Odisha Chief Minister Naveen Patnaik is contesting from this constituency.
Aska/Bargarh: Biju Janata Dal (BJD) Lok Sabha candidates Pramila Bisoi and Prasanna Acharya were one of the first to cast their votes in their respective constituencies in second phase of elections in Odisha.
The two candidates were spotted in the polling booths with their supporters to seal their luck in the Electronic Voting Machines. While Pramila has been nominated by the party from Aska Lok Sabha constituency, Prasanna Acharya is trying his luck from Bargarh Lok Sabha seat.
Sundargarh: Union Minister Jual Oram of the BJP was also an early voter. He stood patiently in the queue waiting to cast his vote at a polling booth in Kendudihi village under Hemgir Tehsil of Sundargarh district. Polling was delayed in as many as 70 booths of Sundargarh due to faulty EVMs.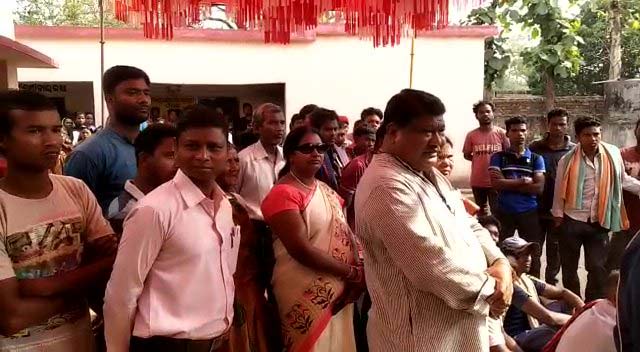 Nayagarh: Close to 600 villagers of Nati village under Malisahi panchayat of Nuagaon block in Daspalla Assembly constituency have boycotted the polls alleging lack of basic amenities like water and road communication along with other necessary facilities.
Bhubaneswar: Chief Electoral Officer of the state, Surendra Kumar states that there has been a seven per cent voter turnout recorded till 9.00am
Purushottampur: A long and serpentine queue of voters was seen waiting to exercise their rights outside a polling booth at Narasingh Das High School of Purusottampur block in Ganjam district.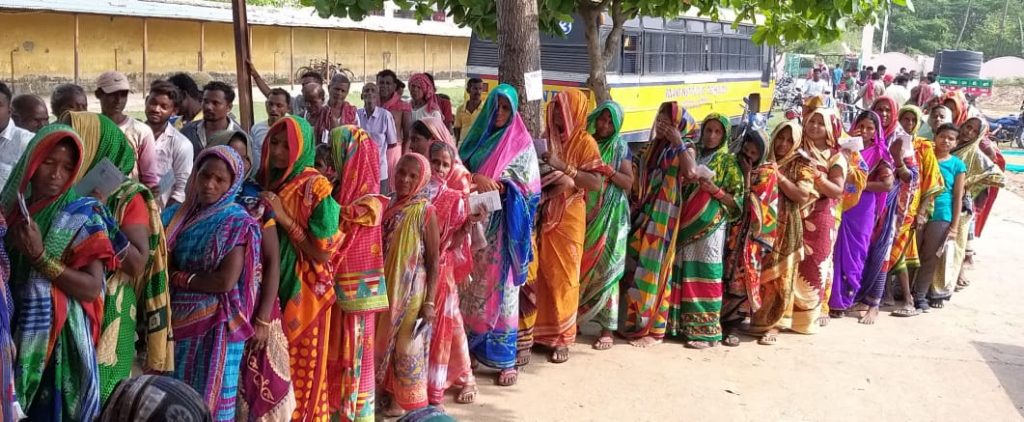 Age was not a deterrent for an elderly woman who waited for her turn to cast her vote at the Purusottampur model booth in Ganjam district.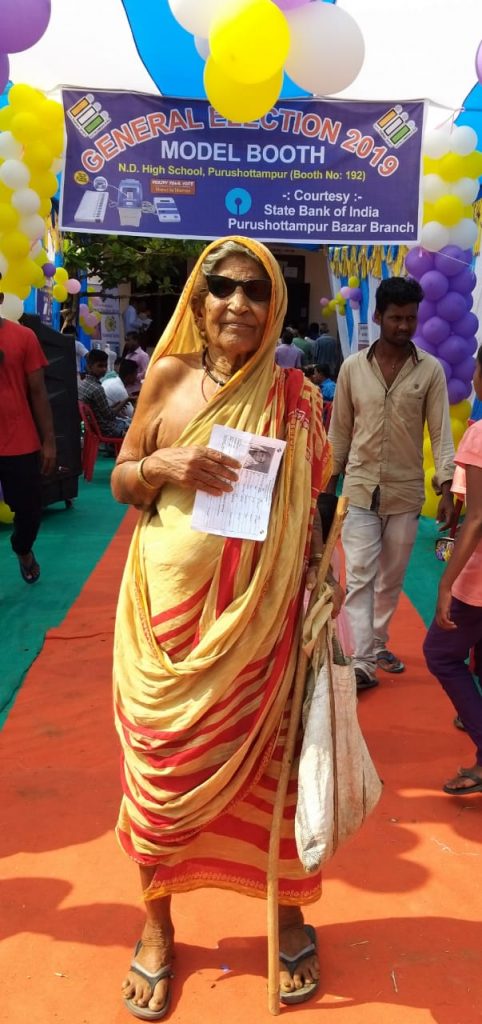 Aska: A 95-year-old man who had come to cast his vote breathed his last while standing in a queue in Kansamari booth of Sanakhemundi Assembly constituency under Aska Lok Sabha seat.
Bolangir: Voters turned out in large numbers for exercising their rights in the Bolangir Lok Sabha constituency and the Assembly segments falling under it. Glitches in EVMs were reported from booths in Loisingha, Kurei and Agalpur. Bolangir is all set to witness a tough battle between BJD nominee — Kalikesh Singh Deo and his BJP and Congress rivals, Sangita Singh Deo and Samarendra Mishra respectively.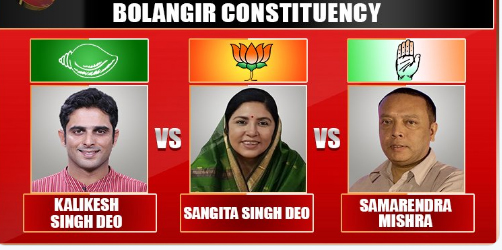 Hinjili: BJP's Hinjili candidate Pitambar Acharya was again one of the early voters. Acharya is up against Chief Minister and BJD supremo Naveen Patnaik in this seat. So he definitely faces a tough fight.
Buguda: The scorching sun and temperatures did not bother this physically-challenged elderly man as he patiently waited with his family members to cast his vote at Biradhananjaipur under Buguda block in Ganjam district.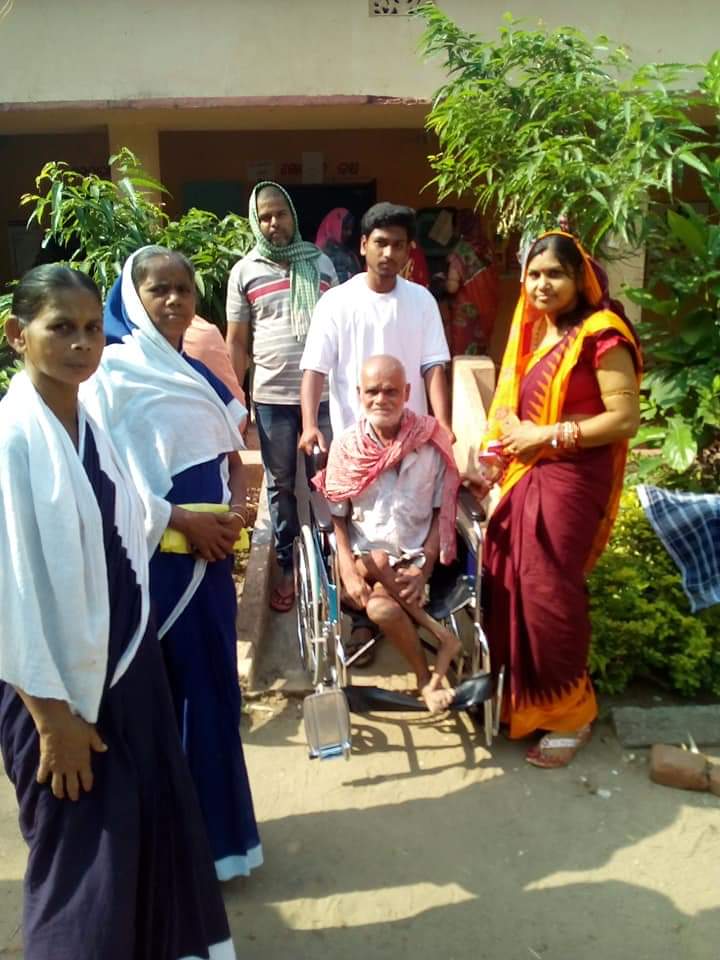 Sundargarh: Polling was delayed in six booths of Bonai Assembly constituency as the EVMs suffered technical glitches. Similar issues were reported from several booths of Talsara Assembly constituency as well. Both these seats come under Sundargarh Lok Sabha constituency.
Jagannathprasad: There were lack of basic amenities at the Gandadhar polling booth under this block in Ganjam district. A number of old persons expressed their displeasure on this issue.
Polasara: Two BJP workers were injured after being allegedly attacked by BJD activists as minor skirmishes took place at Bhatakholi village under Polasara Assembly segment in Ganjam district.
Hinjilicut: Low turnout was recorded in this town till 11.00am in the morning. Only 11 per cent votes were polled till then.
Polasara: Three people sustained injuries at Bhatakhalli village under Kabisuryanagar police limits of Polasara Assembly constituency in Ganjam district over a group clash owing to alleged political rivalry Thursday. The injured have been identified as Shyam Sundar Sahu, Bidesi Kumar Sahu and Rajeev Bisoi. The injured have been admitted to Polasara community health centre (CHC). Based on a complaint by Rajeev, police have registered a case and launched a probe.
Phulbani/G. Udayagiri: EVMs in booth No 101 and 113 in Phulbani failed to function putting the voters in a soup. Similar issues were reported from booth No. 179 in G. Udayagiri and booth No 54 in Baliguda Assembly constituency. These seats are part of Kandhamal Lok Sabha constituency. At a number of places voting did not start well after 7.00am due to faulty EVM machines. A total of 251 booths have been setup in G Udayagiri block while another 40 are there in the NAC.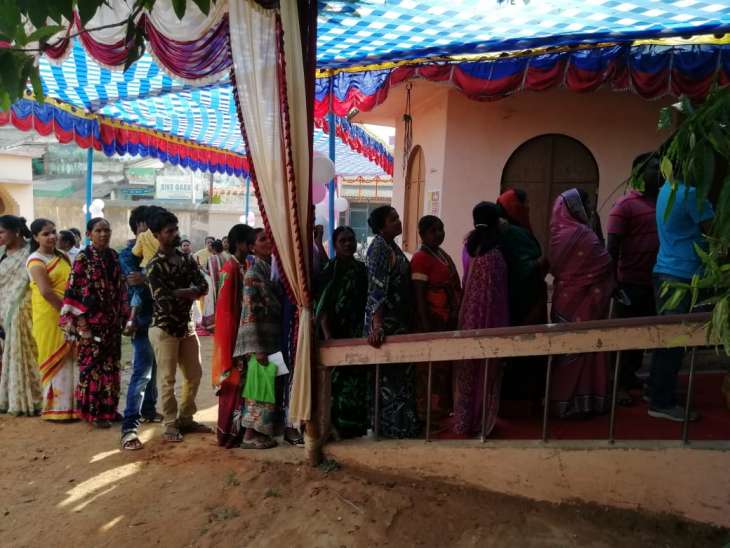 Bhubaneswar: The office of the CEO reported that only 18 per cent voter turnout was recorded till 11.00am in the second phase polls. There was a 20 per cent turnout in Bargarh and Aska, 18 per cent in Sundergarh, 16 per cent in Kandhamal and 15 per cent in Bolangir.
Hinjili: A video showing BJP's Hinjili Assembly seat candidate Pitambar Acharya engaged in a verbal spat with a voter has gone viral on social media platforms. Acharya is in fray against CM Naveen Patnaik in this constituency.
Nuagaon: Voting has been temporarily suspended at booth No 210 in Bahadajhola panchayat under Nuagaon block of Kandhamal district owing to EVM glitches.
Sundargarh: MLA Radharani Panda's personal security officer critically injured after being attacked allegedly by BJD workers in ward-4 of Brajrajnagar Municipality in Sundargarh district.