Bhubaneswar: Just as Odisha is famous for its rich heritage, tradition, Lord Jagannath in Puri, Lord Lingaraj in Bhubaneswar, internationally famous Sambalpuri Saree and Odissi Dance, it is also known for its mouthwatering cuisines.
All the cuisines of Odisha developed over time with local culture and agriculture and hence have their distinctness. Odia cuisines use less oil and less spice but flavour nevertheless stand out. Another interesting aspect is Odia cuisines often use more vegetable when compared to food items in other parts of India.
One of such delicious cuisines of Odisha is 'dalma'. Dalma is not only known as Odia cuisine but also it has a direct link with Lord Jagannath.
All sorts of seasonal veggies with verities of lentils are used to make dalma, including raw bananas, papayas, pumpkins, drumsticks and yams. Served with simple, steamed white rice, dalma is a bowlful of goodness all of us must cherish.
That said, there are different varieties of dalma that are equally popular in the state. Let's learn about some of them.
Puri Jagannath Temple's Badia Dalma: 
The way dalma is prepared in Puri Jagannath temple is popularly known as 'Badia Dalma'. It is called so because if someone throws a small amount it to a wall, it will probably stick. Speaks volumes about the density.
Method:
Ingredients: Toor dal or pigeon pea, vegetables like pumpkin, spiny gourd, green banana, radish, raw papaya, pointed gourd, brinjal and yam are used in this recipe.
Other Items: Grated coconut, grated ginger, bay leaves, turmeric powder, salt, cumin seeds, dry red chilli, hing, dry roasted cumin, red chilli powder, ghee, jaggery and coriander leaves for garnishing.
Preparation: First soak the toor dal for one hour and then cut all the veggies in big pieces. After this in a big earthen pot boil water as per the amount of toor dal and veggies. Then put the dal into the boiling water and leave it for 10 to 15 minutes and then add all the veggies, add turmeric and salt it. After the vegetable and dal started cooking together add grated coconut, grated ginger, bay leave, jaggery and hing. The dal is ready after the vegetables, dal and all other ingredients are cooked well.
For the final touch-up which is called 'chunka' in Odia. In a big pot put some ghee. Once the ghee warms up add some cumin (jeera) and red chilli. Once cumins turn golden brown put it into the dalma. Then add some roasted cumin and red chilli powder and coriander leaves for garnishing and the dalma is ready to serve.
Habisa Dalma: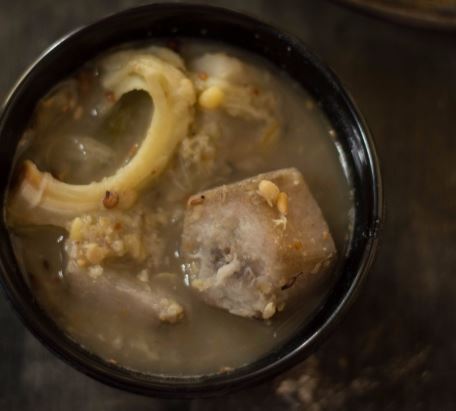 Habisa Dalma is a very special and traditional recipe of Odisha. The dish is mostly prepared in the holy month of Kartika. This month is considered to be the most sacred among all the twelve months of the year.
Method:
Ingredients: One cup split moong dal, two tablespoons ghee, two bay leaves, one teaspoon cumin seed, salt to taste, one teaspoon grated ginger, two dry red chillies,1/4 cup grated coconut, as required water, one tablespoon roasted cumin powder,
Vegetables: One raw banana cut in cubes, one radish cut in cubes,  two arbi (taro root) cut in cubes, 1/2 cup pumpkin cut in cubes, 1/2 cup raw papaya cut in cubes, two small pieces of an elephant apple/ ouu.
For garnishing, roasted cumin and chili powder and grated coconut.
Preparation: Wash the moong dal properly. Then soak it in water for one hour. Heat oil in a deep bottomed pan. Add broken red chillies. When they change colour add bay leaves and cumin seeds. let the cumin seeds sizzle. Now add moong dal and stir it for some seconds. After then add grated ginger and stir it for a minute. Then add required amount of water and mix well. let the water boil. Now add all vegetables and salt. Cover the lid and cook till the dal is completely cooked. Check in between. After the dal is cooked, turn off the flame. Now add one tablespoon ghee, roasted cumin powder, and grated coconut. Then mix well. Now garnish with some roasted cumin powder and grated coconut. Habisa dalma is ready to serve.
Dalma Masala: There is a masala for dalma using which you can increase the flavour of the dalma in your home.
Ingredients: One tablespoon cumin, ½ bowl coriander, one tablespoon fenugreek, two tablespoons whole paper, two black cardamom, cinnamon and cloves.
Preparation:   Roast all the ingredients differently and grind it till it becomes fine powder. Now store it a tight container and spray it lightly after your regular dalma is cooked. Dalma masala is ready to serve.
Suggest A Correction