BHUBANESWAR: Lingaraj temple administration has rolled up its sleeves to organise the annual car festival of Lord Lingaraj 'Rukuna Rath Yatra' to be held on the occasion of Ashokashtami April 13. Orissa Post interacted with Maharanas (carpenters), priests as well as devotees to delve deeper into the festivity.
Chief carpenter Batakrushna Maharana said, "As many as 75 carpenters have been appointed for chariot construction work. We are working every day from 9 AM to 10 PM. 1132 wooden logs have been collected to create the chariot. New chaka (wheels) and akha (axis) are made every year. Four new Nahakas and two new Oras were constructed this year. Five tailors have been appointed to make clothes for the chariots. Clothing the chariot would take five days while colouring it would take another six days. Engineers have also been appointed to ensure the security of the chariot during celebrations."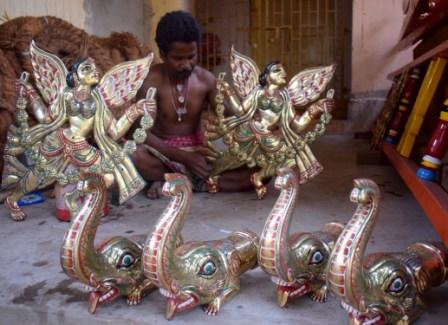 Supervisor Rajkishore Mohapatra Lingaraj said, "During the month of 'Chaitra', Ramchandra prayed Goddess Durga and won over Ravana. A Netra Utsav is observed when Puri king's Rajguru comes to Lingaraj temple and completes the Ratha Prathista. Water from the famous 'Maricha Kunda' is used for the ritual. On Ashokashtami, Lord Lingaraj, Maa Rukuna or Rukmini and Dolagovinda ascend the chariot and travel to Mausima Temple (Rameshwar) after all the rituals are performed."
"The three deities are placed on the chariots amidst loud beating of gongs, blowing of conchs and chanting of hymns. Goddess Parbati stays back during the Ratha Yatra while her husband visits Rameshwar temple. A five-day celebration takes place in Lingaraj Khestra of Old Town. It is believed that if a person eats one Ashoka flower bud and drinks 7 palms of water then he attains Param Punya and blessings of Parasmani Shri Lingaraj," he added.
The Chariot is draped in yellow, red, white and blue clothes along with decorations of diverse animals and flowers on the logs to beautify it. According to mythology, when demon Tripurasura wreaked havoc on earth, the gods made a special chariot (Rukuna) and offered it to Lord Shiva to kill the evil power. He was accompanied by goddess Shakti or Rukmini.
It's said that this festivity is even older than Puri Jagannath's (12th century) Rath Yatra. Another theory states that since Lord Lingaraj is Hari-Hara, a fused form of Lord Vishnu (Hari) & Shiva (Hara), hence Rath Yatra is symbolically celebrated to match with Jagannath temple. It may be noted that Lingaraj temple was constructed by Somvamshi dynasty (Shaivite) which later on got influenced by Eastern Ganga dynasty rulers (Vaishnavite) and certain changes were made to the temple architecture.
The Prasad or Bhog offered on the chariot is Ukhuda and once the chariot reaches Rameshwar temple, Lord Shiva, his brother and sister are served with Kakara and Manda. However, during the Yatra, the offerings to Lord Lingaraj are exactly the same as offered in his temple. On the fifth day of the festival, a Bahuda Yatra (retreat journey) is organised when the doors of the chariots are changed. The new form of the chariots is termed as 'Unaleuta Ratha'.
Around 70 servitors ride atop the chariot during the festivity. Their weight works like a brake for the chariot. Special Bhajan Sandhyas and cultural fests will be organised on the occasion. More than 3 lakh devotees are expected to throng the shrine in this year's edition of the festival.