BHUBANESWAR: With the spring setting in, the 11th Century AD famous Rajarani Temple vibrates with the symphony of enchanting Indian classical music presented by the noted artistes of national and international repute.
Department of Tourism organises in collaboration with Odisha Tourism Development Corporation and Odisha Sangeet Natak Akademi this unique festival of classical music which kick started Friday and is scheduled to continue till Sunday on the lush green ambience in the precinct of the magnificent Rajarani Temple.
The evening's first programme was Carnatic vocal recital by acclaimed from Chennai. She presented varied nuances of Carantic music on different Ragas and Talas. She started with Amruta Barshini set to Rag Hansadhwani and Aditala followed by Astapadi.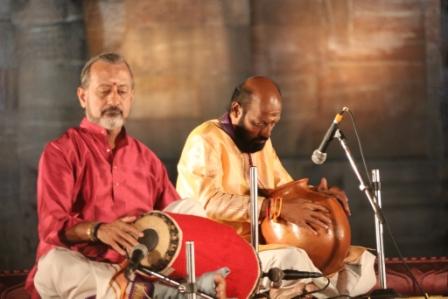 Her rendition in high octave enamored the audiences who were deeply engrossed by the presentation of this colossus personality in Indian classical music. She added quite a few Odia bhajan Jagannath Swami, Thakamana Chala Jiba during her rendition. She was assisted in Mrudangum by K B Prasad and in violin B R Rao. The atmosphere inside the temple premises was that of a serenely musical one. The programme was indeed a memorable one for many of the music lovers who visited the musical fest.
Srabani Panda, a visitor, said, "Her performance was full of artistic finesse. One cannot help but wonder the hard work that she has put in all her life. I visit Rajarani Music Festival each year. I can say that I have never been disappointed."The second programme was a flute recital by famous flute player Pravin Godkhindi. His presentation was based on various Talas and Ragas which enthralled the audience till the end. He was accompanied by his son Sharaj Godkhindi in flute and Ojas Adhya in Tabla.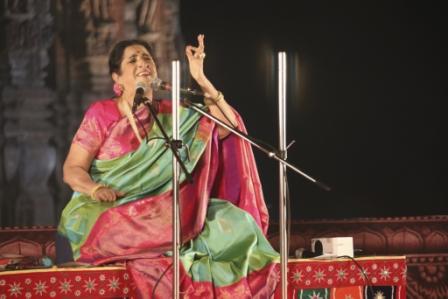 Another visitor Aurobindo Sahu said, "I love the music of flute. I came to the fest to listen to the flute of Pravin Godkhindi. The control and brilliance of his performance has truly enthralled me. The performance of Aruna Sairam was no less. She is probably one of the tallest figures in the Classical music fraternity of the country. Rajarani Music Festival showcases the best of Indian classical music."
A young music lover Saroj Kumar Samanta said, "We can easily see videos of singers rendering classical compilations on YouTube and other social media platforms. However, watching a live performance sends shivers down my spine. The musical festival is conducted every year in the Capital. I am looking forward to come to the concluding day of this event as well."
The dignitaries who graced the inaugural function were Ashok Chandra Panda, Minister, Tourism, Odia Language, Literature and Culture, Vishal Kumar Dev, Commissioner-cum-Secretary, Tourism and Bijay Kumar Jena, Secretary, Odisha Sangeet Natak Akademi. The programme was conducted by Sangeeta Gosain and Vedula Ramalakshmi.
Suggest A Correction