Born in Balasore's Ranipatna to parents Prashant and Aarati, Debashis Sahu is a well-known Rangoli artiste of the state. His recent work at Bhubaneswari Temple in Rasulgarh has proved his mettle beyond any doubt. In a freewheeling chat with Chaitali Shome of Orissa Post, he spoke about his inspiration and future plans. Excerpts:
Tell us about your journey as a Rangoli artiste.
Ever since I was five years old, I started imitating my mother and grandmother's Jhoti designs. My grandmother Bimala Sahu is a better artiste in comparision to my mother. She was a truly proficient Jhoti maker. Later, I went to Cuttack to participate in a Jhoti competition in 2013 and won third prize. Since then, there was no looking back. I am currently pursuing a Bachelor's degree in commerce from FM College.
Which Rangoli patterns have you mastered?
Basically, there are five types of Rangoli patterns: Traditional, Shading Rangoli, Spiritual Rangoli, Modern 3D Rangoli and Welcome Rangoli. I am proficient in all the five patterns.
What are the ingredients used to create a typical Rangoli?
You need Muruja, Abira, tea strainer, atta strainer, thread and chalks are used. The time required to create a particular Rangoli depends upon the height and width of the Jhoti.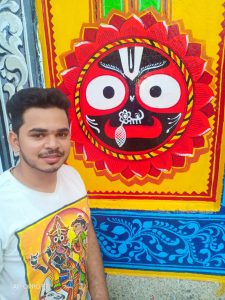 Tell us about your accolades in the field.
I bagged the first prize at ABVP's Rangoli competition in 2016. I won a cash prize and a certificate in Balasore Jagannath Chetana Mela recently. I was feted at the collectors home or my Rangoli. I won a cash prize of Rs 5000 at a tournament at Cuttack's Judicial Academy.
What are the attributes required to be a successful Rangoli artiste?
One needs to be diligent, patient and focused to be a successful Rangoli artiste. Besides, one must have geometrical knowledge, idea of drawing an anatomy and the knowledge about diverse colors. These are the qualities required to take one to greater heights in the field.
What is your approach towards making a Rangoli?
I always think about the theme and clean the area. First, I draw with chalks and then I go for colour. I avoid stepping up on Rangoli and at times I put white colour lining directly before using the colors to portray the design effectively.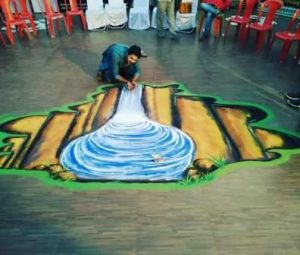 You have a team called 'Shilpi Parivar'. Tell us about it.
The team was formed in the year 2017 December where likeminded artistes got together to make Jhoti or Rangoli for a living and celebrated the art. We participated in Balasore Beach festival and other functions across the state. Our team comprises of three boys and two girls. The amazing thing about our team is that none of us are trained artistes. It's our sheer interest and dedication that has kept us in the forefront of this art.
What are your future plans?
I want to open a Rangoli teaching school where I will teach the art to slum children. Through this effort, I can send a message across to the society. I want the state government to support us and provide financial aid so that we can make this dying art an integral part of Odisha's rich cultural heritage.