New Delhi: In the news for the last couple of days for his scathing attack on the Indian team management, former Indian cricketer Yuvraj Singh posted a picture of him on the social media sans his beard. Yuvraj Singh during the last one week had been seen sporting a beard as he appeared on various TV and talk shows.
However, the former India cricketer unveiled his new 'chikna chamela' look on 'Instagram'. A clean shaven Yuvraj Singh is seen pouting in the picture with the caption: "New look chikna chamela !! or should I bring back the beard?" The general consensus on the comments section was for Yuvraj Singh to get his beard back with tennis star Sania Mirza also joining the chorus
Sania Mirza, though, also decided to hilariously mock Yuvraj Singh's new look and said: "Are you pouting to hide the chin under the chin we spoke bout ???? Bring the beard back."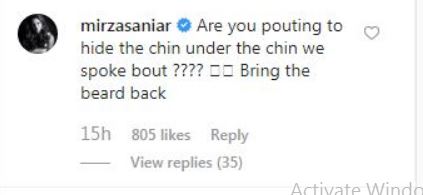 However, there were a few users who praised Yuvraj's clean shaven look also. "Old/vintage yuvi is back," wrote nikhiljha4383. "You look better in clean shave yuvi paji," said garg_vicky_18 while ayush_das09 said, "Clean shave or beard both suits u."
Yuvraj Singh has been quite vocal in the media lately. Earlier this week, Yuvraj Singh spoke to a national news channel and came out in defence of young Indian wicket-keeper Rishabh Pant.
Yuvraj said that Rishabh Pant 'has a lot of potential' but needs some mentoring from the captain and the coach.
Agencies
Suggest A Correction