Bhubaneswar: More than hundred activists of students' wing of the Odisha Pradesh Congress Committee clashed with police and ransacked a police van during a protest at Raj Mahal Square here Monday.
The Diploma in Medical Laboratory Technology (DMLT) and Diploma in Radiology Therapy (DMRT) medical students took out a huge rally from Congress Bhawan and attempted to march towards Naveen Niwas to press for their demand for providing employment to them.
When the police personnel cordoned off the agitators at Raj Mahal Square, they clashed with them and later ransacked a police van parked near the spot.
In the clash a girl student has sustained injuries and was taken to the Capital hospital here. However, the total number of injured in the clash has not been known yet.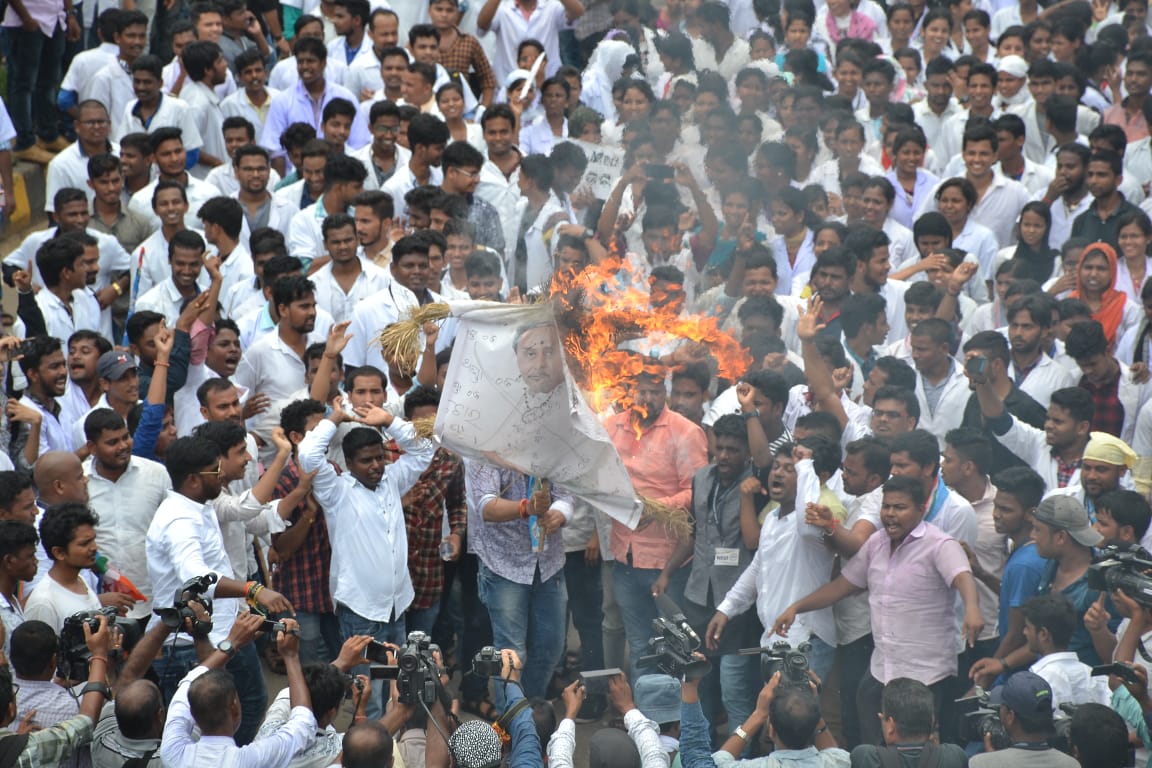 Later, a number of Congress activists were detained by police.
A similar incident had taken place at Mahatma Gandhi Marg here July 30 after hundreds of Congress members clashed with police during a protest against increasing unemployment in the state.
The pitched battle ensued when the protestors took out a rally from Congress Bhawan here and marched towards the Odisha Assembly after crossing the first barricade put up at Mahatma Gandhi Marg here. The police personnel cordoned them off following which the agitators scuffled with the cops.
Police, Cong workers clash in Cuttack
Cuttack: Congress activists staged a dharna outside the Cuttack Municipal Corporation's (CMC) office here Monday alleging large scale irregularities in awarding to tenders, apathy of the civic body in resolving water logging issues and favouritism in distribution of relief material.
A scuffle ensued between the agitating Congress workers and the police while the former were trying to gatecrash the CMC office to submit a memorandum. Some of the activists hurled chairs at the police while the latter were trying to prevent the agitators from entering the CMC office. The City Congress workers led by president Md Mouquim, however, submitted the memorandum to the CMC commissioner and said that if no step was taken to address the issues they will not allow any minister of the state to enter the Millennium City. Congress corporator Giribala Behera said, "The state government is trying to suppress our voice by the brute force of police. We will prefer to take law into our hands, if needed, for the interest of the citizens of Cuttack."
The CMC commissioner, however, cited the example of Bhubaneswar where water logging has become a regular phenomenon. Submitting memorandums has become a day-to-day activity of the Congress. "We don't have information about the allegations the party workers have raised," the commissioner added.
Suggest A Correction