Sonepur: Even as the state government and Srimandir authorities are leaving no stone unturned for the success of 'Nagarjun' attire of the Trinity scheduled for Friday, residents here displayed equal enthusiasm and devotion and sent a consignment of holy basil (Tulsi) leaves and flowers for their use in the ritual, Thursday.
The matter came to the fore after a truck (named as a Rath) carrying holy basil (Tulsi) leaves and flowers left for Puri, Thursday. Tulsi, lotus and marigold packed in 16 baskets have been contributed by the devotees residing in Subarnapur and neighbouring districts. Hundreds of people assembled at the roadside and contributed basil leaves and flowers amid chant of Haribol and ululations as the vehicle left from the Jagannath temple in Binka.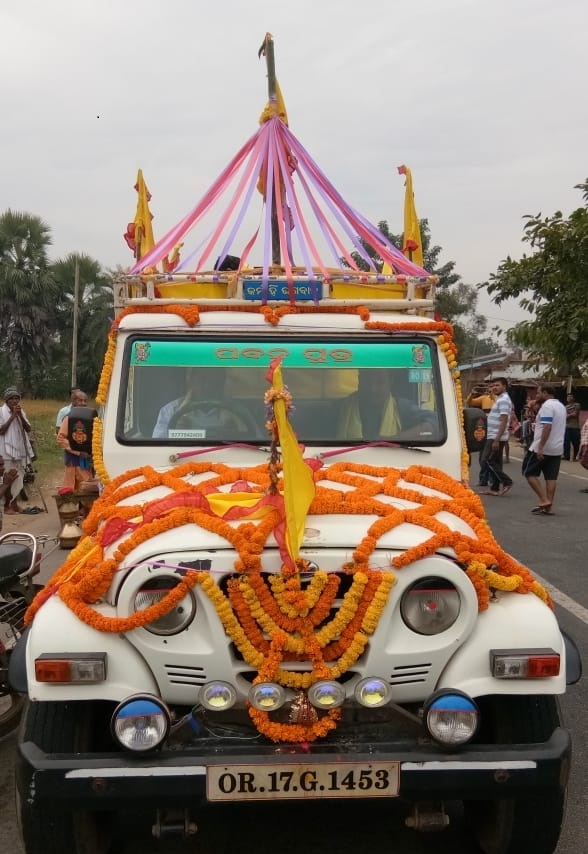 The basil leaves and flowers will be handed over to the authorities after its arrival in Puri. The basil leaves and flowers will be prepared as garlands to deck up the deities during their 'Nagarjuna' attire which is being held after a gap of 25 years. Mahant Banshidhar Das Maharaj, the head of Ramjee mutt in Puri will offer these basil leaves and flowers to the Trinity.
Reports said Subarnapur is the place where the Trinity remained in hiding during the attack on Puri temple. The area then came to be known as 'Patali Srikhetra' as the royal of erstwhile Subarnapur estate started sending consignment of green grams, ghee and Basmati rice on boats in the Mahanadi river for Sunabhog rituals of the Trinity in Puri.
When contacted, organiser Chandrasekhar Ota said the practice has stopped for a long time. However, people have decided to send the holy basil leaves and flowers for the Trinity.  Suresh Mishra, Sanjay Mohapatra, Sribatsa Mallick, Gadadhar Barik, Manoj Panda and Bysadev Bharadwaj Mishra were present when the vehicle was flagged.
PNN
Suggest A Correction