Amid the state-wide lockdown when people are cooped up in their homes, there are some of them who constantly expose themselves to the dreaded coronavirus to bring ease in the lives of others. Neither do they feature in the list of government's list of Covid warriors, nor do the companies which they work for protect them with big life/health insurance plans.
Yes, they are the delivery boys of several app-based online services who put in more than 12 hours a day to drop essential goods at our doorstep risking their lives during these challenging times.
When the entire nation is in the grip of second wave of the ongoing pandemic, these delivery boys have become as important as the health care providers who are on the frontline duty.  They reach us with medicines, groceries and other essentials shouldering their outsized bags and driving around the city. Knowing well that they are exposed to the virus risks, many are stepping out because more and more people are depending on doorstep deliveries of food, grocery items and heath care essentials and of course to meet the necessities in life.
Sunday POST talks to a few delivery boys to ascertain their fears, hopes and concerns.
Chittaranjan Satpathy, who works with restaurant aggregator and food delivery company Zomato, says, "My father is a priest at Brahmagiri and his earnings were inadequate to meet our family needs. So, being the eldest sibling, I did my bit to give him some comfort.  After doing my B.A. I joined this company.  It is definitely challenging to work during Corona times.  Meeting 20-odd people every day not knowing their health status involves risks. But I can't quit the job for two reasons. Firstly, I can't afford to sit idle at home. And the other thing is there are a lot of people who depend on door delivery during such difficult times. So, I feel I am part of the team of Covid warriors who offer their services to the needy. However, I make sure to get myself tested if I feel unwell or I suspect that I have some Covid-19 symptoms.  I will never like to be a spreader of the disease."
The behaviour of the customers sometimes irritates Chittaranjan. "Despite knowing well about the current situation, they often make us wait for hours for payment and behave rudely. That's not all. They give negative feedback which leads to a pay cut.  I suffer a deduction of Rs 500 from my salary for a delayed delivery. We treat customers  as god, they should at least treat us as human beings, isn't it," he rues.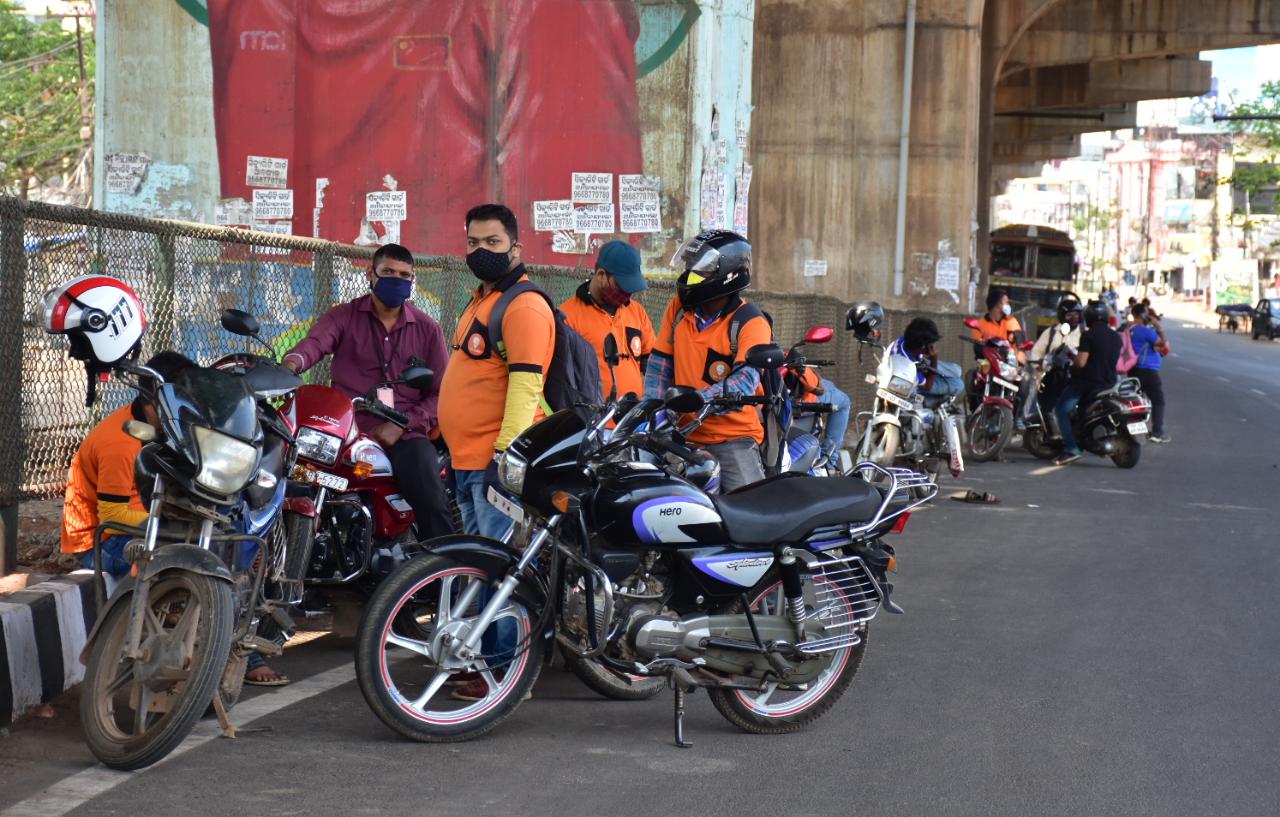 Hailing from Nayagarh Santosh Kumar Nayak has been associated with a courier service company for the last two years. He says, "Being the only bread earner of my family, I can't afford to stay at home to stay safe. There are chances of catching the virus but as a spiritual individual I have left it to the Almighty. I believe he will take care of all of us."
Though he does his duty with all sincerity, he too is not happy with the attitudes of some customers. " It annoys me when customers do not receive my calls and make me wait unnecessarily. They should understand the fact that we too are human beings. When it comes to Covid-19, our contribution is nothing compared to efforts of frontline workers like police and media persons who are working round-the-clock.  We had been working without any protection for a long time. Recently, our company has extended the health insurance coverage to the delivery boys and executives realising the risks involved.  But I don't get panicked by the Corona menace  because  someone or the other has to chip in to do the job. "
Chetan Lenka, a resident of Jagatsinghpur, rejoined food delivery platform Swiggy two months back after taking a break of some days due to personal reasons. He says, "There are chances of getting infected by Covid, but who is going to provide us two square meals a day if we stop working. Though my parents have asked me several times not to venture out during the pandemic and requested me to come back to the village, I couldn't afford that 'luxury'.  I am not afraid of Corona because I know it kills those who are scared. Our company is providing life insurance coverage of Rs one lakh to its employees."
Asked about the precautions he takes, Chetan adds: "At several housing societies, we need to write down our names and mobile numbers at the entrance. This is not a safe practice as many people would have used them before without following the protocol. So, I make sure to wash my clothes and take a bath every day before entering home. I also gargle with salt and turmeric water and inhale steam daily as part of measures to keep the infection at bay. "
Nirmal Kumar Behera, a delivery boy at Swiggy, says, "According to our company's policy,  we have been following  WHO's guidelines while delivering essentials. Ever since the imposition of lockdown, there has been a spike in the number of online orders. Though I carry a hand sanitiser  and  never  remove my face mask, the fear of contracting the virus is always there. Even as my family members are worried about me, I have no choice but to do the job  for our sustenance.  Besides, I consider it as a service to reach out to the needy. Apart from working to earn my livelihood, I  distribute food among destitutes and feed stray dogs at night."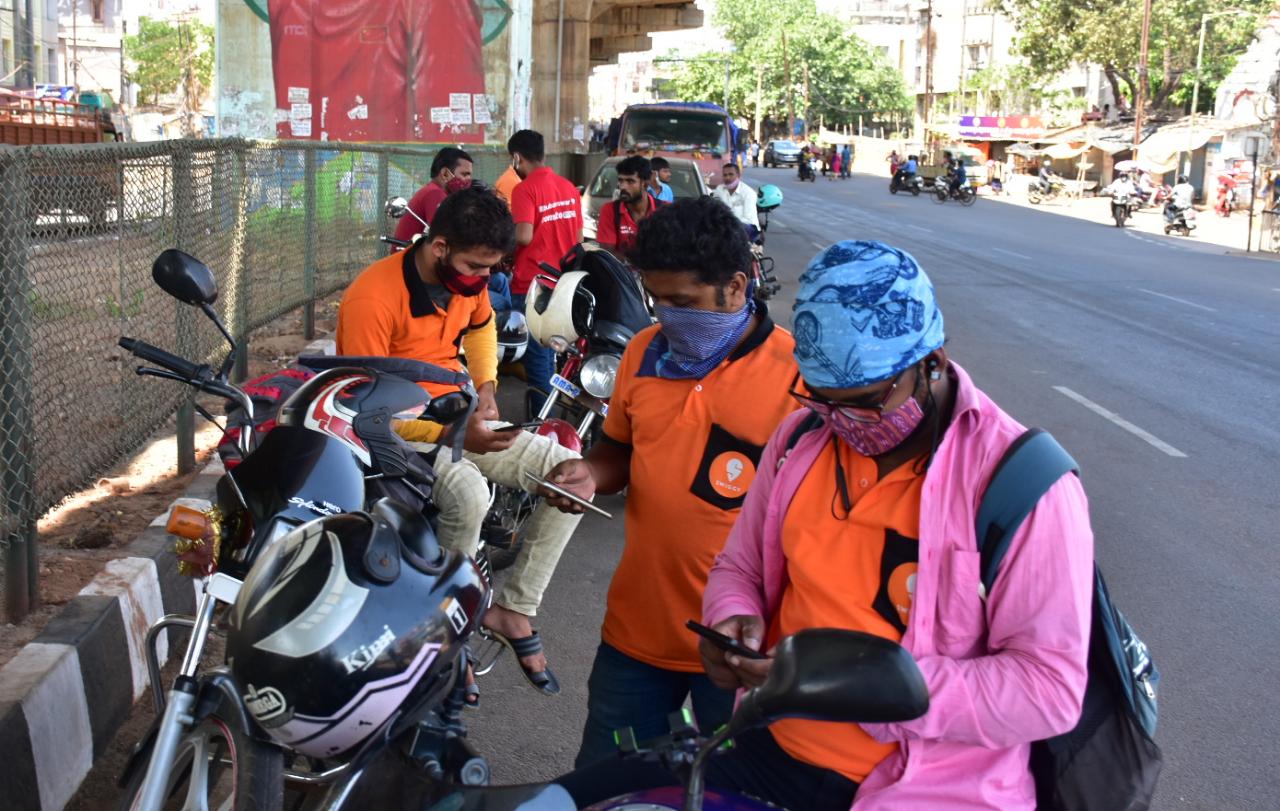 Balaji Mishra is a Nayagarh resident but resides in Bhubaneswar after joining Zomato. He says, "My work hours remain the same as it was in pre-Covid times. Covid is there and will be there. There will be no point in stopping working due to Covid fear. I find it really bad when people who tested positive hide it from delivery boys.  But if we have to deliver food at Covid homes, we place the packets near the door and click a picture and send it to the customer. That's our no-contact delivery. As I am yet to take the jab, fear of infections is always there.  I used to get 9-10 orders per day which doubled during the lockdown."
Rashmi Rekha Das, OP
Suggest A Correction