Gayatri Mavuru wears many hats. She is a poet, painter, choreographer, social activist, educationist and social entrepreneur. In the last few years, Gayatri has been helping the underprivileged with their education. Her efforts towards empowering women in the state too haven't gone unnoticed.
Gayatri, who is the founder and managing trustee of Sri Gayatri Vidya Vikas Educational Trust, says that both poetry and painting are "inseparable" from her. She describes herself as a painter turned poet, since the colours on her palette inspire her to paint her verses. In an extensive chat with Orissa POST, Gayatri talks about her journey, her paintings, poetry and more.
Gayatri hails from Andhra Pradesh but chose to settle in Bhubaneswar. Her journey as a painter is interesting. "My style is simple. I mostly use fingers to paint, but for detailing I use brush. Initially, I used to sketch with pencil or pen as I was afraid of using colours. But one day I decided to fight my fears and thus began my journey with colours," she says.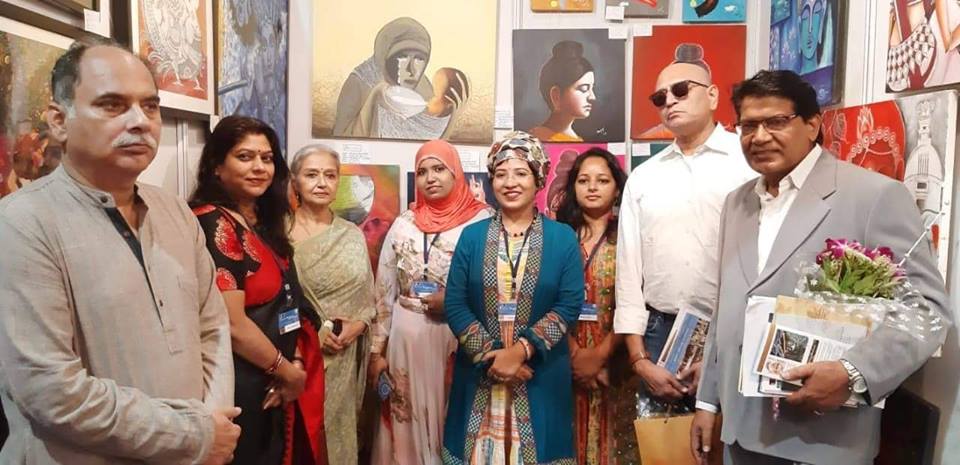 Attracted to painting from a very young age, today Gayatri has 130 artworks to her credit. The subjects vary from nature to women to Buddha. Among them, the Buddha series remains her favourite. "I find peace while painting Buddha. I am a self-taught painter, so I could experiment with varied expressions. I am fortunate that painting chose me. It helped me fill my black and white life with different hues," says Gayatri, who is also the founder and director of Cherry Blossoms Pre-School.
Her inclination towards poetry was a result of the varied expressions she used to depict on canvas. "While painting, endless thoughts used to flood my mind. I started penning those," she says. Thus both poetry and painting became inseparable parts of her soul. "While painting, poetry runs in my mind, and when I write, colours tickle my heart," she adds.
That, however, is just one side of Gayatri's story. Her bigger achievement has been in helping the underprivileged with education and empowering women of the state. Gayatri came to Odisha after marriage and since then has considered it home. "My parents stay in Andhra Pradesh, while my husband is from Berhampur. This state never denied me the love I asked for. It is a very liberal state," she says.
Since childhood, Gayatri nurtured a dream of doing something for society. That's how the idea of Gayatri Vidya Vikash Education Trust germinated in her mind. "The idea didn't come overnight. My grandfather, who is my idol, used to say that the day you have enough to enjoy in life, try to give it back to the society. With this thought and support from family and friends, I started this organisation. I am just following my grandfather's words and making an effort to impart quality education to unprivileged children in the society," she says.
That said, Gayatri herself didn't lead a lavish life as a child. Scarcity was part and parcel of her life then. Yet, she excelled in academics because of sheer will. This made her believe that every child has a right to education. At times, it becomes difficult for Gayatri to balance the many things she is involved with. But children, she says, inspire her.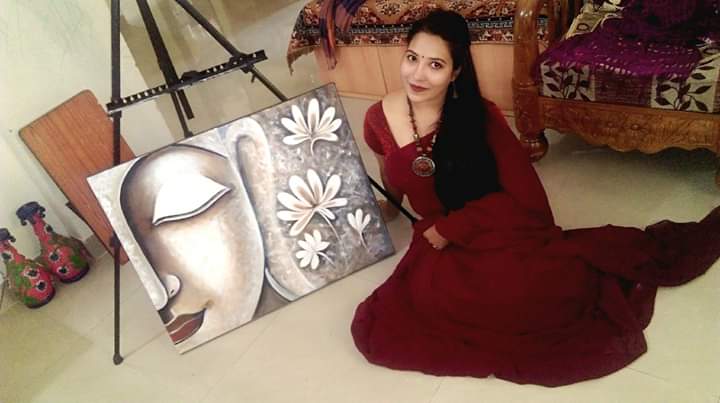 In the last few years, Gayatri has played an integral role in promoting the art, culture, literature and heritage of Odisha. "When I came to Bhubaneswar not too many cultural events were held. However, the city has now transformed into a cultural hub. Odisha has a rich cultural heritage. I have made friends here who excel in different art forms. Whatever little I contribute today as an artist is teamwork and my friends are the biggest driving force," says Gayatri.
Needless to say, Gayatri maintains a tight schedule but doesn't complain. After all, she enjoys what she does. As a poet and painter, her achievements have been remarkable. Most of her poems talk about optimism amid all odds. And as a painter her colours express varied feelings. "My colours speak, whisper, shout, cry, roar, question, urge, plead, please, smile, laugh, dance and, above all, they carry a bold voice," says Gayatri.
"When every dream seems to be scattered
When every desire turns to be unwanted
When every passion forces to be suppressed,
Then, that very moment a story starts on a Painter's Palette."
Gayatri loves both the magic of colours and the impact of words. Perhaps, that shaped her into an artist cum poet. "When I see life as a poet, it is nothing but a journey where you learn to struggle, fight, fail, set goals and achieve them. Life is a learning process where the most exposed and the most fearful will live; the rest will just respirate," she says.
Women find a prominent place in her paintings. This perhaps is another way of expressing her views on women empowerment. Gayatri says that Indra Nooyi, chairperson of food and beverage giant PepsiCo, has been a big influence on her. She says, "Women know how capable they are. Life is unfair at times but there is always a way out. I feel immense pleasure in painting this journey on canvas. The colours I choose are neither that bright nor that dull. They are a combination of dull, light and bright, just like life."
Family and friends have played an important role in shaping Gayatri's life as an artist. Although she comes from a conservative background, her family always supported Gayatri in achieving her dreams. "I must thank my father and husband for this. My friends have always been a great support. Whenever you try to do something out of the box, many will criticise you. But these critics play an important role in finetuning your potential," she adds.
Everyone needs a mentor in life and Gayatri has many. And she is grateful to everyone who has helped her realise her dreams. "I learnt so many things from so many gurus in life. I can't choose one. The ones who helped me in my learning process and those who didn't, both are my teachers. Circumstances teach you a lot in today's world," she observes.
Ask her how she would wish to paint an ideal society, and Gayatri says, "If by just painting, I could have changed society, I would paint the calmness of the sky and the smile on every child's face on this planet without discrimination."
It goes without saying that Gayatri has achieved a lot at quite a young age. She is passionate about what she does and wants to continue doing what she loves doing best. "Every colour carries some emotion. To know them deep, dip yourself in them; colour yourself with devotion. Then, wait for a miracle to happen and watch silently, how these colours spread over the canvas to weave countless stories," she says, adding, "Awards always motivate me. At times you get recognised and at times not but the one thing that keeps you going is your endless spirit and passion."
Laurels galore
∙         Classic Award at 4th Mumbai edition of Kalaa Spandan Art Fair in 2018
∙         India's Most Distinguished Painter Award Literati Cosmos Society of India, Mathura UP in 2018
∙         Sri Atal Bihari Vajpayee Award in recognition of dedication to society through art at International Women Empowerment Summit 2018 by Arpita Foundation, Mathura UP in 2018
∙         Painting Poetry Award for Live Painting organised by Rotary Club of Salem Galaxy on Plant Poetry Festival in 2018
∙         Participated as a Guest Artist in "Jaiba Kala Vividhata" on Bio Diversity through Art organised by Tata Steel Limited, Noamundi in 2017
∙         Served as one of the facilitators during the Art Workshop for Children & Ladies organised by Tata Steel Limited, Sukinda Chromite Mine in 2017
∙         Received Certificate of Honour for displaying Art Exhibits at the 24th Annual Flower & Vegetable Show organised by Tata Steel Limited, OMQ Division in 2015
BRATATI BARAL, OP
Suggest A Correction