Bhubaneswar: Hundreds of people belonging to lesbian, gay, bisexual, transgender, queer and allies (LGBTQA+) community and their supporters assembled at Master Canteen Square here Sunday to be part of the Pride parade held in the City. The event couldn't be held in the last two years due to Covid-19 restrictions.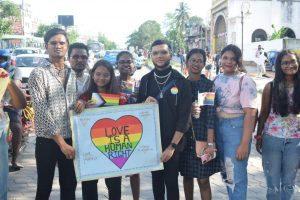 Titled Rainbow Pride Walk 2022, the main objective of the walk was to de mand equal rights, social ac ceptance for its community members. Walking together, they carried rainbow flags,, wore clothes with rainbow print, and made rainbow marks on their cheeks.
The event was co organised by several LGBTQ and voluntary organisations of Odisha including The Parichay Collective, Rainbow Collective, Sakha, SAATHII, Third Gender Welfare Trust, Tarit foundation and others.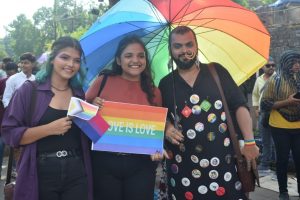 Abhilash Patra, a member of The Parichay Collective, said, "Making the commu nity members join the main stream of society is a major challenge. We want to create aware ness among the parents of LGBTQA+ members to accept their children as they are and come forward  to fight for their cause.
Venkatesh from Kolkata, who has already participated in over 50 Pride walks, said there is still a lot to be done for the community such as equal rights for transgender, same sex marriage rights and others. This will certainly take some time but the community should continue to fight for their rights, he added.
Sudeshna, identifying herself as bisexual, said, "Love is love and we should accept people as they are. There is a need to give them space in society."
Sidhanth, another participant, said, a city like Bhubaneswar is a sensitive place but what is important is that the state government here is working for LGBTQA+ community's development and Pride walk like this will help in creating more awareness in the society.
Suggest A Correction